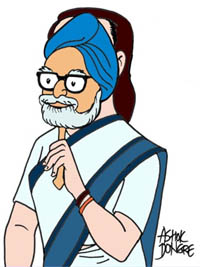 India on a rising trajectory, heading for a global power status, can ill afford to project an image where its Prime Minister seems to be fettered in political shackles which are the making of his own political party, namely the Congress Party.
When a nation is on a rising trajectory, it is under intense scrutiny by the international community in all fields of its endeavor ' political, economic, strategic and military. More importantly its political apparatus and whether that political apparatus and its leadership exercises political propriety in the nation's governance is under still more closer scrutiny. Political credibility of a nation flows from this and so also risk-analysis and risk -forecasting which would determine crucial decisions on political and economic policies that key global powers would adopt towards India.

Scrutinising India in this context, the leading British political affairs magazine, 'The Economist' (October 29, 2005) issue, made the following comments:
The Communists have more or less brought Mr Singh's reforms more or less to a halt.

The Communist parties that in turn prop up Mr Singh's minority government are able to hold him to ransom.

Although he is the Prime Minister, it is Sonia Gandhi, the President of the Congress Party who takes the big decisions.

Under her rule, the party has reverted to its traditional stance; left leaning and not very interested in reform.
But, the bottom-line assessment made thereafter is not very flattering for India or for PM Manmohan Singh which reads: "It is not fair to blame Mr Manmohan Singh, though, he might have tried harder. He is in office but not in power."
The assessment that the Prime Minister 'is in office but not in power' by an internationally respected magazine undermines the prestige and international standing of the Indian Prime Minister. It would not be painful only for the Prime Minister to be termed as such but also for Indians at large who perceive Dr Manmohan Singh as a gentlemanly, dignified and a highly gifted intellectual.
While 'The Economist' has confined its criticism to the economic field, he stands similarly fettered more significantly in the political field. In the formation of the Government last year and the constitution of his Cabinet, Dr Manmohan Singh seemed to have no say at all. As a result, the Prime Minister today heads a Government which boasts of an unprecedented number of tainted ministers and whom he has to vocally defend, much against his own honest inclinations, I suspect.
In the last one year, the UPA Government, led by the Chairperson Mrs Sonia Gandhi as Chairperson of the National Advisory Council (a new body established at taxpayers expense) and the UPA Government headed by Dr Manmohan Singh, but under her directions, has taken a large number of decisions which have shades of gross political improprieties. Some of the more notable ones which have drawn severe political and even judicial criticism are:
Dismissing earlier Governors of States which were due for polls and replacing them with Congress appointees not distinguished or known for political propriety. The President of India had to intervene to restore constitutional propriety to neutralize their blatant violations in favor of their party.

In Bihar a lawfully elected Assembly was dissolved even before they could meet and take oath as what was emerging was a coalition not to the liking of former RJD Chief Minister Laloo Yadav, presently a minister in the UPA Cabinet. The Supreme Court has recently declared the decision as unconstitutional.

Tainted ministers continue in the Cabinet brazenly.
The decisions on all of the above were taken or cleared at the Centre implying that they had the concurrence of Mrs Sonia Gandhi and Dr Manmohan Singh. It is not known whether Dr Manmohan Singh protested as an upright man against these political improprieties. Giving the benefit of doubt to the Prime Minister, one again comes to the conclusion that he stands politically fettered by the political structure imposed on him for the governance of India.
The Prime Minister's political fetters came into sharper focus last week when the erstwhile Foreign Minister, Natwar Singh whom the country wanted to demit office because of his being named in the UN Volcker Report went on a defiant spree. He went to the extent of open criticism of the Government's foreign policies towards the United States and on the Iran issue. When the Foreign Minister should have been dismissed for defiance, the Prime Minister for some reasons has been forced to retain him in the Cabinet as a Minister without Portfolio. Worse as a Congress Party leader he had as per the media reports started blaming intra-party differences and went scouting for Communist parties support on the plea that he was being targeted by US lobbies because of his anti-US stands on Iraq.
As the Prime Minister proceeds ahead to give shape to the transformation of USA-India relationship to a strategic partnership in India's national security interests, he should not be fettered in the foreign policy field either by a differing Foreign Minister or the Communist parties clamoring for a return to the antiquated non-alignment policies which did not bring any tangible benefits for India.
India's tangible benefits in the economic field cannot accrue without appropriate politico-strategic policies. Economic integration with a globalized interdependent economy can take place only when India also endeavors integration with equally interdependent strategic realities. This is a challenge which a fettered Prime Minister cannot undertake.

"Continued progress towards world power status is a top objective of New Delhi" says a foreign policy paper of the Ministry of External Affairs. It is a laudable objective and every Indian's aspirational dream. If the Congress Party and its President subscribe to the same national goal, which I am sure they do so, then it is high time that they unshackle India's Prime Minister from the political fetters that they have imposed on him.