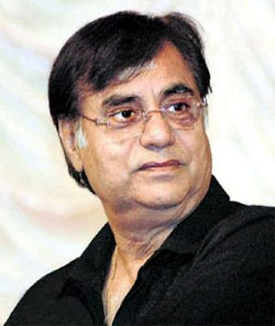 With the release of the Gujarati ghazal album "Jeevan Maran Chhe Ek", Jagjit Singh has reasserted his position as a living musical genius of the entire Indian subcontinent. Multitudes of his fans across India, Pakistan and Bangladesh, for whom Gujarati is like Greek or Latin, are seeking out lexical aids to decipher the deep philosophical lyrics of Mareez, which Jagjit has rendered in simultaneously somber and uplifting moods.
The power of Jagjit's magical compositions has introduced Urdu, Punjabi, Hindi and Bengali to the uninitiated. It is no exaggeration to claim that Padma Bhushan awardee Jagjit Singh has single-handedly kept literary forms of languages alive where government education policies and NGO efforts have miscarried. His place in history is acknowledged for preserving the ghazal as an art and re-igniting the Urdu language as a living symbol of our rich heritage.
Jagjit overshadows everyone else in the world of music by his insistence on choosing refined poetry as lyrics. Although a shrewd experimenter when it comes to usage of instruments and style, he is a purist about language. If he is singing a Hare Krishna bhajan, it will most likely be one written by Surdas or Meerabai. If it is a Sikh shabad, there will be verses by Guru Nanak. If it is an Urdu ghazal even by a contemporary, there will be a hint of a mystic Ghulam Fareed, a romantic Bahadur Shah Zafar or a revolutionary Faiz Ahmad Faiz. The subtle nuances of classical poets, especially those open to interpretation, have held a special place in Jagjit's lifetime oeuvre that runs to more than 150 albums.
How prolific does an artiste have to be before being judged a wizard? Jagjit, who is 66 years old today, has been releasing albums practically uninterruptedly for the last 41 years. Productivity knows no bounds for him, with at least two ghazal albums hitting the market in a calendar year. The most amazing part of it is the non-repetition and freshness of every new release. The music world routinely discards burnouts and fizz-outs. Jagjit towers over such temporary pygmies like a giant who reinvents himself with every new offering. There has never been a phase in his career when people felt that his best is past and that he is "living off" his royalties.
His fan following ranges from one end of the human life span to the other and is well balanced in gender and religious terms. A key attraction that draws massive public adoration is the healing touch in his voice that tugs emotional chords. I have observed diplomats convalescing from heart problems and jilted lovers musing over bygones in raptures with Jagjit's renditions. In an atomistic age where caring and community are declining, he is the universal 'saaqi' (tavern companion) in whom every heart unburdens itself and finds solace.
Though Jagjit's soothing vocals are much praised, no less healing is the accompanying music that he composes. A fantastic irony of his work is that, notwithstanding the linguistic twists and turns of the lyrics, his core melodies can be heard in purely instrumental format to equal effect. A flute, sitar or guitar version of his famous hits usually plays in weddings, public theatres and restaurants around the world where South Asians are present. The sheer longevity of appeal and repeat-value of his compositions place him miles ahead of any other musician.
One very special trait of Jagjit's is mastery in live performances. His uncanny spells over large audiences in concerts are almost hypnotic. People sing along when he gestures, applaud when he releases the decisive lines, laugh when the verse is humorous, cry when he moots the pathos of life, and dance when he lightens up the peroration with traditional Punjabi folk tunes. If there can ever be a complete musician-cum-showman, here is one.
Jagjit serves a bonus treat for concert goers through the extra improvisation that studio recordings do not permit. On stage, he could be crooning a nazm on the attributes of the beloved in one instance, then veer off into a tangential theme sparked by a particular phrase, and finally return effortlessly to the point from where the diversion occurred, turning the m'lange into a seamless whole. Command over the ragas and a unique talent for spontaneous detours make him an entertainer par excellence. At a juncture when entertainment has come to be associated with hip gyrations and remixes, he is redefining categories and demonstrating that one can be wildly popular without discarding the fundamentals of classical music.
Only a worshipper of art senses the true value of artistes. Jagjit has always used his high profile to raise the esteem of lesser-known poets, singers, performers and his own accompanying instrumentalists. In the cutthroat music industry, where talent can easily be robbed and destroyed by the reputed, he has shown a generosity that puts many so-called big names to shame. In 2004, he raised a fund worth 10 million Pakistani rupees for ailing musicians, including the virtuoso Mehdi Hassan. Celebrities often indulge in charity, but very few have directed it as well as Jagjit for saving art and artistes.
How did a Sikh from a modest background lacking godfathers reach such Olympian heights of musical achievement? Whatever Jagjit has achieved and will achieve is a function of earnestness and utter commitment to music. The moral of his glittering success is that dedication to work with passion is the greatest quality.