Ingredients: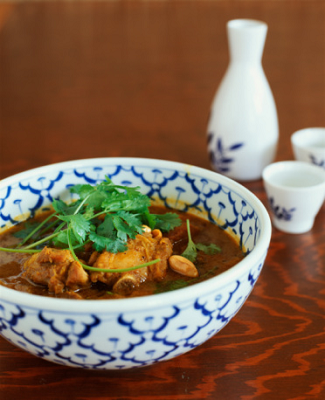 Chicken 1lb.
Oil 2 table spoons
Onions 3 medium (grated)
Tomato 1 large (grated)
Yogurt 1 tablespoon
Garlic 6 (grated)
Ginger 1 medium size piece (grated)
Red chili powder 1 teaspoon
Paprika powder 1 1/2 teaspoon
Cumin seed powder 1/4 teaspoon
Coriander powder 1 teaspoon
Garam masala powder* 1 teaspoon
Cardamom green 3
Cloves 3
Cinnamon stick 1
Salt to taste
*Powdered green cardamom, cloves and cinnamon.
Method
In pan heat oil. Add cardamom, cloves and cinnamon stick after 1/2 minute add onions. Saute' till golden brown; add chicken cleaned and washed. Saute' for about five minutes and cover the lid. Let is cook on low heat till chicken is tender. Saute' till chicken is brown; add powder spices yogurt and tomatoes. Saute' till oil separates. Add a cup full of water and let it cook on low heat for 20 minutes. Now your chicken curry is ready to eat.