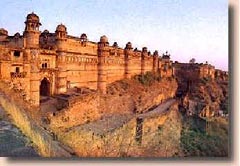 Since time immemorial, human race has been striving to strike a balance between dreams and realities. Fairs and festivities have always been the most powerful collective expression of human desire to add a tint of beauty to soul. India preserves one of the most ancient human cultures with a spectrum of fancies and fiestas and with a daunting longevity of the sort of people who, in spite of all the miseries and menaces, upheld a colorful collective vision of life. Madhya Pradesh has, furthermore, the very essence of India's festive culture since this is not just the 'central province' geographically but also by virtue of representing in itself a miniature of India with all its diversities, with all its desires. Not unnatural, therefore, this state of India with its rich cultural heritage also has a rich legacy of fairs - rural, folk, tribal and urban. It will not be an exaggeration to say that these fairs - with all their diversities and intermingling fragrance of their respective regions ranging from Malwa to Mahoba, Orchha to Bastar, Datia to Chhatisgarh - mirror the real mood and taste of Madhya Pradesh and serve as the spinal chord of its socio-economic culture. They are all unique and they all will rightly claim a mention in the social history of the state, Gwalior Trade Fair still holds an unparalleled significance and is correctly hailed as "The Koh-i-Noor of India's Mela Culture" .

Initiated in the year 1905 and now approaching, with the turn of this millennium, its centennial year GWALIOR TRADE FAIR is the biggest fair of Madhya Pradesh and, indeed, one of the most colorful fairs of the whole North India. Spread in a vast 104 acres of area and divided into several 'blocks' and 'sectors', the Mela Ground at Race Course Road is rightly known as the Pragati Maidan of Madhya Pradesh. For over a month, from the last week of December to the end of January, the whole Mela campus turns into a mini city with everything in its ambit -- from coffee shop to cyber cafe, from handicrafts to motorcars. Perhaps no other Fair in North India reflects such an element of vastness and variety. And this is the specialty! Gwalior Mela has evolved as a trade fair from a simple rural fair of a century ago when the Mela would turn into a big 'haat" of farming cattle -- oxen, horses, camels, etc. and village products and handicrafts. However, it is not just a trade fair. It goes beyond that and embraces various colors of life -- economic, poetic, musical, cultural, rural, urban, traditional and modern. Its life-blood is a compound of soul and beauty, of economy and tradition, of dreams and realities, of culture and of progressiveness. Matthew Arnold told: "He saw the life steadily and saw it whole". Whenever I am in Gwalior Mela, I remember this line of Matthew Arnold.

A century ago, the Gwalior Mela came into existence with the initiatives of the then ruler of Gwalior State, High Highness Madho Rao Scindia, who set an example how problems can be solved by applying the will-power of people. He was able to foresee the glimmers of modern development even at a time when the changing scenario at national and international levels were keeping the kings perplexed and preoccupied; when chaos and confusion, rise and fall of powers, seldom allowed the authorities to pine for their people. The Mela, known as "Mela Maveshiaan" when it was started, was the result of the natural disasters which hit Gwalior twice in 1894 and in 1904 leaving the farmers starving and bewailing their ill-fate in the famines. In the year 1905, "Mela Maveshiaan" was started with a view to provide the farmers an opportunity for open bargaining with the farmers of other states and get competitive price for their agricultural products. Soon, it gained momentum and became famous beyond the boundaries of Gwalior State -- attracting sellers and buyers from all around. It became an important socio-economic phenomenon of the people of Gwalior. In the process of evolution, the administration of Mela fell into the hands of a nominated committee of people and businessmen. Acting fast keeping pace with time, the Committee made a detailed plan for further expansion of the fair as early as in 20's. Outline plans were prepared for a systematic 'bazaar' equipped with as many facilities as possible. (Late) Maharaja Jiwaji Rao Scindia and, then, Mr. Madhav Rao Scindia, inherited the same spirit characterizing (late) Maharaja Madho Rao and greatly helped in the further development of Gwalior Mela. There are many other people and associations who are closely linked with its growth including Madhya Pradesh Chamber of Commerce (Gwalior), Mr. Arjun Singh, Mr. Digvijay Singh, Mr. Narendra Nahta, Mr. Ramesh Chandra Agrawal and Dr. Virendra Gangwal. However, the existence and survival of Gwalior Mela, amidst daunting setbacks in its journey of a full century, owes much .. much more to the people of this "Fortified City". They are proud of their Gwalior, they are proud of its legacies and so they have preserved Gwalior Trade Fair for the world.

The Cattle Fair is still an integral part of Gwalior Trade Fair and even though modern developments have effectively told upon its health, some 10,000 animals - mainly cows, camels, oxen, buffaloes and horses - are sold during its short span. Art & Craft Sector of Gwalior Trade Fair is a major attraction for the visitors where sculptors, woodcarvers, ceramic artists, weavers and several other like-minded professionals participate from all over Madhya Pradesh and beyond. Apart from satisfying the creative thirst of the artists and exposing them to an atmosphere of appreciation and identification, the business yields them an approximate income of Rs.60 lakh.

A major attraction of Gwalior Trade Fair is exemption of Sales Tax which serves as a stimulator and booster. This is especially a great gift for the middle class consumer who has a modest budget for costly dreams. Scooter, Motorcycle, TV., Washing Machine, Camera, Music System, Juicer & Grinder, Molded Furniture, Kitchen Machine, Microwave Oven, Refrigerator, Cooler, Wooden furniture, and what not! There is an ever-expanding list with the middle class. Gwalior Mela is the 'season' when at least few of the dreams can be bought within budget and, may be, with some free gifts inside! This year, the Automobile Sector, too, will be benefited from sizeable exemption on the Sales Tax that means a significant cut down on the prices of scooters, motorcycles, tractors, three-wheelers and four-wheelers. As Mr. Nagpal of Prem Motors chirps, a grand business is ahead. Such exemptions on almost all items serve as the backbone of the trade fair. Those who participate in the fair agree that in a month they are able to enhance the sale to such extent as equals to the sale of the whole year. The Millennium Fair 2000 was a grand success and this year, with the boost provided to the Automobile sector, the turn-over is sure to multiply.

So, make hay while the sun shines and dream on till the 'Mela' is in its full color. Visit the trade fair and enjoy the life king-size. This is all-embracing, all-entertaining. From 'Dangal' to 'Kavi Sammelan', from Kashmiri shawls to Rajasthani 'Chundaris', from Haryanvi 'Lehngas' to 'Chanderi' sarees, from international circus to jugglers' shows, from Agra's 'Pethe' to Gwalior's 'Gazak', from Mathura's 'Pede' to Bihar's 'Khaza', from electronic exhibitions to book stalls, from pincers to lawn mowers, from 'Kavvalis' to Padmini's dance - imagine whatever and see them in the Mela. This is the ocean where all rivers meet with a warble of contentment. With its wide spectrum, it has greatly contributed to the economic life of the state and has weft a fabric of social life where collectivity, collaboration and cohesiveness show the path of prosperity.

February 1, 2001 Gwalior Trade Fair

Started in year 1905, Gwalior Mela is the output of the vision of (Late) Maharaja Madho Rao Scindia. Over the decades it has evolved from a traditional village Mela into a commercial hub for trade in a vast range of industrial products and crafts. Spread over 104 acres of land, it has 1200 permanent pavilions and more than 500 pucca platforms besides 3000 open space shops. Apart from promoting trade with a quantum of business transacted over 100 crore Rs. just in a month, it is also known for its cultural activities wherein topmost musicians, poets, cine heart-throbs, dancers and singers are invited to perform. Dangals, Mushairas, Kavvalis, Kavi Sammelans, Cultural Evenings, Music Nights and several other special activities well organized and are integral part of the Mela. Over 2 million people visit the Mela from all over India. Exhibitions and displays of various kinds have also been an attractive feature of Gwalior Mela from very beginning. In the remote past, these exhibitions depicted India's freedom movement. Now the various departments of the Government use these exhibitions to reflect the developmental aspects and strategies. Of these, the exhibition of Gwalior telecom attracts people in large numbers and appraise them of the latest technological developments in the area of communication. Now the BSNL and AIRTEL are also providing internet and email facilities in the Mela. All major business companies - both private and governmental - set up their stalls for the sale of their varied items ranging from cottage industry items to leather goods, cloths & apparels, luggage, pottery, electronics & home appliances, automobiles and furniture, plastic goods and metalwares and everything that one can imagine. Major international and national companies which participate include Samsung Electronics, Bajaj Auto Limited, Onida, BPL, Whirlpool, Aristicrat & VIP Luggage, LML & Hero Honda, Maruti, Mahendra & Mahendra, Cello Furniture, The Mela is entirely an independent unit with its own police station and telecommunication facilities. Gwalior Trade Fair starts every year in the middle of December and lasts for a month. A viable step was taken in 1996 by Chief Minister Mr. Digvijay Singh. GWALIOR TRADE FAIR AUTHORITY - an autonomous body to look after the administration of this internationally recognized Fair - was formed which is now responsible for the whole administration of the Trade Fair. The quality of Gwalior Mela has further improved since the inception of Gwalior Trade Fair Authority. At present the GTFA consists of enlightened members from trade, industry, social welfare institutions and high officials. The wonderful sense of coordination and collaboration that the GTFA, local administration, police, municipal corporation, the departments of electricity and telecommunication and, above all, the forums of citizens and businessmen reflect in organizing the Mela is exemplary. The police's role has especially been praiseworthy. Already burdened with their routine administration, they are challenged to ensure people's safety as well as to provide protection to a number of important guests and VIPs visiting the fair - a challenge they have been facing with readiness and radiance.

In 1997, soon after the formation of the GTFA, Mr. Ramesh Chandra Agrawal of Dainik Bhaskar Group, the then Chairman of the GTFA announced that the Mela will be celebrated as a "real festival". This had a great impact. Previously, the Mela was organized under the auspices of the Ministry of Trade & Industries. The old monotonous style and beaurocratic setup was gone and a fresh impetus was now infused. In the same year, India celebrated the 50th Anniversary of its Independence and in its festive mood Gwalior Mela also took part in this glorious celebration. The Mela was also represented in the International Trade Fair held in New Delhi and became the recipient of a prestigious reward. Mr. Ashok Sharma, the then Vice Chairman, received this special reward on behalf of GTFA from Dr. Shankar Dayal Sharma, the then President of India. Now the GTFA is headed by Dr. Virendra K. Ganggwal. As an eminent popular figure of the historic city and President of Madhya Pradesh Chamber of Commerce & Industries (Gwalior) he is quite familiar both with the hopes of the people as well as the resources available. One of the proposals for development includes construction of an Amusement Park for children with an Appu Ghar on the line of the one in Delhi and a Water Park. The Entertainment Sector has already been enriched with these initiatives. will surely be enriched. The Automobile Sector is especially very popular and this year the Sector has been granted sizeable exemption on Sales Tax which is bound to result in better business.