As I get older I think vastly differently on all aspects of living than my views when I was young. As a young man, my thoughts were restricted, rather cramped, by a monolith work environment of this the Industrial age. Thinking differently makes me observe very interesting facts.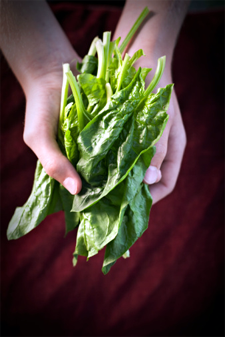 Like one day I was thinking about various foods. First one that came to mind was "Spinach". Everyone knows the wonderful properties and benefits of "Spinach". Spinach protects one from all kind of diseases. One can learn about these by a click on Google searching for benefits of Spinach. It has calcium, the basis of our growth and protection. It has vitamins A, K, Folate, Magnesium, Iron, Vitamin C, Vitamin B2 (Riboflavin), Vitamins B1, B6, B3, Zinc, Omega 3 fatty acid and anti oxidants and every leaf of spinach is packed with these and many other nutrients. In the West kids are encouraged to eat spinach with the help of the cartoon character Popeye who is shown to be a super being that thrives on Spinach. Surely one must find out from ones doctor whether any food is good for one or not, before one believes what I wrote. But, I am sure a vast majority of doctors will say that "Spinach" is a wonder food that nourishes, protects and enables one to grow and remain healthy—the best food.
I learned all this from navigating the internet. No one told me – not my father nor my mother – no one. I wondered why they had not told me about the wonderful nature and packed nutrients and benefits of Spinach. I felt sad and really thought that I was deprived about the knowledge of all these benefits for the lack of modern technology and analysis of Spinach, now available just by clicking "benefits of Spinach" on Google. Wow! I thought how lucky I am to have a Lap Top and to live in the modern society where just by a click one can find benefits of each food.
Same thing applies to Garlic. Garlic is a wonder semi herb and semi vegetable with benefits that range from reducing cholesterol to curing acne. More than 250 publications have shown that garlic supports the cardiovascular system. It may lower cholesterol and triglyceride levels in the blood, inhibit platelet stickiness and slow blood coagulation. Garlic too is loaded with vitamins A, B, C, calcium, potassium, iron, the antioxidants, carotenes, germanium, and selenium plus the countless biologically active compound agents that it contains.
I could not fathom the reason for the apparent inability of India's ancient Vaidyas to tell the population about all these wonderful benefits and ingredients of foods such as Spinach, Garlic, Cinnamon and many others. I thought how nice it is that now with the Internet and Google we in India also can find about benefits of various foods. Although, still being sad why such an advanced and thoughtful Ayuerveda based society could not impart that knowledge to all the citizens in some easy way, so that every Indian could readily know the health benefits of various foods.
I felt sort of sorry for those who have preceded me. Yet, when I started to think about them I realized, almost all my ancestors never saw a doctor and had productive and healthy lives till the day they died. I wondered as to what was the source of their perfect knowledge about the foods they ate. They had no computer or database or dietician, no access to Twitter of Facebook or e-mail. How did they know? Well I thought they lucked out and that is that.
This story would have ended here if I had not retired and started to accompany my spouse for grocery shopping.

One day we went to an Indian farmers market, as I was watching she asked the vendor – how much for the "Paalak"? I did not pay attention to anything else that was said, because the word "Paalak" – did a magical thing. I was amazed that our Ayuervedic Vaidyas left nothing for Imagination – they did not call it "Spinach" but named it "Paalak". That is why my father and mother and grandparents never had to tell me anything at all about "Spinach" – they knew it was called "Paalak".

I guess they thought even a fool will be able to figure out that "Paalak" means that which protects, nourishes, makes one healthy and grow.
Likewise they did not have to tell me the benefits of Garlic –that it may lower cholesterol and triglyceride levels in the blood, inhibit platelet stickiness and slow blood coagulation. They called it "Lahu-san" – that which cleans the blood. And they did not have to tell me that a major benefit of Cinnamon is that it helps lower blood sugar – they called it "Dhaal Chini"—that which lowers sugar. Neither did they have to tell me that for those times when I suffer from flatulence or gas I can take mint. They called "Poo Dina" – you get the drift.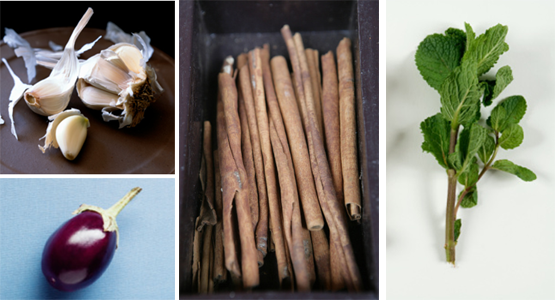 Garlic, Cinnamon Sticks, Mint and Egg Plant
Lahu-san, Dhaal Chini, Poodina,Baigun
I can list many foods whose names say it all. You can guess by now that I am a great believer in India's ancient sciences, especially that of Ayurveda. As such during my search for India's ancient ways, I found out about one of the great Indians of all times who is inspiring billions - Baba Ramdev ji. I am an ardent follower of his teachings. I always wondered why he says that Egg Plant is not a good food for one's health. Do I have to say any more than Egg Plant is called "Baigun"—that which provides no benefit!
Well so much for Google and my lap top. But then If you and I had no lap top how would I let you know about what they never told me.

Images (c) Gettyimages.com