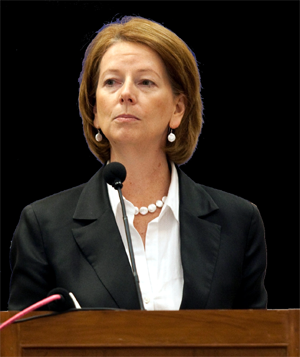 When she was in India recently, WFS had met up with Julia Gillard, now Australia's first woman prime minister. What are the forces that shaped this migrant from Wales and catapulted her to that country's highest office?
At the age of four, when Julia Gillard stepped off a boat from the United Kingdom to Australia, she and her family were just another group of immigrants in search of a new life. Little did she know that fate had an extraordinary destiny in store for her. Forty-seven years later, in June 2010, Gillard became not just Australia's first woman prime minister, but also the first foreign-born person to hold this high position.

"It took courage for my parents to leave Wales in 1966 with their two young daughters to move to the other side of the world as 'assisted passage migrants' (or '10 pound poms'). I do not doubt the immense impact this move had on my life. Even for my parents, it would have been inconceivable to them that their child, and a daughter at that, could be offered the opportunity to obtain two degrees from a university and toserve in the nation's parliament," said Gillard.
Education played a pivotal role in her life. Although both her parents struggled to make ends meet they were keen that both Julia and her sister, Alison, pursue education, something they missed out on. "I was good at my academic work. Mum had made sure that both Alison and I could read and write before we went to school. So we got a flying start," she recalled.
However, had it not been for the radical step taken by the government to abolish college fees, Gillard would probably have never made it to university, which, incidentally, was the starting point for her political life.
Now, as Minister For Education, in addition to her responsibility as Prime Minister, Gillard wants to give the same opportunity to every student irrespective of race and economic or social status.
On her recent trip to India, Gillard reiterated her government's resolve to ensure this opportunity would not be denied to Indian students in the wake of the racial attacks. Outlining the government's recent initiatives to improve the education experience for overseas students in Australia, she said, "We have zero tolerance for violence and are making amendments to the Education Services for Overseas Students (ESOS) Act, which governs international students to ensure their safety. One can't help but be struck by the seriousness with which the Indian community views education. It's an attitude the whole world can benefit from."
Taking her education initiative further, she also launched an ICT Enabled Diploma of Primary Education at the Indira Gandhi National Open University (IGNOU) in New Delhi. Developed as a result of a 12-month collaboration between IGNOU and Australia's Queensland University of Technology, the diploma programme will provide an understanding of the primary school curriculum, and the skills required to implement it effectively. "This will potentially benefit hundreds of thousands of primary school teachers in India," she said on the occasion.
But Gillard's passion for education is not a recent thing and not only because of her personal experience. It is consequence of having campaigned on these very issues as a university student. She has been always conscious that she was a part of a wider movement to create a fairer society and provide others with the opportunities she was fortunate to have. Getting involved in student politics was the first step in her attempt to change society. "Political engagement can become a tool of empowerment. The most important thing for a woman is to be driven by passion for what she believes in and the change she wants to bring," contended Gillard.
While admitting that her political journey had been a little easier because it had come at a time when more doors were opening, Gillard felt that women have to make the most of the opportunities given to them. "Women involved in governance matters, because good governance really can change lives. If more women are involved in politics, they can prevail in adversarial circumstances. My parents always encouraged my sister and I to think big for our futures. They never suggested that our lives or aspirations should be limited by our gender," she said.
Like Gillard, many Australian women have chosen to make a difference by delivering good governance and changing lives. Today, women make up 30 per cent of all Australian parliamentarians, account for almost 60 per cent of the 160,000 employees in the Australian Public Service, and head three government departments. "Women have taken up positions in every imaginable profession. Across the globe, women have achieved high office, good pay and significant influence. But for all this progress full equality for women is not yet won. It requires more work," emphasised Gillard.
One way to do that Gillard felt was to help women believe that they can balance work and family life. Although women's workforce participation in Australia has increased dramatically over the past 30 years, during the peak child bearing years, it reduces markedly. As Minister for Employment and Workplace Relations and Minister for Social Inclusion, Gillard has pushed for better workplace rights for women. In May this year, an 18-week national paid parental leave scheme was announced that will become effective from 2011 and close to 150,000 new parents will be eligible.
In addition, stay-at-home mothers will continue to receive the AU$5,000 (US$1=AU$1.16) baby bonus. Parental leave includes maternity, paternity and adoption leave. "This is a huge step for child support," said Gillard.
It was this commitment to promoting the causes of women and children that prompted Gillard to visit ASHA Community Health and Development Society, a Delhi-based NGO working with 300,000 people in 50 slum colonies in the Capital. Impressed by their work, Gillard said that her government would continue to support the cause ASHA worked for.
Gillard may be "hopeless" in sports and home economics, but her political skills and legal acumen have catapulted her to the pinnacle of Australian politics. In December 2007 she created history by becoming the first woman to hold the top job in the country, even if temporarily, when she became the acting Prime Minister while Prime Minister Kevin Rudd attended the United Nations Climate Change Conference in Bali. Then in June 2010, she became Australia's first woman prime minister.
Many women in Australia hope that she will be able to make a real and lasting difference to Australian politics.