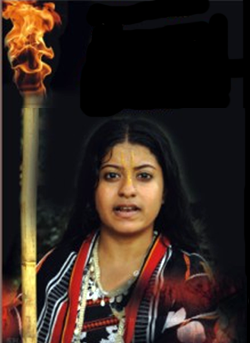 "This peace march is to address the State and the civil society, and tell them that we must engage in non-violence," explained noted Malayalam litterateur, Professor Sara Joseph, one of the 17 activists who participated in the Hind Swaraj Peace March, which travelled from Cherthala in Kerala - Joseph's home state - all the way to the northeastern state of Manipur from May 8 to 23. Their inspiration: Peace activist Irom Sharmila, 38, from Manipur.
All along their route, the group performed a play based on the book, 'Irom Sharmila and the Struggle for Peace in Manipur', which I had authored and Penguin India published in 2009. Sharmila's courage and unique action seems to have deeply touched many hearts and minds, setting off a chain reaction: While I researched and wrote about her and the issues she represents, Civic Chandran, a playwright-activist from Kerala, scripted the play, 'Meira Paibi'.
While performing it, members of Hind Swaraj Yatra campaigned for peace and initiated public discussions on the issue. The play was staged in three different languages - in Malayalam in Kerala; and in English and Hindi at other venues such as Bangalore, Chennai, Vijayawada, Pune, Bhopal, Delhi, Kolkata, Guwahati and Itanagar.
'Meira Paibi', literally meaning 'woman torch-bearer', talks about India's northeast. The play depicts Sharmila, a young woman who has been fasting for the past nine years to protest against the violence in her state. Specifically, she is seeking the withdrawal of the Armed Forces Special Powers Act (AFSPA), an emergency legislation that has been in force in Manipur since 1980, under which the right to life lies suspended. Fake encounters, torture, rapes and the disappearance of ordinary citizens are commonplace in regions that come under AFSPA.
The peace marchers recognise this intrepid protester as an epitome of non-violence and Gandhian satygraha (struggle for truth). By dubbing their journey the 'Hind Swaraj Peace March', they simultaneously marked the centenary of Mahatma Gandhi's Home Rule Movement, and his seminal work, 'Hind Swaraj', which criticised the brutality inherent in the modern capitalist civilisation. They agree with Sharmila and other peace activists that a democratically elected government ought to seek peaceful ways of handling dissent rather than crushing popular protest through military force.
The play shows how Irom Sharmila, a poet and social worker, unilaterally decided to sit on fast after ten innocent citizens were gunned down by para-military personnel on November 2, 2000, and who has refused to eat until the AFSPA is withdrawn. The state authorities routinely arrest and force-feed her but her incredible determination and sacrifice have won her a number of human rights awards and citations. In Manipur's capital city, Imphal, thousands of women activists have been sitting on relay fast for over 500 days now, with just one demand: 'Repeal AFSPA, Save Sharmila'.
Coming to the play, 'Meira Paibi'. Thanya plays the main lead of Sharmila in the Malayali version, while Ojas (a Maharashtrian actor) and Labeeb essay the role in the Hindi and English versions, respectively. After seeing the performance at Delhi University, research scholar Navneet Sharma remarked, "It brought out women's struggles in Manipur. It is informative and very well performed. It is highly commendable that some people from Kerala are giving so much time and energy to these issues!"
Added Manipuri human rights activist, Babloo Loitongbam, "We got our first understanding of national human rights issues as students of Delhi University, in the 1980s and '90s. Today, we have come full circle. Through Irom Sharmila, our issues are becoming known to the rest of the world, and are being taken up by friends in Delhi, Kerala and elsewhere."
Akhu, a young Manipuri lyricist, sang about the hypocrisy, apathy and ignorance of 'mainstream' Indians, who don't care about the Northeast. A sequence in the play questions the omission of all seven Northeastern states from the national anthem, while states from south, north, east and west are explicitly mentioned. Also how is it that there is no mention of freedom fighters like Rani Gaidinlieu and others from the Northeast, when lessons on the national freedom struggle are taught in schools?
In a public speech at Guwahati, another venue, Joseph argued, "The solution to the threat faced by democracy is to have more democracy." Emphasising the collective responsibility of India and its people, Chandran said, "The only choice before the oppressed classes is to embrace Sharmila's way of peaceful and democratic struggle.
Noted Iranian human rights activist and Nobel Laureate, Shirin Ebadi, had once put it very well, "If anything happens to Irom Sharmila, the Indian State, Parliament, the Prime Minister and the media that closed its eyes to this decade-long struggle should be held responsible... We too, cannot shirk our responsibility. Amidst the deafening noise of violence (across the length and breadth of India), here is a call to respond to non-violence, with humility, with truth. Long live the dream of a non-violent alternative enunciated in the Hind Swaraj and the possibility of the non-violent people's struggle epitomised by Irom Sharmila."
Ironically, the members of the peace march could not enter Manipur owing to a road blockade that has been on since April 13, 2010, initiated by Naga political groups in reaction to governmental mishandling of long-standing disputes between people of Manipur and the neighbouring state of Nagaland. Five team members managed to fly into Imphal despite this but they were refused permission to meet Irom Sharmila. She has been imprisoned in the security wing of a state hospital. Finally, before they returned to Kerala, they held a press conference in Imphal, expressing solidarity with the non-violent struggles waged by Manipuri people.
This peace march has ended but the team members, including Joseph, Chandran, Ashok (a teacher in Kunoor), Stephen Mathew (a farmer from Kottayam), Vijayraghavan Cherian (convenor of the Lohia Study Circle) and George (a health activist from Ernakulam), are committed to continuing the campaign. They noted, "Our Defence Minister A.K. Antony is a Malayali and it was to address his conscience and through him that of our government, that we began the Hind Swaraj Centenary journey from Chertala, his constituency." Today, this group hopes to strengthen the people's struggle by influencing Antony to initiate appropriate policy changes vis-a-vis Manipur.
One can only hope that the powers-that-be will listen and respond. Cultural action can inform and inspire thousands of people, motivating them to raise their voices for the common good. As some Manipuris take the lead in voicing democratic dissent, it is up to the rest of us to join. Activists from Kerala are showing the way, and doing it with such creativity.
Gandhi had once observed, "One person who expresses non-violence uses a force more powerful than all the forces of brutality." As the 'power of one' spreads, it is helping to usher in a non-militarised, peaceful world.