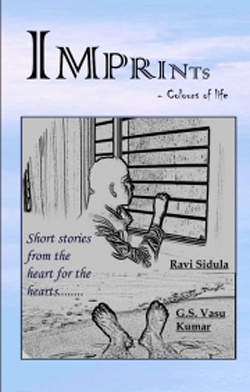 If you thought techies do not have time/do not care to do anything beyond their software jobs, here is an exception. Two young techies from a leading IT company have put their passion for writing into action, venturing out to publish their stories as a book.
Imprints is a self published book, containing a collection of 24 short stories, authored by two writers, Ravi Sidula and GS Vasu Kumar.
Each story is independent and well knitted. The one I liked the most is titled "You're not alone"… The story line goes as below:
A man is helped to his seat by the Bus Conductor (Mysore-Bengaluru one), a girl sitting next seat starts the conversation saying "how beautiful the world outside…" The man feels excited by the conversation but realizes that the girl is blind. They continue to talk and become good friends, with him explaining how beautiful she is and so on… At Ramanagara the girl gets down and subsequently, someone comes to escort this man as well, as he too was blind…
There're many other touchy stories, such as one in which an entire family member, suffering from draught, finally decides to commit suicide, unable to bear the burden any more, unaware of the fact that it would be raining heavily next day.
There's another story wherein a person saving money to publish his book had to abandon the plan as he'd to spend his savings on his wife's hospital bill. Eventually his notebook containing stories reaches a groundnut seller and then to a reader, who likes his writing, goes back to groundnut seller and buys entire notebook from him…
Like this, several day to day life experiences and observations are converted into short and sweet stories. Language is simple and you'll be able to connect with the characters very easily as you read the stories.
Each of the stories are dedicated to various persons, which is a good initiative. Most of the stories are also enriched with an image (pencil sketch version of photograph)
The Book is highly recommended by V Balakrishnan, (Infosys CFO) as well.
The 113 pages book is available for purchase on pothi.com for Rs 99 (+shipping)