Three years ago, when a Montreal girls' team was expelled from a Tae kwon do tournament by the Fédération de Tae kwondo du Québec for wearing the 'hijab' (head scarf), citing safety concerns, Elham Seyed was dismayed. These girls should not be forced to choose between their religious practice and a sport they loved, thought Seyed, 26, who was then an industrial design student at Montreal University.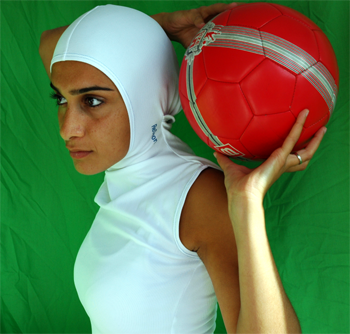 So she decided to use her designing skills and ended up creating a garment that perfectly combines faith, fashion and sporting sense. The Resport is a sleek 'hijab', which fits tightly around the head and is part of a sports shirt underneath. The origins of this invention lay in a university project Seyed undertook as part of her course work a year after the Montreal incident. Today, the design that "does the job of a 'hijab' and is secure enough" (to dispel safety concerns) has not only brought back the hitherto expelled Tae kwon do team on the tournament circuit; it is creating a buzz among many Muslim sportwomen and fitness enthusiasts across the globe.

Though commonly seen as a sports 'hijab', Seyed avers that the Resport is a versatile garment that can be worn by anyone - male or female. An avid sportsperson herself, Seyed, who does not wear the hijab, says, "The whole idea was to assist the practice of sports rather than religion. And that is why it does not look like a 'hijab'."

While it has been designed to keep sportpersons in mind, Seyed has had inquiries from the medical fraternity as well. In fact, a cancer association has evinced interest in the garment for patients, who could use Resport to mask the ravages of chemotherapy. Some Muslim schools in Toronto have also expressed an interest in the revolutionary new garment.

The excitement, however, is paramount among the sports fraternity. Seyed was invited to Toronto late last year to make presentations for a soccer league, which is now interested in ordering Resport for nearly 450 girls. And this after viewing only a single prototype. "That was all I had," says Seyed, "I did not have different sizes and I promised them that once I had the gradations I would get back to them so they could try them on and see which ones fit them."

The reason for all this abiding interest is Resport's superiority over the conventional 'hijab' on several counts, claims Seyed. To begin with, it stays in place. More importantly, since it is made of advanced wicking fabric, it stretches, is breathable and dries fast (18 times faster than its cotton counterpart).

However, much before all this praise came her way, Seyed spend many days of research and hard work. After she had decided on her project, she contacted the coach (a non-Muslim Canadian) of the expelled team (the all-Muslim girls team had a mix of hijab and non-hijab wearing members), met the girls and had several rounds of discussions on the challenges posed by the conventional 'hijab'. Her intensive research included attending Tae kwon do tournaments.

The first issue that presented itself was that the back of the 'hijab' was coming out of the girls' kimonos. As a result, they couldn't concentrate on what they were doing. Besides, this also led to unnecessary stoppages in the game because players donning the hijab had to constantly readjust their headgear, inviting a lot of resentment from the other players.

After understanding the situation, Seyed decided that her main objective would be to create a head covering that would stay in place. She noticed that the girls wore camisoles under the kimonos (known as a 'gi'), and then hit on the idea of making a single garment combining the headscarf and camisole as one piece. But in an early prototype she discovered that she had created a new problem. When the girls had to readjust their long hair, they needed to take off the kimono. So she added an opening at the back of the head, allowing easy access. Thus was created the sleek and comfortable Resport.

The creative tweaking, of course, continued. When she wore it to a soccer game, she felt the addition of sleeves would be a good idea; so Resport now has the option of short or long sleeves and a long or short torso. It will be available in different sizes for children (4 to 7), teenagers and adults.

Although it is yet to hit the stores, Seyed has been flooded with requests on Resport's website and she hopes to be able to market it within the next few months. It has already staged its appearance on the sports arena though. A year after Seyed designed Resport, the Tae kwon do Federation repealed its anti-hijab law - thanks to intense lobbying by the coach of Montreal's expelled team and her counertpart in Iran. Even the International Tae Kwon do Federation called the Montreal-based coach to say that the girls could participate provided their headscarves were secure.

When this team took its place in the tournament late last year wearing the Resport, a teary-eyed Seyed was among the spectators. Equally emotional was the team coach, who shares, on a condition of anonymity, "Finally there was someone who could understand our situation and needs. As the coach, what seemed important to me was the ease of putting the garment on and mostly the elimination of the extra material around the head so that no material could be grabbed. The Resport has far exceeded our expectations." She adds that the oft-heard comment from her charges is the garment's comfort. It is so light, they do not feel they are wearing a headscarf. However, the most significant contribution of Seyed's Resport lies in the coach's comment that it has "enabled the integration of veiled Muslim women in Tae kwon do competitions in Quebec."

And this is likely to ring true elsewhere too. It certainly has enthused budding soccer players who wear the 'hijab'. Tahira Noor, a Toronto teenager and an avid soccer player says, "From what I have read and heard about Resport it is extremely breathable and dries fast. And that's really great because it gets pretty hot under the conventional 'hijab'." Noor believes the design would bring many other girls on to the field. Given the current controversy surrounding the hijab, especially in Quebec province where girls have been expelled from soccer for wearing the headscarf, many of these youngsters could have reservations about coming out to a sports arena in their conventional garb.

There are others like Huma Siddiqui, who is looking forward to wearing Resport for workouts at the gym. "It would make me more comfortable while working out in a mixed group. It is comfortable without drawing attention to one," she avers.

Seyed is partly amused by the reaction to her invention. "All I wanted was for those girls to be able to play. I certainly did not expect all this (attention) but if it is going to bring more girls to the sports field I am really happy."