Incompetent investigations; long-drawn legal battles; deals being fixed between the police, the defence counsel and the prosecutors; prosecutors being appointed at the whims and fancies of corrupt politicians; and see-saw verdicts. This is the state of the justice system in India today. Over six decades after Independence can an ordinary Indian dream of seeking justice in this country?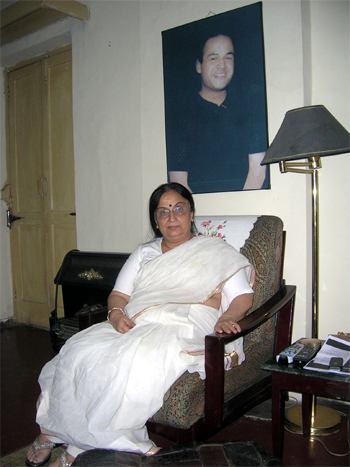 Ask Neelam Katara, 58, the mother of young Nitish Katara, who was brutally murdered because he fell in love with a girl from another caste, and she would probably say 'yes'. Her eight-year-long legal battle against Nitish's politically powerful killers is an inspiring example of how, despite being emotionally difficult, time-consuming and a huge drain on the finances, fighting for justice is always worth the effort.
"The moment I saw Nitish's badly burnt body in those bushes, I made up my mind that the people who committed this [crime] would not go unpunished. Since then I have been doing just that," she says, sitting in the living room of her quaint Chelmsford Road bungalow in Delhi. In the background hangs the photograph of a smiling Nitish, serving as a gentle reminder of the happy times that Neelam's close-knit family had shared.
In the early hours of February 17, 2002, Nitish, 24, was burnt to death by the brothers of Bharti Yadav, the daughter of politician D.P. Yadav. That day life for the Kataras changed forever, especially for Neelam, who was determined to ensure that her son's killers would not go free. But this was easier said than done.
Although Neelam's father was a police officer with the Uttar Pradesh (UP) police, her maternal grandfather a judge and her paternal grandfather a public prosecutor she, like most ordinary Indians, had no awareness of the way the legal system worked. "In school we are taught science and general knowledge. But no one gives us basic legal knowledge or even legal rights awareness. I think having this information in today's crime ridden times will be a great asset," she states.
Neelam, who works as an education officer with the Kendriya Vidyalaya Board, had to learn things from scratch. "February 17, 2002, when Nitish didn't come home from the wedding he had gone to attend the previous night, was the day I stepped into a police station [at Kavi Nagar, Ghaziabad] for the first time to lodge an FIR [First Information Report]."
In her FIR, on the basis of the conversations she had with Nitish's friends while searching for his whereabouts, Neelam set down her deep suspicions that Vikas and Vishal Yadav, Bharti's brothers, who had disapproved of her relationship with Nitish, were involved in the crime. Subsequently, she filed a habeas corpus at the advice of senior Supreme Court woman lawyer, Kamini Jaiswal, who has been her pro-bono legal adviser ever since.
A political science graduate from Allahabad University, Neelam says, "Had Bharti's brothers not killed Nitish, they would have killed Bharti in the name of caste and honour. 'Honour killings' have been a common occurrence. They happen every week in little towns of states like UP, where I was born and brought up."
In fact, Neelam is really unhappy at caste becoming such a major source of divisions in contemporary India. Nitish himself was brought up never to make distinctions based on caste. For the Kataras "caste was purely a phenomenon of medieval times". "When I came to know about Nitish and Bharti, the only thing I was wary about was that her brother, Vikas, was one of the accused in the Jessica Lal murder case. We did not even know of her father's criminal political background," she recalls.
In August 2002, Neelam's tryst with the judiciary began. Her first effort was to get the case shifted from the U.P. courts to Delhi to ensure that the political influence of the Yadavs would not have a bearing on the outcome. But in November 2002, when the trials began, things looked bad. Witness after witness turned hostile. Under immense family pressure, even Bharti denied any involvement with Nitish and left for the UK.
But support or no support, Neelam soldiered on. There was another loss in store. In August 2003, Neelam lost her husband of 27 years. Nishit, a former IAS officer, was suffering from a motor neurological disorder. "We didn't expect him to go so early. I think the stress took its toll," she says. Within the span of a year-and-a-half, Neelam had lost both a son and her husband.
Yet, when her younger son, Nitin, came home after completing his engineering from Pune, she ensured that he enrolled for his MBA at Leeds University in the UK. Shares the loving mother, "I did not want a break in his studies; it was so easy for him to get distracted by the case. Nitish's insurance claim was the gift that helped me cover the costs of Nitin's education."
The financial drain was severe when in January 2004 the public prosecutor ditched her and she had to hire a private lawyer. This led her to spend most of her husband's retirement benefits. But her efforts paid off. In November 2006, Bharti was examined as a witness. And in May 2008 the trial court found Vikas and Vishal guilty. They are currently serving a life sentence.
Yet, justice has come at a very high price. Every day Neelam wakes up to the thought of 'what if the Yadav brothers get bailed out?' "Every victim's family that approaches the courts to seek justice ends up being a victim of the judicial system. If the accused are rich, then they hold the power to prolong the case as much as they desire, simply by getting their lawyers to rely on adjournments and not presenting their witnesses. Under Indian law the onus of proving the accused guilty of the crime rests on the complainant," she reveals. Incidentally, the Yadav brothers were in the news recently for exploiting loopholes in the rules to make 85 medical outings between May 30, 2008 and February 8, 2010, although they are both serving life terms.
Stress has taken a toll on Neelam. It led her to put on 17 kilos over the past eight years, which has resulted in her developing blood pressure related problems. "But now I take care and regulate my condition through medication. I have even shed five kilos," she smiles.
By her side today are her 80-year-old parents in Muzaffarnagar, UP, who she visits for a week every month. While her job keeps her busy during the day, the evenings are reserved for her son Nitin, who is now working with an event management company in Delhi.
Neelam's inspiring persona has won her many admirers, at work and otherwise. In fact, very often as a member of the Kendriya Vidyalaya Board's interview panel, she encounters young teachers, who are more delighted to meet her than to be called in for a promotion interview.
She advises young people not to get cynical, speak up against injustice and never give up: "You have to be willing to make sacrifices and fight your own case. The rest are just waiting for you to give up."
She add, "Nitin often asks me why all of this had to happen to him. To which I answer, 'Some people have a perfect youth and a difficult old age like I had, and some have it tough like you in their youth. May be you have a lovely phase hereafter.'"
That's Neelam Katara for you, a picture of rare courage and quiet optimism.

By arrangement with WFS