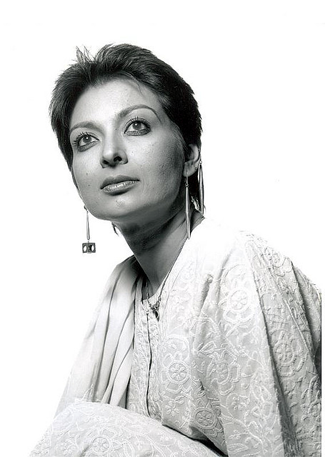 Dancer, choreographer, publisher, activist, writer, actor, politician - who is Mallika Sarabhai? She's all that but she prefers to call herself a communicator. She cares about non-violence, about nature, about cruelty, about poverty, about justice, about greed, about deprivation and, above all, about people. But one of the factors that makes Sarabhai what she is today is the fact that she comes from a family of strong women.

In a one-on-one, Sarabhai speaks about the illustrious women in her life, her electoral fight against former BJP president L.K. Advani, the current crisis in Kashmir and the Women's Reservation Bill.
Q: You have strong women role models in your family - your mother, Mrinalini, your paternal aunt, Mridula Sarabhai, and your maternal aunt, Captain Lakshmi Sehgal. What influence have they had on your life?
A: I can't answer for the others - none of the other Sarabhai women or men are activists, although I have several women cousins on my mother's side who are. But having such women in the family certainly left a deep desire, a burning need in me to do something for others, especially people who are under-privileged or ill treated in any way.
Q: While it is true that strong women can leave an imprint on the very fabric of society, they often suffer on the personal front. All too often they find themselves clashing with their parents, their companions, their children.
A: I have been fortunate in my family's support, although my stand against the Narendra Modi government in Gujarat lost me a lot of faint-hearted friends! Yes, of course, strong women leave an impression on society and even if they are not well known they have an impact on those in their immediate circle. I also agree that many have had to suffer the consequences of their decisions and stands; face ostracism. Many have even chosen not to have a family.
Q: How would you describe yourself? You are known to be forthright and brutally frank. Have those qualities ever landed you in trouble?
A: Yes, my bluntness and frankness have got me into a lot of hot water, but I have no time for pussyfooting. I loathe obfuscation and am not at all diplomatic. I suffer fools badly and detest society games - including what is referred to as "networking". I can't do it although in today's times I sometimes pay a heavy price for this. I believe in honesty and transparency and there is little currency for either in today's world. I believe in basic values of fairness and justice, honesty and humanity, and find it difficult and unforgivable when these are breached - which they are by almost everyone all the time.
Q: Tell us about the bond you share with your mother. What role does she play in your life?
A: I used to be called her calf, as I was always hanging on to her 'pallu'. She is pivotal in my life. She is my creative inspiration and her generosity of spirit and compassion are something I always try and emulate.
Q: In the 1950s, your paternal aunt, Mridula Sarabhai was a natural rebel. She even took on the Nehru government on the issue of Kashmiri leader Sheikh Abdullah's detention. In fact, her protest resulted in her being put under house arrest for 14 years in New Delhi. Did this development strain relations between the Sarabhais and Prime Minister Nehru? What recollections do you have of those days? And were she alive today, how do you think she would have dealt with the crisis that Kashmir is facing?
A: I was far too young then to have understood her stand. Nor did I ever get a chance to discuss it with her. But I remember her house was always being full of Kashmiris.
I also have recollections of my aunt always rushing around and in constant parlays with people. I remember her amazing gentleness just behind her gruff exterior. I remember my family pointing to me and saying, 'She will be the next boss' - which was what they would call my aunt. I also remember her cooling herself in the Delhi heat by keeping a bag of ice on her head!
Where relations with the Nehru family were concerned, papa (scientist Vikram Sarabhai) and 'amma' (mother) remained very close to Indiraji, so I don't think it really has any serious consequences. But she (Mridula) would certainly have been heartbroken to see the deteriorating situation in Kashmir today.
Q: You have travelled to the Valley and have even performed there with your group. What do you make of the present crisis. If you were a politician how would you have dealt with it?
A: The issue is so complex and so much ill will exists that it is difficult to say. It is awful to watch what is happening there and in the Northeast as well. I have not studied the issues intensely enough to understand all that is at play and I too get my news from the papers, which can hardly be trusted any more.
Q: You fought the last election as an independent candidate against Bharatiya Janata Party (BJP) President L.K. Advani. What was that experience like?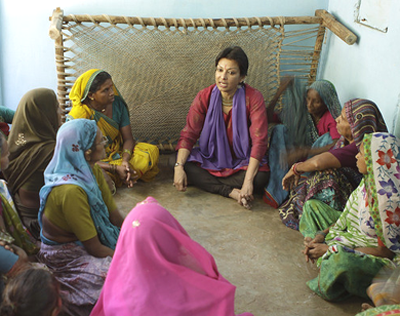 A: I fought against Lal Krishna Advani from my own constituency of Gandhinagar. I hold him responsible for the new Hindu-Muslim divide in India and for the politics of hate. I also hold him responsible for corrupting the very idea of Hinduism and the Sanatan dharma - inclusiveness, acceptance, tolerance. So if I was plunging into politics it was he who I had wanted to challenge. My campaign certainly made him and his family run around - at least more than he had in the 20 years of representing this constituency. His whole family camped here for days, even having to hire a house!
Q: You lost in those elections. Do you see a future in politics?
A: I have continued working with people. I stood as an independent and the electoral system is skewed in favour of party politics and is full of loopholes. Threats and money are what elections are about today. I am not sure whether an individual ever stands a serious chance, especially here in Gujarat. But I do want to win and prove what an honest politician, deeply committed to governance, transparency and getting things done by empowering people, can achieve. But I am not sure which route to take yet.
Q: Do you believe that women politicians do make a difference, especially now that the campaign for the Women's Reservation Bill has reached fever pitch.
A: Women will make a difference if there are enough of us. We don't believe we have to become even more corrupt than the men to succeed. That's why I am convinced that time bound reservations for women are necessary.

By arrangement with WFS