Rendezvous with Rajasthan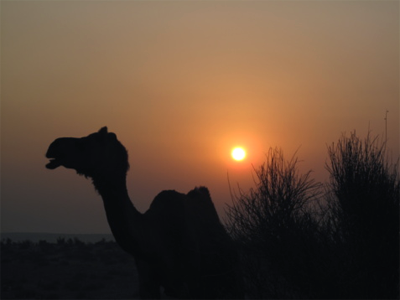 As a kid, forts and palaces has always been an object of fascination for me. Somehow there was a sense of mystery that these ancient places instilled in me. In India when you think of such grandeurs, the only place that comes to your mind is Rajasthan. I have always wanted to visit Rajasthan but never really could find the time for it. So one fine day sitting in my office cubicle, when I got totally bugged with my monotonous life, I decided to take a break. I did not know what sort of a break I was looking for but as I sat there with my eyes closed, my thoughts wandered off to those palaces that I used to dream about as a kid. It was then that I realised where I had to go. It was not that I did not have anyone who could accompany me on my trip but somehow I wanted to this on my own, for my own self. I took a leave from office and off I went on this unforgettable journey.

I took help from a couple of travel brochures to find my way through the place and picked on some locations that I wanted to visit. It has been said that a true rendezvous with Rajasthan is only possible by travelling through its narrow alleys and breathing in the royal scent amidst the formidable sands. That is exactly what I did.

I took a flight from Bangalore to Jaipur, my first stop. The Pink City, Jaipur, is the first planned city in India located in the deserts of Rajasthan. Jaipur grasps the appreciation of every visitor with its structure resembling the tastes of the Rajputs. I was no exception to it as well. The city is home to mind-blowing mountains, Hawa Mahal, Amber Fort, and numerous artistic temples. It was truly a worthwhile visit.

From Jaipur I headed to a small hamlet, Pushkar. Pushkar hosts an annual event called the Pushkar fair that attracts Indians and foreigners alike. I was lucky to have witnessed this fair during my visit. The only temple in India dedicated to Lord Brahma lies in Pushkar. The Pushkar Lake with 52 bathing Ghats on its banks stands here. A dip in this holy water somehow felt so invigorating.

Moving from Pushkar I headed towards the "Venice of the East" – Udaipur. The city of Udaipur is steeped in romance and antiquity. If Jaipur is a city in pink, Udaipur is a vision in white. Surrounded by the ancient Aravalli Mountains and set on the edge of three lakes, Udaipur is a brilliant kaleidoscope of narrow lanes flanked by bright stalls, gardens, lakes, palaces, and temples. Overlooking the aquamarine waters of the lake Pichola, stands the shimmering granite and marbled Lake Palace. The beauty of this place is so captivating that for an instant all I wanted to do was leave everything behind and just stay here forever.

Leaving Udaipur behind, I moved ahead to the Ranthambore National Park. The park is located at the junction of the undulating Aravalli and Vindhya ranges. One could find several lakes, varied wildlife, and fascinating species of birds out here. It was the perfect place to spend some peaceful moments while enjoying the diverse range of enthralling flora and fauna.

With Ranthambore National Park, my trip came to an end and it was time to head back home. Throughout the trip, I enjoyed a great deal of sumptuous landscapes and sunrise above the desert sand dunes. Rajasthan is a place where the tradition and royal glory meet in a riot of colours against the vast backdrop of sand and desert. A trip to Rajasthan is a journey through living history and trust me when I say this; you don't want to miss it.


Image (c) Gettyimages.com
23-May-2010
More by : Sayantini Ghosh
---