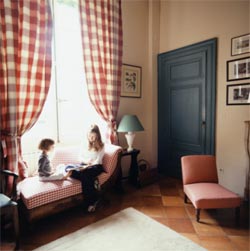 Over a period of time, we have talked on different aspects of Vastu vis-à-vis its relevance to modern life. We have talked about the importance of balancing the primary elements of Nature and we have talked about the various energies — macro or cosmic and micro or terrestrial. In this article, I wish to talk about how we can make use of colors to enhance the quality of our lives.
Planetary Colors
Astrological texts like Brihat Jataka, Jataka Parijata and others have assigned certain colors and directions to the planets as follow:
Different shades and hues of these colors can be used for the interiors and exteriors on the basis of the Janma Rasis or Moon-signs of the house owners. For instance, let us take the owner's Janma Rasi as Mithuna (Gemini) and the spouse's Janma Rasi as Meena (Pisces). The respective lords are Mercury and Jupiter. Green for the exteriors and yellow for the interiors in their varied hues, can be used to make the house look beautiful and compatible to you astrologically.
Directional Colors
Colors can also be used based on directions. For instance, North-west rooms can be white, North rooms can be in light hues of green, West rooms can be greys, South-east rooms can be varied colors, North-east rooms can be in shades and tones of yellow like cream etc. and South rooms can be in shades and hues of red.
Colors can be used in a variety of ways. We can paint our walls with a range of colors. We can wear clothes with colors of our preference; we can drink solarised water in colored glasses. We can use curtains, carpets and furniture with different colors of our liking.
Study rooms can be green, kitchen and dining rooms can be orange, mediation and prayer rooms can be white, living and discussion rooms can be cream and hues of yellow, and bedrooms can be blue. Parents may, perhaps, find rooms colored blue ideal for their children who tend to be aggressive.
Color Therapy
Properly used colors play an important role in health and can contribute to stable mental and physical health and alleviate human suffering.
Exposing the body to colored light is also said to act as a support in healing. Color therapy texts tell us that green light can alleviate heart problems and cancer, blue can treat painful ulcers, inflammatory disorders and back problems. Red is good for skin problems, bladder infections and anaemia while orange works on allergies and constipation. Yellow light alleviates muscle cramps and gallstones. Orange is said to stimulate the nervous system and increase your appetite.
Shades and hues of red can be used when a person is suffering from blood ailments, anaemia, bodily weakness, colds, circulatory deficiencies, paralysis, baldness etc. Red also stimulates brain wave activity, increases heart rate, respiration and blood pressure, and can also assist in burning fat and reducing weight. Pink, which can be considered as a hue of red, is an appetite suppressant, relaxes muscles, relieves tension and soothes and calms frayed tempers! Orange energizes stimulates desire for food and digestive system and is good for chronic asthma, phlegmatic fevers, inflammation of kidneys, epilepsy, cholera etc. Shades and hues of blue can be used for throat troubles, laryngitis, goitre, typhoid and other fevers, jaundice, sore throat, small pox and related ailments, hysteria, insomnia or sleeplessness, lowering blood pressure, itches, painful menstruation, underweight problems etc.
Green is good for alleviating problems related to heart, ulcers, headaches, flu, blood pressure, is soothing, relaxing mentally as well as physically, helps those suffering from depression, anxiety, nervousness etc. Yellow can alleviate stomach problems, digestive disorders, constipation, stress and nervous disorders, energizes, relieves depression, improves memory, stimulates appetite etc. Indigo (dark blue) is recommended for eye troubles, facial paralysis, lung disorders, pneumonia, bronchitis, asthma, ear and nose complaints, deafness, infantile convulsions etc. Violet and its hues are good for ailments related to mind, diseases of the scalp, rheumatic and similar pains, kidney and bladder weaknesses, suppresses appetite, provides a peaceful environment, good for migraines etc.
Colors have the strength to either depress or exhilarate and play a very important role in health and happiness. Interfacing the above colorful suggestions with certain basic Vastu guidelines as below will enhance the quality of your life.
Orient your furniture to the cardinal directions such that you face East or North.

Keep the Northeast of all your rooms dirt-free.

Pedestal fans can be in Southeast sectors so that they blow towards Northwest.

Trash, litter and garbage can find their places in the Northwest of the site, building or rooms.

Avoid placing your desks facing a doorway. Avoid also sitting with your backs directed to a door opening.

Place your mirrors on East or North walls.

Select the color of your carpets as recommended above.

Your aquariums, water fountains and drinking water containers can be placed in the Northeast areas of your site, building or rooms.

Northeast rooms painted white or shweta are ideal for elders, patients and pregnant ladies.

Elders can sleep with their heads to the South and young students can sleep with their heads to the East.

Light indoor plants are ideal in the North, East and Northeast. Heavy plants in the West, South and Southwest are excellent. Rose, cactus and thorny plants find a compatible place in the Southeast.

Electrical and electronic gadgets will find their placement in the Southeast of the rooms in order.

Never ever sleep or sit under beams. If necessary, conceal the beams with artificial ceilings.
I wish all my readers a very colorful Vastu-based home.