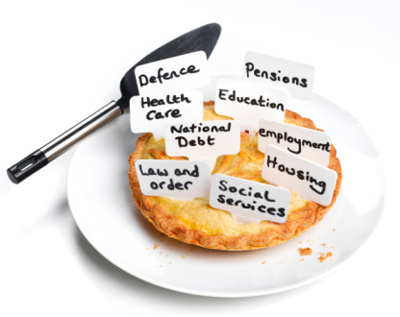 Around the world, all nations appear to be "into it," and "into it" in this sense refers to debt. Consider the following statistics.

Japan is currently $10 trillion in debt. This represents 200 percent of its GDP, and makes it the second largest debtor nation in the world, second only to Zimbabwe. The U.S. currently owes over $13 trillion, representing 93 percent of its GDP. France with a debt of $8 billion is close to 80 percent of its GDP.

Developing nations like Singapore had a debt to GDP ratio of 113 percent; Sri Lanka had 87 percent; and Hungary had nearly 78 percent in 2009.

However, the most unpalatable ratio is that of Zimbabwe: a staggering 300 percent! This poor nation ranks first in the world in the category of debt to GDP ratio. And guess who number two is? Japan!

So, what is the GDP? What is a debt ratio?

The market value of all goods and services produced by a nation in a year is known as the gross domestic product (GDP), and a debt to GDP ratio is a country's total debt divided by its GDP – the higher the ratio, the greater the loan burden.

The nations of Zimbabwe, Japan, Lebanon, Jamaica, Italy, Greece, Singapore, Iceland, and Sudan are but a few nations carrying an unbearable burden of debts. Their frightening statistics raise basic but important questions.

What is a Government debt?

When a government spends more than its income, it creates what is known as budget deficit. In order to cover that deficit – expenses minus income – it borrows money. The borrowed fund is then called a debt, and the cost of debt is called interest.

Where does a central or federal government get money?

A central government receives money from various sources: taxes from businesses and individuals, import, custom, and excise duties, fines imposed on law breakers, fees at airports, museums, monuments, parks, and other public venues under central government, and income generated by government owned and operated businesses such as post offices.

In the case of Socialist countries, such as India, money also comes from the operation of Air India, Indian Airlines, Indian Railways, the Oil and Natural Gas Corporation, banks, insurance companies, mines, manufacturing companies, and so on.

Why is a Nation in Debt?

It takes lots of money to run a country. A nation must pay interest on borrowed money. Additionally, a country needs money to run a huge bureaucracy, from the offices of the prime minister and president to the ministry of welfare, including ministries in between such as defense, foreign, finance, food, home affairs, industry, justice, labor, energy, science and technology, and tourism. Each ministry provides a variety of services, incurring enormous expenses.

Finally, it has to have cash to operate its own companies. Unfortunately, government run businesses in public sector operate in the red and government provided services cost more than they should. These activities result in a net financial loss, forcing the government to borrow funds, bridge shortfalls, and balloon the budget deficit.

In fact, it does not take too long for a government debt to skyrocket and for an interest payment to become larger than any other item in the budget.

How many ways can a government raise capital?

A government raises capital in numerous ways, such as raising taxes, selling public IOUs (I owe you) such as bonds, seeking loans from foreign banks and investors, selling government property, increasing tariffs, and printing money.

What Impact does the National Debt Have?

Sadly, all financial methods of bringing in funds have a serious impact on the economy.

If the government raises taxes, it encourages tax evasion and black markets, creating a rise in black money.

If the government borrows money in an open market there may be no money left from which to borrow, affecting both private companies and the general public. The former might want to borrow to expand their businesses and the latter would like to borrow to buy big items such as homes, appliances, and automobiles. Simply put, when government borrows, it is "crowding out" the other two groups. Furthermore, all three entities – government, private businesses, and public – compete for cash, causing the cost of loans – the interest rate – to go up.

Finally, if the government prints money without keeping the value of money constant, it can result in runaway inflation.

What should government do?

Each year governments must balance the budget and limit the borrowing to zero—repeat, zero. Debts and deficits are ticking time bombs, whether from a government or an individual.