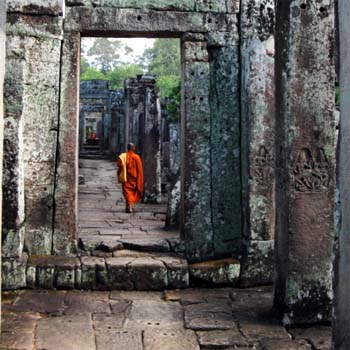 Many people who meet Buddhist teachers or Lamas are often unaware of proper ways to show respect. They wonder 'What do I do?' or 'How do I act?'

When a lama is referred to as a Rinpoche (Tibetan for "precious one"), he or she has achieved a high degree of spiritual awareness and attainment. This occurs only after years of study and practice. In the Tibetan tradition of Buddhism, there are also Rinpoches that are Tulku (Tibetan: "nirmanakya"). A Tulku is an incarnation of a highly evolved individual or bodhisattva that has practiced compassion and selflessness for many lifetimes. He has done this to the point where he has deliberately stalled his complete liberation in order to continually return to the realm of suffering and help free others. Rinpoches devote their lives to bringing out the highest spiritual potential in everyone that they contacts, as well as in themselves. Their compassion extends to all beings. They selflessly strive to be purified vessels of enlightened attitude and will give themselves to others without hesitation. A Rinpoche is a truly holy person, and for this reason, deserves not only respect but also great consideration.

It is a great blessing to meet Rinpoches. Any Buddhist practitioner who has spent time around his or her teacher can verify their extraordinary qualities of generosity, compassion, and wisdom. Each teacher unfailingly manifests these qualities in their unique way. They are holders of truth - of the divine Dharma - so we extend every possible courtesy.

Proper respect is shown in a simple way in the Tibetan tradition. An offering of a white silk scarf (Tibetan: 'kata') is made when meeting a lama. If the lama is a high Rinpoche or your own teacher, it is customary to prostrate three times upon arriving and once when leaving. While you may feel comfortable doing this in a formal situation or in a Dharma Center, there are times in the West, when this may not be comfortable for you or the Rinpoche. You may show respect in a more Western way that draws less public attention such as a short, respectful Japanese-style bow with hands folded or with an American-style handshake and nod.

If the Lama holds certain vows, such as those of celibacy, he or she may not wish physical contact. Try to find out as much as possible about the particular Lama you will meet and the vows and traditions they follow. Generally, speaking, one should not touch a master, sit on the same level as the teacher, or sit before the teacher sits. You will most likely notice other students standing, with bowed head, waiting for the entry of the Rinpoche. They will not sit before the Rinpoche sits, and will offer prostrations when she takes her seat on her throne.

Another important courtesy is to be careful not to hold the bottoms of your feet so they directly face towards the Lama or any Dharma objects since these are 'exit' channels and considered impure. You may also wish to consider your attire in general. It is normally okay to wear jeans or casual attire, but clothing that overtly exposes skin is considered not appropriate in a Dharma Center environment or near a teacher. Asking the senior students or regent about the protocol of the particular teacher prior to your meeting is highly recommended. Younger and western Rinpoches tend to be less formal but that is not always the case. Be sensitive to those around you. Rinpoches will most likely never mention any offense since they are extremely polite and compassionate. It is however, noticed. A quiet, attentive demeanor is the most appropriate way to show respect to a teacher of divine Dharma.

In each situation, the most important thing is to acknowledge the lama in an appropriate and respectful way. One generally addresses a Lama as "Rinpoche". When speaking of her, you would refer to her by her name as well as his title; for example, "Lama Tsultrim Rinpoche" or "Tulku Kushok Rinpoche". Very high Tulkus should be addressed as "Your Holiness".

If a student is requesting a teaching, an empowerment or an interview, it is appropriate and customary to bring an offering. Flowers, fruit, incense and candles are symbolic offerings made to the purified Buddha-mind that you perceive in your teacher. Useful items are also good offerings. A money offering can be made at anytime, without hesitation, wrapped in paper or in an envelope. Lamas do not need the money themselves, but will use the offerings to further their Dharma activities.