Down Memory Lane… Why Babuji Couldn't be PM?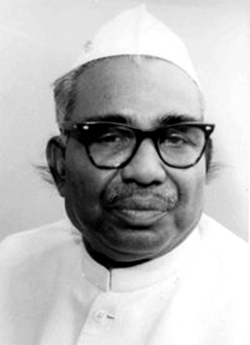 A recent biography of late Jagjivan Ram by Mr Mangalmurti released by Kapil Sibal and carrying a foreword by Meira Kumar has claimed that the Congress fully exploited his talents but never allowed him to become PM because he was a Dalit. The author could well be right. Undoubtedly Jagjivan Ram was one of the ablest and longest serving cabinet ministers after independence. Ram's competence arose not from any declared vision or from innovative thinking. He was primarily a practical politician with strong common sense and the ability to get the best out of the officials who served under him. The book has described how Indira Gandhi forced Ram to introduce the Emergency bill in Parliament against his better judgment. That blot prevented Ram from becoming PM during the Janata rule. Once again the author is right. During the Janata rule there was certainly no impediment to Ram becoming PM because of his caste. He was within a whisker of becoming PM. He was blocked from success. I prevented him from becoming PM.

Sometimes very minor players change the course of history. I became a founding general secretary of the Janata Party largely because I muscled my way in despite no help from Morarji Desai who was close to me and who was even a columnist in my small one-man weekly paper, "Stir" during the time when he was in the political wilderness. Charan Singh's BKD including the Lohia socialists, the Congress-O and the Jan Sangh supported my appointment because I had been an unflinching opponent of the Dynasty. I was election campaign in charge of all the publicity. The leaders of the Janata Party to begin with had little idea of the public mood. They actually thought that Indira Gandhi would win. George Fernandes was in jail during the campaign and he wanted to boycott the poll convinced that the poll would be rigged by a dictator. I passed him the message to relax because he would become very soon a minister. I do believe I was the only office bearer of the party to officially declare that the Janata Party would obtain an absolute majority on its own without accounting for Jagjivan Ram's breakaway Congress for Democracy (CFD). The archives of The Financial Times of London would bear this out.

Jagjivan Ram was much respected by the US and UK. Unsubstantiated rumour even alleged that he was the CIA mole in the cabinet, not YB Chavan as widely speculated. Anyway, when time came for ticket distribution I found an odd assortment of leaders rooting for Ram. To be charitable they could have been impelled by a sense of desperation not to lose. In a working committee meeting attended by the leaders to finalize seat adjustment with Ram's party there was strong urging to accommodate Ram's demand for the number of seats to be left to CFD.

Chandreshekhar warned Morarji and Charan Singh to accommodate Ram failing which there could be three cornered contests that would ruin Janata prospects. Vajpayee echoed him. Raj Narain got up and walked up to Morarji with folded hands to plead the same. I had already alerted Morarji and Charan Singh earlier. I spoke up to rubbish the proposal. I said that to give so many seats to someone who had introduced the Emergency bill in parliament would make us the laughing stock of the country. I also said that three-cornered contests were welcome. The leaders would know the mood of the public then. I had my way. Ram's demanded quota was halved. Despite that in some constituencies there were three-cornered contests. In each such constituency Ram's candidates lost their deposits against the Janata Party winners. Eventually the Janata Party got a bare absolute majority by itself and Ram's party got around 28 seats.

Despite this Ram almost became PM. In Ramnath Goenka's office in The Indian Express the media tycoon held parleys with Nanaji Deshmukh, Chandrashekhar and Atal Behari Vajpayee for a strategy to make Ram PM. There was wide speculation that Ram would be PM. I got in touch with Charan Singh who was an aspirant himself. I told him that he could not make it. If he didn't support Morarji, Ram could become PM. Charan Singh issued a statement that he was not a candidate. There was of course no question of him supporting Ram. I met with the number two RSS leader Madhav Rao Mule and briefed him about how the Jan Sangh leaders were plotting with Goenka. Mule telephoned Nagpur and conveyed this to RSS Chief Balashenb Deoras. Deoras issued a statement that only a Janata Party leader should become PM. The Jan Sangh leaders had to fall in line. Amazingly, the anti-Morarji efforts did not end there.

It was decided that the new PM would be chosen after Jayaprakash Narain and JB Kripalani would interview each Janata MP individually to ascertain who should be PM. I strongly criticized the move and demanded that there should be an open election to elect the new leader. My demand counted for nothing. I knew what the game was. With Jan Sangh, BKD and Congress (O) supporting Morarji the vote would have been overwhelmingly in his favour. That would have strengthened his hand enormously. Instead JP and Kripalani resorted to this subterfuge to rob Morarji of a spectacular victory. Both, like many other leaders, disliked Morarji for his rigid views and autocratic disposition. In the end despite all the stratagems to block him, Morarji Desai was sworn in as Prime Minister.

Oddly enough the only one to one meeting I had with Jagjivan Ram took place after my last ever meeting with Morarji Desai. I demonstrated against investment of public money in luxury consumption while basic amenities like drinking water were denied to the poor. I opposed the government building the new Akbar Hotel. Without notice I descended on the public sector five-star Ashoka Hotel with 3000 slum dwellers who posed as customers to choke the hotel. We broke no law. Half a dozen slum dwellers drank tea at the restaurant and paid for it. The rest could never be accommodated because the hotel lobby was choked and no service was possible. This happened on Gandhiji's birth anniversary, October 2, 1978. I announced that unlike Gandhi we would never break the law in independent India where laws were framed by elected representatives and not by the British. Instead we would use the law as a weapon to corner the rich. We won the government's case launched against me. Next Day The Indian Express carried news of the event as the page one banner. Morarji was furious. On Gandhi's anniversary all the limelight had been stolen from him by this venture. He spoke to me on phone. He accused me of having been paid by Indira Gandhi to do this. I rubbished him and said he should know me better. He changed tack and said that I wrote for Karanjia's Blitz weekly. So what if I did, I asked. I wrote only what I pleased. "Karanjia is a prostitute," he snapped. If that is true, I told him, then Goenka who was close to him at that time, was a call girl. Our conversation ended. That was the last time we spoke. We never met again. But Jagjivan Ram asked for a meeting with me. I suspect, though I cannot vouch for it, Morarji asked him to explore me.

Just one month before my meeting with Ram I had exposed his son's sexapade in which a Mercedes owned by an arms dealer had figured. I wrote on the security angle and demanded Ram's resignation as Defence Minister because his son's links with the arms dealer involved a security risk. His son, Suresh Ram, had been my contemporary in St Stephen's College. He sent a mutual friend as an emissary offering payment for me not to again write about him. I told him to pack off, I didn't take money. I assured him I wouldn't write another word about Suresh Ram's indiscretion because I was not interested in personal scandal but only in the national security angle. I guess Suresh was touched by this. Anyway, just one month later Jagjivan Ram met with me. Our meeting was surprisingly cordial. Ram tried to gently explain to me that providing drinking water and amenities to the poor involved not only money but equipment. I dismissed his arguments. I got the impression that privately he was not displeased with my attitude. He was faithfully doing his duty as a senior colleague of the PM.

Jagjivan Ram was undoubtedly a very competent minister. I haven't the slightest regret about preventing him becoming PM. I was very strongly opposed to the Congress. I accepted Morarji because he was the first to break away from the Congress. Later Chandrashekhar did the same. The idea of supporting Jagjivan Ram who introduced the Emergency bill in parliament to become Janata government's first PM was too ludicrous to even contemplate. Despite his personal opposition to the Emergency he succumbed to Indira Gandhi's command to introduce the bill in parliament. It was a fundamental compromise.

When politicians succumb to their leaders to act against their own conscience they must be prepared to pay the price. Ram acted too late. Those who do not speak when they should lose the right to speak altogether. In the end the Congress had the last laugh. The ex-Congressmen who led the Janata Party ruined it.
06-Aug-2010
More by : Dr. Rajinder Puri
---
---
| | | |
| --- | --- | --- |
| | This blog not only gives a very good picture of 'politicking' but also throws some light on the author. | |
---