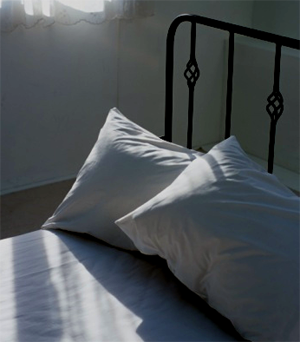 Two pillow friends lounging together on the bed.

Pillow A says, "Oh man! I feel so weary when the big headed man falls on me like a burden. I can't even move and now it's paining too much."

Hearing this Plillow B speaks up, "Man you are lucky. At least he is bald and doesn't stink. I feel so rotten when the dirty haired woman falls on me and I get pissed up the entire night. It stinks like hell and I can't even take a bath!"

Pillow A laughs out loud.

Angrily says Pillow B, "You are laughing! Just come in my place, I bet you'll run away then and there."

Pillow A giggles.

Continues Pillow B, "I wonder whether the woman takes a bath or not. How does the man bear her?! A rotten tomato smells much better."

Pillow A replies, "Rotten tomato?! Friend you do not know, the sweat of that bald headed men stinks like sweaty socks."

Laughs Pillow B.

"I wish to get thrown out of here rather than making this people comfortable", says Pillow A angrily.

"Wish we were on the kids room playing pillow fights. It would have been fun," sighs Pillow B.

Pillow A replies, "You are right friend, at least they take a shower before sleep. Adults are too stinky. Yucks!" Continues Pillow A, "I remember one day this man came drunk at home and while sleeping he vomitted on me. So disgusting!"

Pillow B replies, "Yes I remember, and they the woman exchanged you with me and then the entire night his saliva dripped upon my mouth."

"Ah yes! and I had been thrown to the dry cleaners.", replies Pillow A.

"Poor We", sighs Pillow B. "The next day my cover was washed, not me", continues Pillow B.

"Sometimes I feel like a toilet paper," angrily says Pillow A.

"Calm down my friend, that's the way we live", consoles Pillow B.

Pillow A says angrily, "Why don't they put an extra cover upon us so save us from such disgsting fluids!"

Pillow B replies, "May because they like us naked."

Pillow A replies, "Naked! my foot. We too feel cold at winter nights."

Pillow B says, "Don't forget friend we are just a piece of pillow for them. We have no life in us."

"Yeah! Yeah! I know", replies Pillow A helplessly.

Pillow B says, "Now get ready to comfort the two stinky people again. They might be coming, it's 11 pm."

Pillow A replies, "Yeah Good Luck".

"You too", says Pillow B.