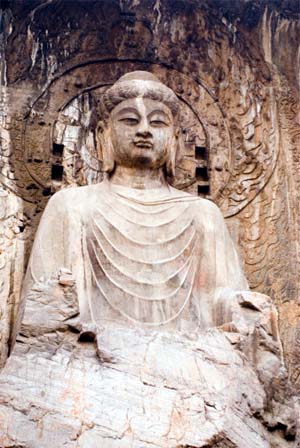 'The absolutely sane man' the world had ever seen. He refused rituals and gods, Atman and Paramatman, but never compromised on reason. His efforts at last led him to experience the Truth and he became Buddha, The Enlightened. The Truth and Knowledge flowed from his every pore as Compassion, in his austerities and tapas, kindness and humility, and suffering and feelings.

And what a sacrifice to realize the Truth! Palace and luxury, wife and son appeared pigmy in front of the loftiness of the desire to seek the Highest. He was ahead for his time, liberal and kind, and had selected Yashodhara as his bride. They had happy married time. No want, no misery, no worries. And one dark night (I am tempted to say 'one fine night') the farewell! Thrice Buddha went back to the bedside of his sleeping wife. Struggle was visible in his actions. What was the problem that vexed him? Was that ultimate selfishness? No, he was not grieving for himself; he grieved for Yashodhara, for the fact that again someone else, instead of him, was making sacrifice for the world. That was the struggle; he cared nothing for himself.

Imparting a gentle kiss at the feet of his wife, so gentle that she was not disturbed in her sleep, Buddha bade farewell to the world. Lonely and restless, he suffered the onslaught of desires and vasanas, but in the end won the battle. He became Buddha.

Returning to the gardens of his hometown, Kapilvastu, seven years later, he paid a memorable visit to his wife and son. Yashodhara received him as a nun, in yellow clothes, in a hut that was without roof and mattresses, her son beside her. In silence and intensity unknown to secular-minded people, Buddha talked about the Knowledge and Truth. Turning to leave, he cast last glance at his two dearest ones, now simple sadhakas.

Yashodhara, realizing that Buddha was to leave for good, pushed her son to ask for his patrimony from his father. Bewildered, the son ran after his father, and said, "O Father, please give me my inheritance." Thrice he had to ask before The Lord, turning to his beloved disciple Ananda, said, "Give the boy the ochre (gerrua) cloth."

And Ananda, aware of the silent searching and expectant eyes of Yashodhara, asked the Lord, "And Sir, are we not to take ladies into our fold?" The large hearted Buddha replied, "Why, Ananda, since when has sex come into the arena of Truth? She is most welcome." Thus joined wife, mother, and son in the sangha of Tathagata, melting the heart of a true Jnani.

The heart that melted soon merged with the hearts of the masses. Now the Buddha felt in hundreds of bodies, ate from hundreds of mouths, and shed tears from hundreds of eyes of weak, exploited, and depressed. He walked slowly, for the flag of compassion that he was carrying was too heavy for any chariot or horseback to endure. Only the Mother Earth was capable of sustaining such heavy load and responsibility that her noblest son was upholding.

While evil and hatred, war and bloodshed, continued to march ahead with trumpets and bugles, arrows and swords, horses and elephants, his compassion was slow to reach there in time. At last it caught up with King Ashoka in the middle of Kalinga war. The half-finished, famished, and aghast king in the middle of holocaust and destruction was gently covered with the soothing ochre robe of Tathagata. That was just the beginning; a piece from the huge and lofty flag of compassion that fluttered for centuries.

Today also, wherever one sees kindness and compassion, the soul of Buddha flashes for a while and we get a glimpse of his serene and radiant face that represents 'Truth as Compassion'. The world continues to wait for more and more Buddhas, for Buddha is not a person but is a state of being. And we get assurances in the Gita that another Buddha is sure to arrive; another fearless soul will leave the palace, wife, and son silently in the middle of the night in response to death, disease and depression.

A blanket was spread under a tree for the Buddha was on the death bed. The Blessed One was lying down on his side 'like a lion' to die, when suddenly there came to him one person for instruction. He came running like a mad man lest Buddha departed without speaking to him two words of wisdom! The disciples were about to treat the man as an intruder and decided to turn him back, when Tathagata overheard the scuffle, and gently said, "Ananda, let the man come! What if this body goes without helping others?" and raising himself on his elbows, with great difficulty but immense pleasure The Lord taught the visitor, now the aspirant.