The paper is part of an ongoing research by Professor Mukesh Williams, Keio University-SFC and Miss Ui Teramoto, SOAS, University of London (who is also the coauthor of this paper) on the Indian communities in Japan based on both archival and oral sources. The authors may be contacted at the following email addresses: mukeshw2003@yahoo.com and u.teramoto@gmail.com


The Indian communities comprising of Sindhis, Keralities, Bengalis, Tamilians and Punjabis living in Japan over the last one hundred and thirty years have grown to nearly 23,000 today and occupy a wide range of professions from real estate and electronics to cuisine and information technology. The lackluster performance of capitalist American business in the resent past has generated a renewed interest in Asian trade networks centering on business families of the nineteenth and early twentieth century. Both economic historians and sociologists are eager to investigate colonial and postcolonial trade networks and the demography connected to agricultural labor and professional elites in British-occupied territories and the Anglo American world. The pioneering work of Indian trading communities in the Far East, especially in Japan, Singapore and China during the nineteenth century, has remained rather neglected. There are many reasons for this neglect. A Eurocentric bias in academic research, linguistic difficulty, a lack of demographic data and discontinuous histories of trading families themselves, have all resulted in a disinterest in this area.

Sixth Century Bodhisena

The Indian presence in Japan goes back to the sixth century when Indian culture and practices travelled along the Silk Route via Korea/ China to Japan. This phase is usually referred to as the first phase of Indian immigration to Japan. In 736 the Buddhist scholar Bodhisena came to Japan on the invitation of Emperor Shomu to spread the teachings of Buddhism and Sanskrit learning. There are Japanese legends that foretell the arrival of Bodhisena. There was a man on Fushimi hill in Nara who never spoke and people thought he was dumb. However when he saw Bodhisena he said "the time has come" and began dancing with joy. Bodhisena lived in Nara at the Daianji in Heijokyo and died on February 25, 760. He was buried on Ryoujusen Mountain. This history has not been investigated enough though we know from recorded oral histories in Japanese that Bodhisena did commendable religious work in Japan. However the impact of this early contact with India was tremendous.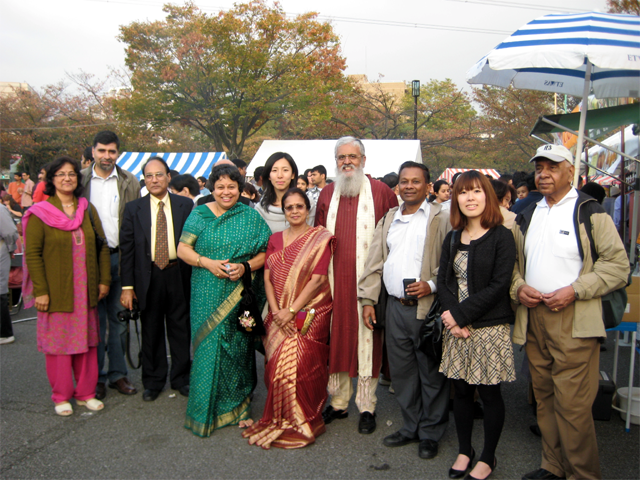 The spread of Buddhist doctrines, Sanskrit learning, the introduction of Hindu gods such as Ganesha and Brahma and food habits became a part of Japanese traditions. It is believed that the Japanese scholar Kukai (774-835 CE) studied Buddhist doctrines through Sanskrit and this gave impetus to the formation of Kana syllables. It was predominantly through Indian encounter that the Japanese incorporated rice, lentils and vegetables in their diet. It is also during the sixteenth century that cotton cultivation was introduced into Japan through India transforming Japanese trade patterns and commerce. But the Gujaratis and Marwaris were more interested in cotton trade and not in settling down in Japan. So though there was religious and economic interaction in the sixth and the sixteenth century a recognizable Indian community had not taken roots in Japan. Both countries remained rather ignorant of each other. It was only in the nineteenth century as India became colonized by the British that Japan began to study India, fearing its own loss of freedom through European imperialism.

Early and Colonial Migration

The Indians first came to Yokohama in the 1870s as silk merchants who set up the business of importing cotton yarn from India and exporting silk yarn and textiles to India. During the nineteenth century Japanese textiles were seen as highly sophisticated and cheap, accounting for a major share of Japanese exports. Since Osaka emerged as the great textile centers in Japan, many Indians came here. A Bengali housewife Hariprasad Takeda wrote a 64-page travelogue entitled Bongomohilar Japan Jatra (A Bengali Lady's Visit to Japan) detailing her experiences in Japan after her visit to the country in 1915. However the real influx of Indians took place in the 1950s and 1960s when Indian businessmen began to see Japan as the center of sari production exported to India via the United States or fine spun cotton or black synthetic silk exported to Dubai.

The modern Indian settlements were set up by trading communities from India in the Kansai region, especially Kobe and Yokohama. Here Punjabis, Gajaratis and Sindhis began to use their business skills, worked hard and in due course become successful. However, for the Japanese media and the public at large, India continued to remain enmeshed in the stereotype of being a "curry rice poor country." In the last decade this image has changed. More and more Japanese see India as an "IT and 20 x 20" country.

Trade and Remittance

The early migration of Indian trading communities to Singapore and Japan in modern times was motivated by an absence of remittance facilities in colonial Britain. Remittance was necessary for the growth of domestic import and export transactions. Though colonial Britain made banking reforms to integrate India in the global economy in the nineteenth century, it neglected global remittances which were then organized by local Indian organizations and families. Early scouting visits by Indians to Japan were meant to assess the Japanese market potential and use Japan as a base for export. Since there was no state-sponsored organizations or help the trading history of this period has been rather discontinuous. An understanding of the Indian trading communities of the nineteenth century comes from oral histories, diaries and sketchy demographic records.

Freedom Struggle and Japan

Japan's own aspirations to design the East Asia Co-prosperity Sphere and the desire of Indian revolutionaries like Rash Behari Bose (1886-1945) to free India from British colonial rule brought together the Japanese nation and the expatriate Indian community to oust the British from India. Recent archival sources discovered by the authors shed ample light on the early struggles of Rash Behari Bose in creating the Indian Liberation Army in Singapore, the support of Prime Minister Tojo and the later schism between Captain Mohan Singh of the IIL and Rash Behari Bose. Both Tetsuko Higuchi's own account (daughter of Rash Behari living in Tokyo) and Japanese secret agent Iwachi Fujiwara's (1908-1986) testimony reveal that Mohan Singh's own ulterior motives and his desire to undermine Rash Behari's singular efforts created bitterness between the Indian National Army and its Japanese supporters. Fujiwara also blamed Japanese simplemindedness in assuming leadership roles concerning INA without consultations with their leaders.

Tetsuko Higuchi has always been troubled by this conflict. She naively confessed in her book Chichi Bose (2008) that though she wanted to visit India she was worried that the remnant soldiers of the INA, once connected with her father, might create "problems" for her if she visited India. In the 1960s her daughter visited Chandannagar where Rash Behari was born. Tetsuko was able to visualize Chandernagar through the pictures and stories her daughter brought back from India.

Indian Expatriate Communities

The tension between a 'place of migration' and 'place of residence', that is, between home and abroad has created a distinctive Indian expatriate community in Japan. The Indian settlements began with religious and economic ties between the two countries and now embrace the progressive politics of both nations. Today most Indians living in Tokyo, Yokohama and Kobe such as Mr. Lingam, Chandru Advani and Mr. Lund are building "new bridges" of understanding between the two nations. Indians have not only been able to adapt themselves to the singular uniqueness of Japan but also helped acquaint Japanese society to Indian business techniques, cuisine and education. Now it is possible to see Indian electronic stores, real estate offices, restaurants and schools in Japan.

Though Indian economists and sociologists were interested in the remarkable recovery of Japan after World War II they were not much interested in Japan per se, which was linguistically and ethnically quite different. All this has changed in the last decade. Both Japan and India are now interested in each other's histories and economies and are conducting large-scale cooperative business ventures.

Indians have been quick to understand Japanese business ethics based on trust and handwork. Business trends change and sari and textile traders are branching out into new avenues such as Indian movies, electronics and real estate. Today Indian shops abound in Kitano-cho area and apartment buildings bear Indian names. Some Indians have also opened restaurants and eateries in Japan. Indian traders feel that they ought to fill the gap in Japanese markets rather than compete with Japanese themselves.

The Indian Family

The Indian family in Japan is not a single unit but bound by caste, religion and ethnicity. To pronounce a judgment on its change and stability would be difficult in this limited space. However suffice to say that though family ties are strong within the Indian communities, cross-cultural or hybrid marriages are beginning to be accepted. Indian families still retain their Indianness but their children are more bicultural and bilingual. The second generation Indians, fluent in both Japanese and English, has created a new hybridity and yet they resist homogeneity. They possess what Gloria Anzaldua calls "heterogeneous identities" comfortable in multiple worlds. Some have Japanese spouses while others do not. They see Japan as their place of birth and are more strongly tied to their Japanese neighborhood than to any Indian city. The roles Indian women play in the expatriate communities is also changing. Wedged between two conservative cultures, Indian women are now forging out as business entrepreneurs, fashion designers and market managers.

Conclusion

A lot of archival material dealing with Indian presence in Japan in the sixth to sixteenth centuries and then from the nineteenth to early twentieth century is primarily in Japanese language. It is usually not accessible either to Indian or Anglo-American scholars. This complex but significant work will bring into perspective the early history of Indian religious and trading communities in Japan and their efforts at creating a cultural confluence.

Today the strong demand for Indian technology professionals, business entrepreneurs, hoteliers and teachers is helping expand the Indian community more quickly. But behind this new interaction hides the history of centuries which is almost forgotten. In the past Japan eagerly introduced Indian religious and linguistic cultures into the country. Now in a globalizing world Japan needs to expand its global reach and India too must open business opportunities to Japanese companies by relaxing legal and trade restrictions. The Indian and Japanese expatriate communities in both countries can be instrumental in bringing about this change.