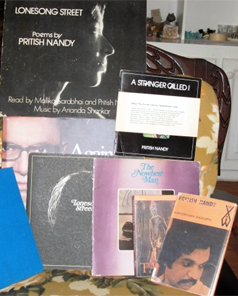 Pritish Nandy's latest poetry book, 'Again' is next to me and I need to write about it. It's not because he started writing poetry again after 20 odd years having already authored 32 anthologies, nor that now he is no longer a poet but a film maker. I even tried searching for the poetry he left behind in Kolkata in his Bollywood films, I really couldn't find them. Then, why should I be writing on his latest book?
Because Pritish Nandy would always remain a poet and his poetry in 'Again' needs to be redefined.
I would rather start right from the very beginning, his books and the man himself.

I have questioned myself as many others have done, Is Pritish Nandy a poet, a poet who started an era of rethinking ideas and ideologies about Indian contemporary poetry, a poet who was rejected in academic echelons, a poet who survived....

Some may conclude that his works are just nothing but then out of nothingness came out his words pouring in a torrential rain, drenching many of us. I kept pace with his books and poetry from distant Gwalior. I met people who knew him, yet I have never met him.

But then do I really think that I don't know him.
Kolkata – 1970
At a time when Marshal McLuhan was talking about the global village, when Rolling Stone began publishing in America, Melody Maker started coming out in England and Time-Out happened in London, in Calcutta there was JS.
Dubby Bhagat's article on Junior Statesman and we being the world's oldest teenager is till etched in my mind.
Junior Statesman or better known as JS had become a cult movement during the seventies and so was the cult status given to its charismatic editor and later a Yeti hunter, Desmond Doig.

JS brought out an article on Pritish Nandy and his poetry journal Dialogue in the blueprint section. His Dialogue Publications had even published translations of Underground Soviet Poets; some of them are still available on the Amazon.
Poetry, politics and love went together. Kolkata was just the place to be during that time. Erica Jong and Ayan Rand went hand in hand. This poem written by Erica Jong reflects the thinking of a generation during that time. Kolkata was just over ripe for such a movement.

Student Revolution
(Heidelberg, 1969)
After the teach-in
we smeared the walls with
our solidarity,
looked left, & saw
Marx among the angels,
singing the blues.

The students march,
I (spectator)
follow.
Here (as everywhere)
the Polizei
are clean, are clean.

In Frankfurt,
the whores lean out
their windows, screaming:
"Get a job -- you dirty
hippies!" Or words
(auf Deutsch) to that effect.

I'm also waiting
for the Revolution,
friends.
Surely, my poems
will get better.
Surely, I'll no longer
fear my dreams.
Surely I won't murder
my capitalist father
each night
just to inherit
his love.
© Erica Mann Jong

Ayan Rand talked about reason in her celebrated book, Atlas Shrugged but Pritish Nandy defied all reason in creating images from words. He came from Bhagalpur in Bihar to Kolkata. One day he just started hammering on words, sentences and grammar. They changed shapes in the most unlikely forms from which he created poems. The eye and the mind of university academicians used to the poetry of Milton, Toru Dutt, Sarojini Naidoo and Nissim Ezekiel just could not take it anymore. Nandy was barred and he became an instant hero.

Shubhoranjan Dasgupta writes in his book on Pritish Nandy, 'Let alone the medium, no critic asked the more crucial question: Can we label this poetry? And faced with no opposition our predecessors continued rolling out their imbecile lines which either celebrated the beauty of buttercups or the profundity of the idea of reincarnation. Indeed it was considered a social grace in those days of pre independence to refer to the fragile euphony of Toru Dutt, the monotonous onomatopoeia of Manmohan Ghosh and the resounding ludicrousness of Sri Aurobindo's bugle blasts'.

Let me start with these few line written by Nandy during those Calcutta days,
'I write for those who can never read the language. I use and write in a language that has no roots in my country but my voice is the voice of my people for I speak of their loves and ambitions and secret shames my eyes share, the hunger of the shameless woman who makes dispassionate love on the pavement whose large black nipples remind of my mother who is now old and lonely. I write for those who will craft a new country with their simple implements'.
In 'Again' the vagabound has finally come home.
'now that we have come back to our broken
homes in the wounded light of dusk
this endless drama will continue
our nights will burn
we shall travel eastwards we shall suffer
the agony of changes and yet remain unchanged
ourselves for though our arms are maimed and our
mouths cannot speak we remain lovers'
'Again' is a poetry book different from other books by Pritish Nandy. It is a glossy, hard cover book which is big, has colors, has fonts of different sizes and has small poems sometimes spread out in two pages. Shashi Tharoor in his Introduction says about 'his dazzling experiments with style, font, typograpghy and layout'. Published by Rupa, India, the jacket cover has a photograph of Pritish Nandy with a greying French beard and black frame glasses. It's important to mention this because his celebrated book, Lonesong Street published in 1975 has a picture of the young Pritish wearing bellbottomed jeans and having long hair.

Is Again an autobiography?

Pritish Nandy gave us inkling about it 'Lonesong Street':
a wardrobe of fatigued denims

& an unfinished draft of my autobiographical novel
From the last page of 'Again':
Poetry always starts with words

When words start to hurt, we pause


regain our innocence and start again


But this time it's not poetry

Its life writing itself out

in a strange unfinished way


What you may choose to call

an autobiography of sorts.
'Again' is his story of Mumbai, a city of dreams
the last train limps back

to Borivili

the last drunk stumbles

on the platform:

I rule

this city at night

Emperor of Darkness

only I have the power

to switch on the Dawn


A murder of crows noisily

wakes me up. Tell me fool

shall I go home?
But he still remembers Kolkata:
Years ago, I left you

Kolkata and came away:

no, not to another city

nor another home.
He writes about his daughters:
she strums a guitar and sings

all by herself in a darklit room

and I listen

one more daughter has grown up

reached out and touched the skies...
about his father:
Baba left

to the beating of drums

Strapped to a hospital bed

frail gaunt eyes closed:the noisy cymbals

drowning out my anger, my restlessness

For a week I had waited

for him to die, knowing all the while

that every lie I had lived with

(God,

love,

hope,

faith,

trust)

will go with him and cleanse me

once and for all.

No. I have never believed since.
and about his mother:
How is it ma

that I remember you only on your wheelchair

fighting a failing body

and memories that had long escaped?

I know how strong you once ere

as you gripped my hand

and picked me up in the bus to school.

Why am I still so angry

to see you gone?
Pritish talks about Rod Stewart:
Rod Stewart sings on my iPod

His nicotine stained voice

takes me home.
But in 'Lonesong Street':
it has been raining since morning

& Carol King's blowing my mind in the dark
Actually 'Again' is the title of a poem he wrote in the seventies
you were not

the first girl I loved

nor was I

your first man.....
Well, then what do I miss most in 'Again' -Your prose poetry from 'Riding the Midnight River'
strange the fevered word that leads nowhere yet breaks into memory

nowhere yet memory that breaks the fevered word into strange leads

that word leads nowhere yet breaks into the strange fevered memory

where memory leads no strange word yet breaks the fevered into that

yet memory leads nowhere that breaks into the strange fevered word

fevered the strange memory that leads nowhere yet breaks into word....
and your one line poems:
insane comrade asleep


part oscillates: part waits
Pritish Nandy defies easy labelling, says Shashi Tharoor. I remember one poet who I can say came very near to Nandy and that was Dom Moraes.

'Again', I believe would usher newer poetry art, poetry films, poetry music or just plain good old poetry in a world which is far more different although every daybreak still remains the same. Pritish recited these lines at the launch of 'Again' in Mumbai from his poem Daybreak:
sun in the earth

sunflower

bird in the air

rain

eye within eye

daybreak

whispers again....
Read more about the Indo-English Poetry Movement:
Unforgettable Times : Indo English Poetry in the Seventies
Book Review: A Stranger Called I - Pritish Nandy