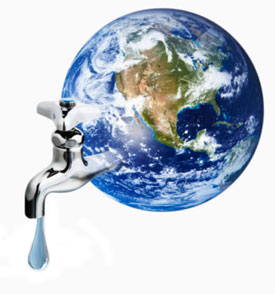 What would the world be like without water? Despite being an invaluable resource, we often forget how dependent we are on water for our survival.

Water quenches the thirst of humans and animals. It gives life to plants and is essential for food production. Needless to add, we use water for almost all activities in our life from bathing to cooking and without which life itself ceases to exist. But like everything else in our planet, water has become a commodity we have come to take for granted, believing it will be there forever. Now as the world is faced with diminishing water resources and reports predicting more acute shortages in the coming years, we need to address the issue of water scarcity with the grave seriousness it deserves at present, instead of waiting for a global catastrophe to take place in the near future.

The earth's surface is covered by two-third water. However, most of this is salty and not suitable for consumption. Approximately, 2.5% of the world's water is salt free, of which roughly two-thirds are in the form of ice-caps and glaciers. 20% of the remaining water are in isolated areas and come in the form of floods and monsoon. But often this water is inconsequential due to timing and place while the rivers and reservoirs that provide fresh water amounts to nothing than a quarter of 1% of the total. Thus, we are left with only 0.08% of the earth's water for consumption. A fairly small percentage considering the fact that in the next two decades our water consumption is expected to rise by almost 40%. The various global reports estimate that the average world-wide water supply is likely to diminish by a third within the next 20 years, which means there will be almost less than one-third water available for everyone.

A recent report released by The United Nations cautions that by the year 2025 almost 2.7 billion people will face severe water shortages worldwide. Reports published by the International Atomic Energy Agency (IAEA), suggests that estimated 1.1 billion people will be deprived of access to safe drinking water. Approximately, 2.5 billion people will have no basic sanitary and another 5 million people will die each year from water borne diseases. These are just few of the disturbing facts and though it would be comforting to think that these are predictions that just might not come to past, reality of global warming should make us think otherwise.

Today, the scarcity of water is not only creating conflict among nations but also within it. For instance, while India and Bangladesh dispute over the Ganges has become a global issue, the United States struggles with local conflict between Cities over water rights. In China, many of its cities including Beijing are facing water deficit which poses a severe challenge for a nation with almost 20% of the world's population but access only to 7% of the global water resources.

In Africa, water is an expensive commodity and it is only a matter of time that others nations would share the same fate. A front page story a few years ago in a Kenyan leading newspaper, The East African Standard put the price of a litre of bottle water as much as 59 shillings (0.74 dollars) in Nairobi as compared to a litre of petrol at 55 shillings a litre (0.69 dollars). Kenya exports its petrol and petroleum products at a very high price. Added are costs incurred for storage and transportation in expensive outlets. If water is more expensive than petrol, imagine how precious it must be to the people of Nairobi.

The former Nigerian Water Resources Minister, Mr. Muktari Shagari stated that by the year 2010 no fewer than 17 African nations will face the possibility of acute water shortage. It is a valid concern and possibility given that most African countries are already facing a severe water shortage. For instance, in Ethiopia's ancient eastern city of Harer residents take delivery of their daily quota of water supply from tankers, risking waterborne diseases. This is because state and federal authorities have long neglected to deal with the depleting water level of Lake Alemaya, a main source of water supply to the City of Harer.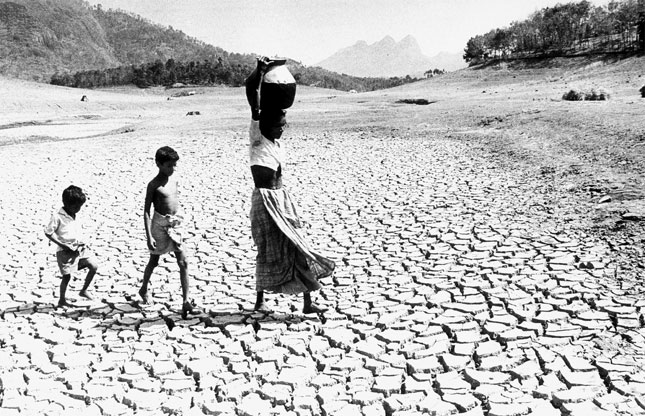 A woman carries water across the dry-bed of Neyyar reservoir,
the main source of water for Trivandrum city, India. © Feroze Babu
The water crisis will become even more serious in the coming years with population growth, pollution and changing weather patterns. Water scarcity is not a problem of the future and the failure to manage our existing water resources efficiently will only add to the escalation of the crisis. Although, some initiatives are being made, it is not enough to cope with the widening water shortage crisis throughout the world.

There are a number of solutions to deal with the problem of water scarcity and we need to begin somewhere. The first step should be to educate people to be responsible in their usage of water. In countries like Algeria and Cambodia, we are already seeing rationing of domestic water supplies. The introduction of precision sprinklers and irrigation systems into farming practices is effective in preventing wastage of water. In countries such as India, Israel and Spain water delivered directly to crop roots through drip irrigation systems has helped to reduce water use by up to 70%. Another solution could be recycling farm runoffs and perhaps encourage plantation of less water-intensive crops. Desalination is another solution that could be considered. However, we would need to find an effective way to safely dispose brine, a by-product from the process. There is also a need for governments, civil society and media to mobilize itself to not only acknowledge the problem but become more proactive in building awareness and make it a priority by actually doing something about it.
The need of the hour is to confront the challenges of water scarcity with innovative measures and greater political will. There also has to be a sense of optimism as we race against time to save one our most precious resources - water. So, with taps running dry, many places rationing its water and more than one nation facing the scourge of drought, each one of us as global citizens have to become more responsible in saving water. While we will not have the perfect solution, every effort counts in making a difference.