The Hari Putar Dialogues - 40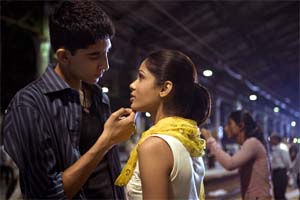 (BBC News: 12 January ; London : Slumdog Millionaire, a rags-to-riches tale of an improbable winner of game show Who Wants to be a Millionaire, has swept the Golden Globe awards. British director Danny Boyle's film won four trophies, including those for best film and best director. Best original score composer AR Rahman became the first Indian to win a Globe and Simon Beaufoy won best screenplay.The Globes are often regarded as an indicator of the films and actors who are favored to win at the Oscars.)
Putar: There is a report on the BBC website today that the film Slumdog Millionaire has swept the Golden Globe awards.
Hari: This means that it is bound to win a few Oscars.
Putar: It would seem so indeed.
Hari: What's the film about?
Putar: The film's story revolves around Mumbai 18-year-old Jamal Malik, played by Dev Patel, who wins the jackpot on Kaun Banega Crorepati, the Hindi version of Who Wants to Be a Millionaire? Jamal participates in the game show not for money but to reach his missing girlfriend Latika, played by Freida Pinto. She is a devoted fan of the show and watches it without fail. But when he wins the jackpot, he is suspected of cheating.
Hari: That's an interesting story.
Putar: Actor and social activist Gerson Da Cunha said it was "extraordinary that it takes a foreigner to make a true, inventive film about Mumbai".
Hari: Well, don't forget some years ago the film 'Gandhi' swept the Oscars as well. And there too it was ironical that it needed a British director Sir Richard Attenborough to make a great film on Gandhi.
Putar: I remember that. Nasiruddin Shah was considered for the role but finally it was a British actor Ben Kingsley who played the role.
Hari: Ben Kingsley did a fantastic job and got the Oscar that year for best actor.
Putar: Ben Kingsley, despite having an English name actually had an Indian father. He was born with the name Krishna Pandit Bhanji.
Hari: I didn't know that, but he did look like he was born to play the role of Gandhi in that film. Even his features were similar and Gandhi like.
Putar: A British director made 'Gandhi' but don't forget it was the other way around as well.
Hari: What do you mean?
Putar: The Indian director Shekhar Kapur directed the film 'Elisabeth' which won several Oscars.
Hari: That's true. I never thought about that. How has the Indian film fraternity and people in general greeted the news about Slumdog Millionaire's success?
Putar: Anil Kapoor who plays the role of the anchor in the film was overjoyed. Madhur Bhandarkar, who has made several movies on the seamier side of Mumbai, said the recognition of Slumdog was "absolutely great". But not every Indian is happy. Many Indians are upset about the film.
Hari: Why is that?
Putar: Some hold the view that the West only wants to show the poverty in India, because it reassures them that they are themselves better off, and still in a dominant position in the world.
Hari: But the poverty does exist.
Putar: True, but there is a dark underbelly that exists in Western cities as well, be it New York, Paris or London. Amitabh Bachhan has expressed similar feelings. Let me read to you what he writes in a posting on his blog on Wednesday from Paris, France. He writes: "If 'Slumdog Millionaire' projects India as Third World dirty underbelly developing nation and causes pain and disgust among nationalists and patriots, let it be known that a murky underbelly exists and thrives even in the most developed nations."
Hari: Fair enough.
Putar: Amitabh also talked about the changing trend in recognition of Indian cinema. He writes: "The commercial escapist world of Indian cinema had vociferously battled for years, on the attention paid and the adulation given to the legendary Satyajit Ray... and not a word of appreciation for the entertaining mass-oriented box office blockbusters that were being churned out from Mumbai.'
Hari: That's also true.
Putar: Tell me something Papaji?
Hari: Bol, Putar?
Putar: Amitabh came into the limelight in the 70's by playing the role of the 'angry young man', didn't he?
Hari: Yes. I remember him in films like 'Deewar' and 'Zanzeer'. He was terrific.
Putar: He does appear to a kind of person who harbors anger inside him, perhaps on issues, which he feels deeply about, which surfaces from time to time. Of late, he has been issuing angry statements, off and on.
Hari: Perhaps that's why he could play those roles so well.
Putar: Exactly. And Papaji?
Hari: Yes, Putar.
Putar: It's unfair, as Amitabh points out, in his blog, that Bollywood blockbusters haven't received, for so many years, more critical acclaim, (especially from the West) that many of those films did deserve.
Hari: True.
Putar: Eventually that may be redressed. Mainstream Bollywood will get more global recognition and critical acclaim in the times to come.
Hari: That's more than likely.
Putar: The critical acclaim of winning an Oscar automatically translates into commercial success, so that's a different story. But do you think Bollywood directors will be willing to trade box office success with critical acclaim at film festivals in Cannes or Venice?
Hari: I don't know, Putar.