(What they will probably never learn inside the classroom!)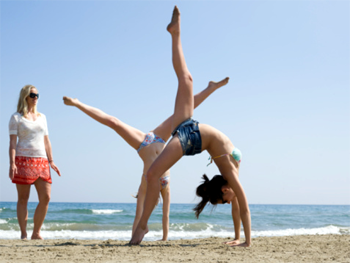 Sports periods in schools are often called recreational or extra- curricular as if it is a diversion from the main business of academic pursuits – apparently the main purpose of school education. Considering education is about preparing students for life ahead, this is a much-flawed position among many educators. Sport often teaches us a whole lot more about the life ahead than anything theoretical learned inside the classrooms.

So what does Sport teach our kids and us?

It teaches our kids hard work.
A middle school child with huge talent in a sport soon realizes that he will have to back up that talent with hard work and many hours of toil for him to excel. "Practice makes perfect" is a maxim you learn best on the sports fields.

It teaches the kids teamwork.
Emotional and social growth of a child is best achieved through peer group activities. Children learn to share, pass, and contribute to others success and to achieve together. That about sums up our work in any organization in adult life.

Sport teaches us to take Risks.
You soon realize on the sports field that you will achieve little without say going down the wicket while batting in cricket to play the lofted shot, laying down a bunt with your easton bats, the move to the net to play the volley in tennis, and without the drop shot in badminton. You will not achieve this without risks, without the risk of getting stumped, being passed down the line or hitting the tape. Children who play sport learn this a lot earlier than hearing these things in a management schools theory class!

Sport teaches us to take decisions.
To take good decisions is to take timely decisions and to take timely decisions, often means taking decisions without all the information and often relying on intuition. Sport teaches us what intuition really is. When Tendulkar decides to play a shot, he has a split second to decide whether to play a forward defensive shot, or pull the ball over square leg. He doesn't always know how the pitch is playing and has to guess the bowlers intent. There is a hustle in sport that could be part of the big decisions of life!

From sport we learn discipline and concentration.
Anyone who has played sport competitively knows that no sporting excellence is possible without discipline in practice and concentration while executing in match play. Wouldn't CEOs love these qualities in their young professionals?

We learn strategy.
Great sporting success happened when we think and plan on the drawing boards, before getting on to the ground. Play to the opponents backhand because it seems weak, or bowl short balls to the opposing batsman as he seems uncomfortable with the short ball, is part of the strategy of planning to win. Isn't that what we do in corporate strategic planning or strategizing against the enemy in war?

We learn to execute.
For all the strategizing, in sport we quickly learn that strategy is useless unless we execute the plan well. Doing is greater than thinking.

We learn to Lose!
The greatest lesson from sport is undoubtedly about learning to lose well! It is easy to handle success, but playing sport early gears us to disappointments and how to handle the highs and lows of life. Often life doesn't go as planned and a plan B is a must. Learning to lose is as important as learning to win. At the end of the day, there is always another game to play, in life too it's never the end of the world! How can we ever learn this inside a classroom?

When I thought about these things for educators and children, I realized why sport is so integral in the daily routine of a military life, the life I led for 30 years. You look back on the many lessons there for school kids and they are the ones for professionals too. It is interestingly, no different for the corporate warrior or the civil servant. The lack of a sporting culture in our country and our civil services academies may also explain the deficiencies that you may see in our public life!