Creativity is an important element of human efforts for better existence; for efficiency at work; for luxury and recreation at leisure; for diversification; to fulfill a natural instinct or curious element of human behavior. Creativity is a challenge to the mind. It speaks all about unlimited and striking potential. Creativity is the sole reason that human beings are distinguished from other species and it is the nucleus behind the development and rise of human race. Be it technological areas or social arenas, all the progress has been possible because of multidimensional creative pursuits of people. Technology, economy and society all are interlinked through artistic creativity.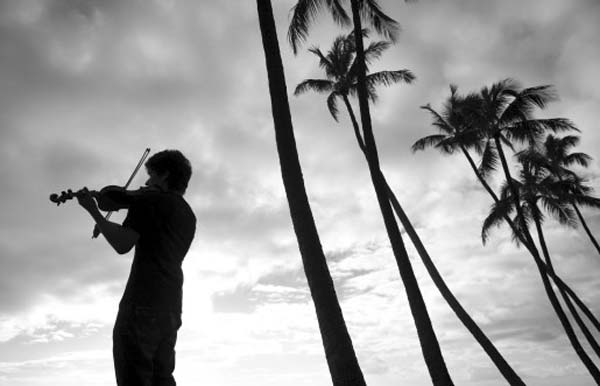 It is clear that creativity as a concept is not confined just to a particular field, especially art with which people commonly associate it. Like talent in any person, can be of distinct capacity and also in different fields. Making or inventing a product of fine engineering is also creativity of an engineer mind, innovating in soft wares or hard wares is also creativity. Experiments and inventions in food business, fashion designing, architectures, computer games, film industry etc. are all part of creativity and creative business in a wider sense.

Creativity is a wide phenomenon. As a self-expressive activity it is a vivid source and is related to each field of work and study. Here, in particular we are talking of arts, to be precise, music. All are aware of the fact that music is a subject of experiential learning. If an artist is exposed to the maximum creative environment, his imagination and creativity will be constructive. This all depends upon the multi-dimensional experience of an artist's life. Firstly, creativity begins at home in the upbringing of a child, when the parents try to establish certain experiences in teaching the child to walk, talk, listen, discuss and perceive. The child adopts certain norms of living; certain ways of learning; certain sets of behavior and so on. While a child grows up he learns what all is around, what is good or bad, how to deal with adversities and to treat with the society around etc. This is how creativity develops when one tries to construct ideas in mind and develop them further with his own perception and creativity which would further define his own identity.

Creativity is what helps the artist to reestablish his/her identity in the society each time he/she creates. One who has a creative mind, i.e., a composer, has the lust to imagine what has never been envisaged or felt before; to create what has not been created; to see the unseen; to create a distinct identity with original and novel thoughts.

Without creativity or exploration the art seems lifeless and pretentious. It loses the sense of wonder, aesthetics and enjoyment.
"Art is what people accomplish when they don't quite know what to do, when the lines on the road map are faint, when the formulae is vague, when the product of their labor is new and unique"
Philip Alperson in his essay Creativity in Art discusses three things associated to creativity. Firstly he says that creative as a term always displays a 'positive appraisal in an appropriate cultural context'. Secondly, 'true creation is taken to be a rare achievement'. Thirdly it is associated with originality as a matter of achievement 'that is in some significant sense new and unique'. He expresses, that creativity in arts gives something of interest to the world which distinguishes creativity in art from 'the routine, the pedestrian, the derivative and the merely normal'.

The most interesting and significant thing in creativity is that it has no specific time or minute to flash in the mind. A creative person feels a knock in the mind and at times he/she creates wonders. If we try and analyze the process, we notice that ideas pop up in the mind while it is in the process of creation. It is difficult and rather vague to define the working process of mind at the moments of creativity. In the natural process of creation, for instance in music sometimes the poetry or lyrics (through their meaning) naturally explains the composition to a musician and at times the tune comes to the mind first that is independent of words. In a deliberate effort of composing music on a definite lyric the mind works on its meaning, assigns specific notes to express its meaning through its bhava and rasa (expressions), and further with the aid of rhythm and ornamentations, elaborates and improvises it to the composer's satisfaction.

Creativity highly rests upon the psychology of the artist, importantly the psychology of the mind at the moments of creation. Beardsley's observation suggests about the process of alternative phases that the mind goes through during creation,
the inventive phase, traditionally called inspiration, in which new ideas are formed in the preconscious and appear in the conscious (and) the selective phase, which is nothing more than criticism, in which the conscious chooses or rejects new idea after perceiving its relationship to what has already tentatively been adopted.
In one of their observations, *Graham Wallas and Catherine Patrick recognize four stages of creative process viz. preparation, incubation, inspiration and elaboration. During these, a creative mind becomes aware of the problem, strives hard to solve it and come to a conclusion, gets to discover in a moment of insight and then develops and works on the creative idea.

Creativity allows the artists to open up his own new discourse that in turn helps them to express themselves and to prove their endeavors at all levels outlining their nation as well as in global context. There are innumerable Indian artists who have carved a distinct niche for being creative exclusively. In the pantheon of musicians right from the unparalleled classical music artists like Ravi Shankar, L. Subbramanium, Zakir Hussain, Ali Akbar Khan, M. Subbalakshmi, Brij Bhushan Kabra, Vishvamohan Bhatt, Shrinivas, Kesarbai Kerkar, Kishori Amonkar, Shobha Gurtu, Parveen Sultana, etc all have uniquely contributed to the nation as well as abroad with their unique artistic creativity.

Another important aspect of creativity is that it initiates competitiveness in the field among artists. Through creativity novel ideas, new inventions, new discoveries and new understanding and knowledge are accomplished. Creativity is developing and changing the scenario in large measures. In Indian Classical music there have been tremendous fruitful experiments and collaborations with the artists and music of the world. The trend is still being carried out by several contemporary artists, but with a distinct approach. The present generation of artist is active with experiments in music. The contemporary sound of fusion music has captured most of the young classical artist that has given classical music a wide and different approach. The artist who experiment with Indian music and are most popular for their creative endeavors in fusion and world music are Karunesh, Prem Joshua, Maneesh De Moor, Karsh Kaley, Abhijeet Pohankar, Habib Khan, etc.

Rennie writes that the older creation is always innovated in some or the other way by the young generation of artists. Every time a new creative mind joins in, there emerge several novel ideas. Even the perception to the old things by new people is different. This view supports a lot of experimentation that is involved in creative maneuvers, Ellie Rennie writes in "Creative World" about creativity that,
"Creativity is about repurposing subverting and improving what is already there".
Creativity grows with space and diverse participation. Artistic creativity requires an environment and settles only where it feels it ought to stay. Florida expresses, that people with creative minds can only sustain in this fast growing world.
"Creativity also requires a social and economic environment that can nurture its many forms."
Creativity needs space. According to David Bollier creative endeavors require a 'white space' to progress with new experiments and constructions. Further he says,
"There must be the freedom to try new things and an unregimented workspace in which to imagine, tinker and execute new ideas."
Further he says that when the commercial regimes and bodies of bureaucrats control the white space, the creativity narrows and doesn't find the paths to grow. There comes a block in the room for one's own ideas and discoveries.

The creativity largely depends on the local culture and communities and the way they treat and preserve art. Charles Landry in "London as a Creative City" raises a major issue and that is for a city to provide such conditions for the creativity to flourish. In this information age creativity is a driving factor for the social and economic force of the country, and so it must be taken care of by the officials, innovators and citizens for the nation's growth.

In India, culture is largely respected and preserved by her people. Other than this, there are several Government and Non-Government organizations who help preserve and nurture our traditions.

Florida asserts of a new class of the society that has emerged through creativity. Talking of emerging creative class, firstly Florida defines class as a cluster of people sharing common interests and who feel, think and behave similarly that is fundamentally determined by their work. Further he says,
"The economic need for creativity has registered itself in the rise of a new class, that I call the creative class."
Richard Florida mentions that the artists and musicians were never included in working class though they were not seen without work. Further describing their working conditions he says that, they work in stimulating environment and in casual clothes as they are comfortable in. Their way of working has got a boost into the economic mainstream. He has mentioned the emergence of a new economic class i.e. the "Creative class".

On the question of the importance of creativity John Tusa explains its significance for any society to renew and add to its stock of imagining. He says scientific researches are vital to prevent intellectual stagnation in the same manner,
"creative innovation is vital to the process of understanding ourselves, of seeing the world differently as it presents itself anew, of presenting novel propositions about the way we see, hear, look and conceptualize."
Any creative endeavor in art is generally individual and it can never be arranged or organized knowingly in a planned manner. All this makes the work and imagination solely special and the artist exemplary.

Musical Freedom

Music is an art of freedom; an art that requires freedom. Vocal music is such that it need not rest on any external physical medium. It is a special natural divine gift. Our throat is an autonomous storehouse of creative sounds. It naturally expounds musical notes as well as rhythms; it has the power to imitate any sound heard. The sound of nature has been used extensively in the folk music of so many countries all through the globe. These natural sounds, through the creative efforts of peers were further nurtured, rectified, amended, reformed and rehearsed, that paved a way for the much purified classical form of music.

Creativity in Classical music flowers significantly with improvisation which is a basic traditional element of Indian Classical music. The freedom in classical music is limited to the improvisations done with strict compliance with the rules of the ragas. Improvisation finds maximum freedom in other genres of light music including bhajan, ghazals and songs/geet etc. In such genres the artist constructs the creative musical piece with free access to the desirable notes.

Alperson expresses that what interests the listeners in the process of listening to the improvisation is 'a particular sort of action: the action of creating a musical work as it is being performed.' In the West, Jazz is such a music that is improvisational in style and form. Saxophone is the major instrument of this form. Artists such as Coleman Hawkins, John Coltrane, Paul Desmond, Mose Allison and others are major such names that have brought Jazz style to recognition. The various genres in Jazz are bebop and blues with layers of harmonic styles.

The urge for media coverage and populism has encouraged professionalism among the present generation of artists that has paved way for creativity in the form of experimentation and innovation in classical music. The growing professionalism is also seen among the stalwarts of Indian classical music, as the artists are involved in the race of money making and pine for professional tours to seek more and more money. Moreover the increase in the number of students, who are admitted without any audition or entrance test for studies in music, naturally decreases the quality element that the ancestors stressed so much upon as they imparted their knowledge only to those who devoted their life to music.

The artist and innovators or the creators today, try to push towards diversification and experimentation to get greater artistic accomplishment. Therefore they think more for the upcoming generation as technicians and also as artists.

Performing artists have also left a vivid effect globally be it popular music artist or Indian classical artists. Few artists have more influence on the listeners of far-off countries, as a result their music albums or songs do more business in foreign countries. Not just celebrities of music world but also the film stars play a significant role for the promotion of music albums.

As a part of promotion of their music, foreign artists such as Michael Jackson, Britney Spears, Tim McGraw, Shakira, and many more went around the world for their musical tours. These artists are exposed to different sounds of music and thus they expand their vision and area of creativity. In this manner an artist gets maximum exposure and also tries to create a hybrid of his musical attributes with varied cultures.

Present time has changed guru shishya parampara or relation to a teacher student relation. In contemporary fast pace of life the guru and student both have less time to spare upon the long old process of music teaching, practice and learning. Online sites offer the ability for the student to meet with teachers when most convenient to them. In a short span of time students desire to learn and also perform on the stage as also said by Pt. Ravi Shankar. Though even today most of the peers carry a pedantic approach towards classical music, the number of such musician has declined.

Most of the purists believe in traditionally accepted norms and do not agree with the concept of fusion or experiments with classical music. They view fusion as a fiend or a threat to our culture. Today with the artists growing wide and experimenting with music, the modernized image of a classical vocal artist or an instrumentalist has overshadowed the conservative and orthodox image of the gurus of the past. Modern artist tries to polish and subvert the old with their creativity to suit the mainstream tastes. An appreciation of the new sound of fusion music requires a deep understanding of myriad social and historical contexts in which such performances and endeavors take shape. An artist of present is evangelizing a movement to move out of his deep rooted cultural status and in turn forming a new niche for himself through new age creativity.
References:
Hal Barwood,"The Envelop Please?" Game Developers, Feb 2002.
Philip Alperson, Creativity in Art, Jerrold Lavinson (ed), The Oxford Handbook of Aesthetics, Oxford University Press, 2003
Ellie Rennie Creative World, John Hartley (ed) Creative Industries;, Blackwell Publishing, UK, 2005.
Richard Florida, The Rise of Creative Class, Basic Books, New York 2002.
John Hartley Creative Industries; essay by Ellie Rennie Creative World, Bollier D, Public assets, Private Profits: Reclaiming the American Commons in an Age of Market Enclosure, New America Foundation, Washington, DC, 2001.
Richard Florida, The Rise of Creative Class, Basic Books, New York 2002.
John Tusa, On creativity, methuen publishing limited, London, 2003