World Music: Various Connotations
World music is a term that may refer to the indigenous classical forms of various countries of the world. It may be said as the term itself talks of the music of the world. In the past eras it was more seen as the coming together of different music of different cultures of the ethnic world, mostly in reference to non-western ethnic music, including modes and scales of the ethnic root with instruments of ethnic origin like sitar, didgeridoo, tabla etc. Gradually the face of the world changed with globalization including mutual trade, business, travel etc. and world music came to be known as the music of each nook and corner of the world's cultures and societies.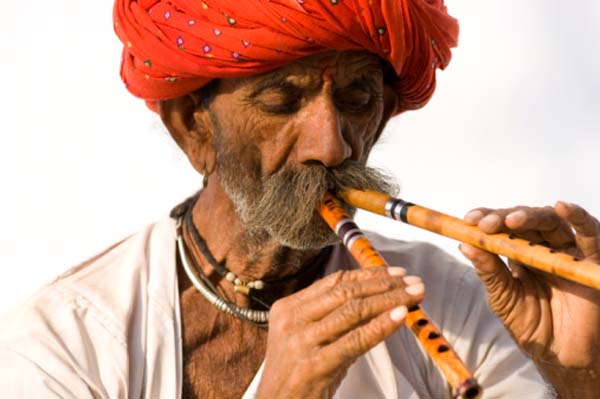 Today World music involves collaboration of artists and their music from all over the globe. The artists of World music form ensembles and amalgamate native music mainly from continents as Asia, Europe, America and Africa. This naturally also involves the native indigenous instruments of the globe as sitar, violin, tabla, drums, viola, tambourine, gongs, lutes, zither, oboes, trumpets, clappers, cymbals, flutes, viol etc. World music mainly absorbs styles of cross-cultural origin.

World music can be viewed as a descriptive word and it describes two major things:
A particular kind of developed music form, from indigenous music of the countries of the world.

The distinctive pattern of its association with a set of values, culture and behavior, fashion, identities, aspirations, lifestyles, indigenous changes etc.
Richard Nidel in his book "World music: The Basics", says that the term refers to traditional, folk or root music as it is:
Created and played by indigenous musicians

Part of virtually every culture or society on the planet

Naturally incorporating other musical forms
It can be said that world music involves various forms of music of different cultures that originate and are inspired by the native traditions and cultures of that particular region. Nidel also explains that once any folk music is uprooted from the medium that produced it, it gets transferred to an artistic production and performance (rather than used in its original form). Thus it naturally gets altered and transposed into a new shape and form.

We can say that Indian classical is a part of world music as much as world music is its part somewhat in the same manner as harmony depends upon melody and vice versa.
In his book, "Ancient Traditions -Future Possibilities: Rhythmic Training Through the Traditions of Africa, Bali and India," Matthew Montfort, the leader of world music ensemble 'Ancient Future', coins a new word 'world fusion music' and defines it as music that combines ideas from many of the earth's traditions.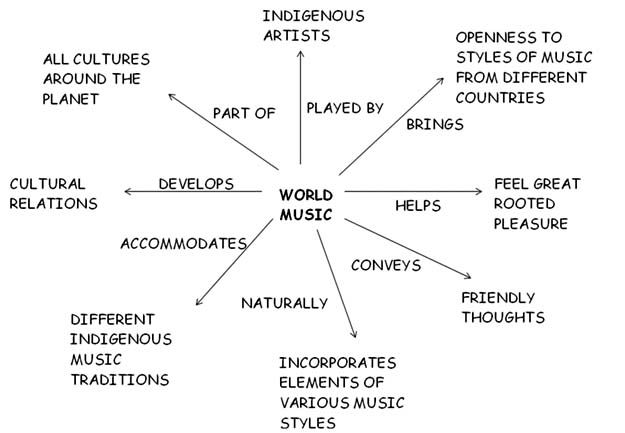 A world music circle describing the genre
Music Travelling Wide
In the primitive times migration was a part of livelihood and the people of one culture shifted with specific purpose of earning money to far off places with different cultures. This resulted into a natural transport of native indigenous culture and music to foreign places. Further it mixed with the traditional music of that particular place and attained a new name. A contemporary example is Bhangra of Punjab which is an indigenous form of folk tradition of dance that reached the ethnic landscape of England and has naturally developed its new form of disco-infected Bhangra and Bhangra pop. Another instance is, Flamenco music which is perhaps a product of the cross-cultural exchange that resulted from the Calé people migrating from India to Andalucía.

So many traditions of world ally with each other in some or the other way. Al Andalous a classical form that is more than 1000 yrs old music of Morocco in Africa is composed of 24 parts one for each hour of the day is reminiscent of north Indian music. In modern times just 4 parts have survived. The children of the Algerian Diaspora developed a music genre 'Rai', which has been derived from the Bedouin folk music of the Cheikhas. The lyrics are written in Arabic and French and it is improvisational.

Indian music owes much to Irani and Arabic music. Arabic musician followed the Greeks in theory of consonance. An important aspect of Arabian music is 'Maquam' that is equivalent to modes of Indian classical music. Even the rhythm of Arabic melodies is more or less same to Indian music. On the other hand the names of 12 primary modes if Iranian music made by Ibn Sina indicate an Arabic origin. Lots of Persian instruments have been adopted by India. Viol is Indian Sarinda and Persian Daubal is Indian Mandolin. Indian Veena was used in Persia with the name Kigira/kinkila.

Egyptian music and theory exercised great influence over Greek music. The high standards of Egyptian culture have been written in the reports by Plato and other Greek writers.

Japan owes its culture and music to China. In China the system created by Huag-Ti still exists as in the Pythagorean cycle of 5th. In the Turkish music and the music of middle-east various tones and scales are calculated mostly on the basis of the Pythogarean system and thus differ from music of West.

Musicians have been exchanging knowledge across national boundaries since the people and cultures came in contact. In the contemporary sect of musicians, we find that a deliberate effort to mix, fuse or blend various styles of music from different native cultures has crept in. Probably we may find in future a genre of music namely Cross-cultural music, that is vaguely today Fusion music. All the music sharing is because of Globalization which is a very old phenomenon but today it connotes widely. All its wide vistas have triggered off a blend of national identities evident in contemporary Indian classical music. It has enabled cultural, social and economic exchanges between the orient and the occident. Globalization in Indian music definitely enhances mutual international understanding and communication through networking.
Few Major Works In World Music

There is a growing interest in world music among people but we find very few books that give information or an overview of world music. The 10 volume Garland Encyclopedia of world music is the leading work in the field. It is an ethno-musicological treatise. Another guide is The rough guide to world music from England is a popular work. Yet another book is World music: The Basics by Richard Nidel, which is a good reference book for the music of all the countries of the world. One of the book written by Mathew Montford on a world music genre, World Fusion music is Ancient Traditions- Future Possibilities: Rhythmic Training Through the Traditions of Africa, Bali and India that includes Indian, African, Balinese, Middle Eastern, and South American rhythm, the rich harmonies of Europe, the peaceful melodies of Asia, and other musical traditions within a contemporary framework.

England is known to be the leading information centre for world music as it brought forth the known as well as unknown artists of world music. Ian Anderson's magazine froots (Folk Roots) is another important chronicler of world music artist's profile, reviews, CDs etc. Simon Broughton released The rough guide to world music in 2000. Another informative world music bimonthly magazine is Songlines.

Indian Classical Artists And World Music

Music is an important, significant and profound force of developing understanding between the cultures around the world. So many artists from all over the planet are interested in growing their music wide through world music. In the present music scenario where people are getting connected globally with each other, the artists are expanding their work area. There is an urge to make their mark, to grow and progress with time. Music has acquired the shape of a widespread appeal in the new millennium. Fusion music is a yearn for shared experiences of the world music. In such a vast Global world the possibilities of fusion are limitless.

Indian Classical music is attaining a special place in foreign countries opening friendly doors for European listeners as well as learners paying a way for its popularization. Indian music is creating a cultural bond between the orient and occident. Smt.Subbalakshmi, Pt. Ravi Shankar, L. Subramaniam, Pt. Vishva Mohan Bhatt, Brijbhushan Kabra, Zakir Hussain, Shri Ali Akbar Khan, Bikram Ghosh, Gaurav Majumdar, Shujaat Hussain Khan and many others are world renowned artists who have popularized Indian classical music around the globe. The young generation of artists such as Anoushka Shankar, Salil Bhatt, Aman Ali and Ayaan Ali Bangash, Abhijit Pohankar, Niladri Kumar, Meeta Pandit have made successful experimental endeavors with Indian Classical and world music as a part of creating novelty in the changing times.

In the 20th century, the album West meets East by Pt. Ravi Shankar and Yehudi Menuhin flashed on the world music scene as of one of the pioneering works of fusion in Indian classical music. Later he also collaborated with the George Enesco and Andres Segovia, American minimalist composer, Philip Glass and various other artists.

The experiments and collaborations of both Violinist L. Subramaniam and L. Shankar in the World Fusion music with foreign artists have proved as successful ventures since mid 20th century. Where L. Subramaniam has worked with Jazz musicians John Handy and Larry Coryell, Japanese koto player Miya Masaoka, Chinese violinist/Erhu player Jai Bing Chen and others, L. Shankar has collaborated in Shakti a world music ensemble of Zakir Hussein with John Mc Laughlin and Vikku Vinayakram. Zakir Hussain's other world music bands are Diga Rhythm Band and Tabla Beat Science.
Swapan Chaudhuri (Tabla player) launched a project in 2004 namely Meeting: Two worlds of modal music (Harmonia Mundi), in which he collaborated and joined Dominique Vellard and Ken Zuckerman to fuse medieval music with Indian ragas.

Habib Khan a contemporary Indian sitar player has collaborated with scalloped fretboard Guitar player Mathew Montfort of Ancient Future (World music band), for 2 albums The Longing and Ecstacy with artists from all over the world as Irina Mikhailova (Russian vocalist), Swapan Chaudhari (Tabla player), George Brooks (saxophonist), Alan Kushan (Persian santur player), Danny Gottlieb (Jazz drummer), Ira Stein (Pianist).

Dr. Lakshiminarayana Subramaniam (Violinist-Carnatic music) is known for his experimental fusion of music from cultures across the globe. As a part of experiment for the younger generations, he has amalgamated musical from Irish, Swedish, Danish, Chinese, African, Japanese and Iranian music.

Trilok Gurtu, son of the legendry singer Shobha Gurtu, is a world music percussionist who has collaborated with many traditional music artists of the world and has many CD's to his credit. There are innumerable musician known/unknown who are into experimentations and world music.

The methods that are being applied today in Indian classical music including the grafting of the principles of harmony of the Western music attracts the artist as a part of experiment with music and also the audience for it becomes a colorful experience for them. For the variegated shades and vast spectrum offered by harmony, it is today being applied to the oriental melodic line. Today Classical music is being merged into various genres coming from all over the globe. The blend of European, African and Asian country's music with Indian is common face of today's world fusion. Jazz and pop with Indian music that is Indo-Jazz & Indi- Pop is quite popular. Various Bands and Groups have emerged who are experimenting with a wide variety of music of the world.

A very important aspect is to protect the local culture and Indian music from the homogenizing effects of globalization. Native arts and traditions are important for us as according to art critic Ashok Vajpayi, local commodities create a world, rich, noble, austere and plural. The question therein lies that, to what extent can the quality & originality of music be maintained and also that what would be the parameters on which the growth and popularization of indigenous or Classical music be adjudged? Merging alien elements in Indian Classical music is still debatable among peers. Few are purists and regard it as worthless; others appreciate and experiment with it as an initial step for attracting young artists and audience with a multicultural background.

It can be postulated that novelty is something that makes us go through all past experiences. Because of novelty we tend to look back towards already established rooted tradition, i.e. world music.