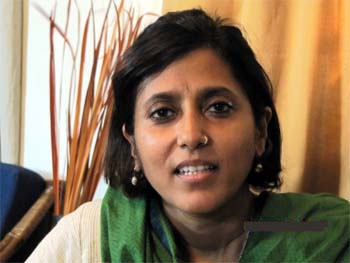 While the rest of India was caught up in the frantic television coverage of the judgment of Ajmal Kasab, the lone gunman caught in the November 26, 2008 attack on Mumbai, one woman studiously stayed away from the television set and switched off her mobile phone the day he was sentenced. Vimita Kamte, wife of the slain IPC officer Ashok Kamte, has, all along, refused to buy the version of the police on the death of her husband, along with Anti Terrorism Squad (ATS) chief Hemant Karkare and Inspector Vijay Salaskar. She used the Right to Information Act to get police call records to reconstruct the sequence of events and examine the lack of coordination in the police control room, then under the charge of Joint Commissioner Rakesh Maria. Today, she wonders whether true closure can ever be achieved.

Q: You have been not commented so far on the judgment given to Kasab - what are your thoughts on it?

A: Well, I think the judgment convicting him was to be expected. There was so much evidence - videos and photographs - he was caught and taken into custody and as far as the punishment is concerned, people have been given the death sentence for grievous crimes like rape and murder. I couldn't understand why the electronic media kept talking on and on about whether he would be hanged or not. It would have been surprising if he hadn't been given the death sentence.

Q: There was also a lot of discussion about whether the judgment brought a closure of sorts for victims of the attacks.

A: As a lawyer, I feel the trial gave Kasab a very fair chance. But, unfortunately, the victims were never heard. Here we are struggling to be heard. No, this is no closure for me. What is closure, after all? Have we managed to bring about a change in anything? Were the real culprits held responsible?

On the one hand, you give an Ashok Chakra to my husband and on the other, you malign him and say he shouldn't have gone... in Mumbai, these top police officers haven't moved out of the city for years. They've forgotten what policing is all about.

Q: You have been seeking answers to the sequence of events that led to the death of your husband and the other officers and in your book, 'To The Last Bullet' (co-authored with Vinita Deshmukh), you wrote about your right to know. Do you feel the judgment helped gain some clarity on this?

A: Well, I don't want to comment on the judgment till I read it thoroughly but clearly it has not accepted the entire testimony of Jadhav (the lone surviving constable in the vehicle the officers were travelling in).

I just feel there can't be a permanent closure on this. There was a time when I was so desperate for the truth that I felt: should I go and meet Kasab and ask him what happened? Can you imagine my situation - should I feel the need to ask a terrorist what happened that night? We are educated women (Kavita Karkare and Smita Salaskar - wives of Hemant Karkare and Vijay Salaskar), so we can speak up but what about the victims - and there are a number of them - who cannot? We've tried so much to keep this within the system, to ask questions at the right forum. But should we, as officer's wives, seek to know the truth from a terrorist? These are questions they (the police establishment) should have come to us and answered.

Q: There was a shake-up, briefly, in the police and political establishment after the November 26 attacks. But we see police officers have been promoted, many political leaders are back where they were... do you feel the situation has changed?

A: Not really. Unless we get to the truth and there is accountability, it'll be difficult to ensure any change. State Home Minister R.R. Patil made a statement in the Assembly that an officer would be sent to my house within a week to clarify everything but I'm still waiting for that officer! I really feel that absolute power corrupts. And Mumbai's senior police officers must do two things: Speak up for the morale of their force and go back to the districts and learn policing all over again! They've been playing musical chairs in Mumbai for far too long.

Q: How do you, personally, see this going forward?

A: At the moment, I'm tired and I want to give my sons the attention they need. They don't speak much but I know they are disturbed every time something comes up to remind them of their father. For me, the book definitely made a huge difference because I've reached out to so many. I get emails and messages from so many people. I do feel I've achieved something and at least stopped the attempt made to tarnish my husband's name. I felt that it was important to speak one's mind. I just thought we'd expose the system and people would take it forward. I still feel that people must ask questions and hold those in power responsible.