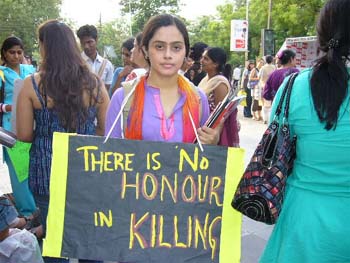 Honor killings in north India are making the headlines with sickening regularity. The unexplained death of Nirupama Pathak in her Jharkhand home is just one incident. The 22-year-old Delhi-based journalist had dared to fall in love with someone belonging to another caste and it seems she had to pay for it with her life.

Such incidents are, of course, not new. Surely the nation has not forgotten how Harpreet, the daughter of the then Shiromani Gurdwara Parbandhak Committee (SGPC) Chief, Bibi Jagir Kaur, was killed in the summer of 2000 for allegedly marrying a man from a modest background. In fact, it took the Supreme Court's intervention this January to set a six-month time frame for the completion of the trial of this decade-long case.

While women's groups have long been waging a lonely battle against such crimes, what seems to have galvanized public opinion are two recent developments. In March 2010, a Karnal court pronounced a landmark verdict on the Manoj-Babli murder case of June 2007. Manoj, 23, and Babli, 19, were killed because they had chosen to marry each other despite being of the same 'gotra' (a term applied to a clan, a group of families, or a lineage - patrilineal - whose members trace their descent to a common ancestor) and from the same village of Karoran, in Haryana's Kaithal district. The court awarded the death sentence to five persons and life imprisonment to Ganga Raj, leader of the Banawala khap, for conspiring to kill the couple.

The response to the verdict was swift. In April, a conclave of khap panchayats, or caste councils, notorious for their regressive attitudes and barbaric methods of punishment was held. More than 4,000 khap panchayat members from Haryana, Uttar Pradesh, Rajasthan and Delhi, that participated vowed to fight for the seven people convicted in the case. They even argued that those who had murdered the couple had actually "honored traditional values".

In the wake of the judgment, women's groups and public-spirited individuals from all over the country have protested against those who murder in the name of preserving "tradition". In a strongly-worded letter to the President of India, women activists from all over India demanded that action be taken against khap leaders who make statements glorifying such murders.

The letter demanded that action be taken against khap leaders who made statements at the conclave, that state governments and the courts take suo motu cognizance of various media reports and institute an inquiry into incidents of 'honor' killings; that state governments take strict action to protect the rights of citizens to choose their own partners. It also called for strong action against all those who threatened Karnal Sessions Judge Vani Gopal Sharma, who had pronounced the recent verdict, and all those policemen who did not perform their duty in the Manoj-Babli case. It also noted "the ugly nexus between khap leaders, the police, and local politicians" and argued that this needed to be exposed.

There were public demonstrations, too. In Delhi, members of Saheli, an autonomous women's group, came together under the blazing summer sun to raise slogans and petition the public on the issue. They held up posters that read, "Protect The Right To Love Across Caste Barriers', 'There Is No Honor In Killing' and 'Hands Up Against Killings'.

Joining this resistance was a very special newly-wed couple - Rohit, a Yadav from Andhra Pradesh, who had married a girl from Bawana, Haryana, belonging to the Nai community. Rohit showed exceptional courage in keeping his wife safe from her family, which was opposed to the match. The couple secretly wedded at a temple in Delhi in mid-March. Rohit said his wife went to visit her parents in April on the assurance that she would return to their Delhi residence within a week. But that did not happen. What was meant to be a joyous time for these 20-somethings, turned out to be a nightmare.

Describing the sequence of events, Rohit said, "Her family members kept dodging me. She had left for Bawana on April 23 but when she did not return on the appointed date, I started feeling uneasy. So I decided to contact Jagori, a women's organization in Delhi. They took swift action and joined me at the Bawana police station. The Station House Officer (SHO) sent his men along with two activists to bring my wife back from her house. She came to the police station but her parents persuaded her to go back with them for another two days. During this period, they did not let me speak to her." Once again his wife did not return and the activists had to approach the SHO again.

"Her family tried to put political pressure on the SHO but Jagori representatives convinced him of the merits of the case and apprised him of the legal consequences. Finally, her parents visited me in May saying that they wanted to formally solemnize the marriage. But they tried to delay this again. By then my patience gave way to anger. I warned them of legal action if they did not send her back. Under pressure, they got us married with an exchange of garlands on May 14 at their home in Bawana," says Rohit, remembering every detail of the ordeal.

Rohit was able to save his marriage and his wife because of his presence of mind. In April, he had consulted a lawyer and lost no time in sending e-mails to the National Commission for Women, Delhi Commission for Women, the All India Democratic Women's Association (AIDWA) and Jagori. "Had it not been for Jagori's prompt action, my wife may well have been another victim of honor killing," he maintains.

Jagmati Sangwan, the Haryana State President of AIDWA and presently the director of the of Women's Study Centre at Maharishi Dayanand University, Rohtak, had challenged the rules of the khap panchayats as early as 1988. Today, Sangwan is deeply saddened at the recent spate of honor killings and dismisses the khap panchayat's demand for an amendment to Hindu Marriage Act to disallow same 'gotra' marriages. "Such legislation cannot be condoned. The fact is that those who encourage honor killings have vested interests. While there are some persons who instigate people in the name of 'gotra' by citing medical reasons, there are others who control the financial and social lives of these underprivileged families," she says.

There is ample evidence that honor killings are really about the exercise of social and political power. Khap panchayats represent clusters of interests, with open and tacit support from politicians, as reflected in the recent utterances of Om Prakash Chautala, the Indian National Lok Dal Chief, or Naveen Jindal, the young Congress MP from Kuruskhetra. Some khap representatives even attempt to project themselves in a 'progressive' light. Baljit Singh Malik, President of All India Gathwala Khap, claims that he is not in favor of honor killings but still defends Ganga Raj, the man who has been awarded life imprisonment in the Manoj-Babli murder case. He claims that Raj is not a khap leader but an elected member of the block 'samiti'. Argues Malik, "In two decades of public life, I have never seen honor killing dictated by a khap panchayat in Haryana, Rajasthan or western Uttar Pradesh. But, I am against same 'gotra' marriages as they are a departure from tradition."

Malik should know that he is on the wrong side of history. At a recent media interaction conducted by the Indian Women's Press Corps in Delhi, Malik while conversing with TV journalist Rheema Parashar, remarked, "You are also a Prashar. Your community disallows same 'gotra' marriages. You must oppose them publicly." Parashar shot back immediately, "Society is changing."