"Never shall I forget the days I spent with you. Continue to be my friend, as you will always find me yours." -Ludwig Van Beethoven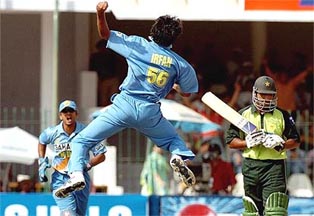 A sound boom tore the skies after India won a cliffhanger to take the one day series 3-2. Crackers burst through sounds of cheer nestling the stadium at the end of a festival.

But this was not Eden Gardens, Calcutta; it was Gaddafi Stadium, Lahore.

The Indian team, who left for a historic journey to Pakistan; the first in 15 years, had not just won a cricket series, they had won hearts.

It is hard to imagine that just over a year ago, Indian and Pakistani armies were glaring eyeball to eyeball across the Wagah border in Punjab, as war clouds loomed and a nervous world watched the two nuclear neighbors anxiously.

In the past month however, Wagah has seen a benign invasion of thousands of cheering Indian fans crossing over to Lahore, and being welcomed enthusiastically by their Pakistani hosts.

Oh! Didn't the Pakistanis always march out and burn our flag? Hadn't we done the same thing with them? How could we all change so quickly? Our Politicians decided to give us a chance and the people of our countries grabbed it and barged ahead. Finally, the door was opened!

As I enthusiastically watched the match with my friends in the 'famous' Victoria Halls of Residence here in Sheffield, my thoughts seemed to be echoing though the television set.

Indians and Pakistanis sat together through the matches in all venues clapping for every run and every wicket. Many spectators were seen carrying the flags of both India and Pakistan. A young Pakistani held a placard that read 'Match jeet lo, par dil dey doh'

In the Karachi one dayer, I saw some beautiful Pakistani girls wearing hats that said 'Jeet lo dil', picking up the slogan from Indian Prime Minister.

Dravid and Inzi were cheered by Indians and Pakistanis alike. A group of Indian visitors held up a festoon that said: 'Thank you, Pakistan. We love you'.
For a generation like mine that experiences only negative emotions when the word 'Pakistan' is used, the sights and sounds from across the border came as a breath of fresh air. Pictures of bonhomie, 'brothers in arms' and President Musharraf shaking hands with India's cricket God Sachin Tendulkar splashed across every newspaper in India. Several instances of generous Pakistani hospitality and warmth were relayed back to India, with some Pakistani restaurateurs even refusing to accept money from visiting Indians. Reports of Indian cricket fans searching for their ancestral homes in Pakistan opened a heart-tugging window to a time when the two countries were one.

The remarkable and sudden shift in cross-border chemistry astounded many. Imran Khan, Pakistan's cricket hero remarked "People from across the border have come in and raised Indian flags in Pakistan, Pakistanis and Indians are holding each other's flags. It's something which I never thought I would see in my lifetime, but it has happened."

However people to people contact is all about emotion. Will it fizzle out after the cricket series? Can Prime Minister Vajpayee and President Musharraf get off the Kashmir issue and realize that friendlier relations will economically benefit both countries? Only time will answer these questions. If feelings and demand for peace are strong enough, it could someday be a reality for our peoples.

As I lay glued to the television set, I felt something strange in me. I felt I was not just watching another cricket match; I was silently participating in a historic change of policy between India and Pakistan.