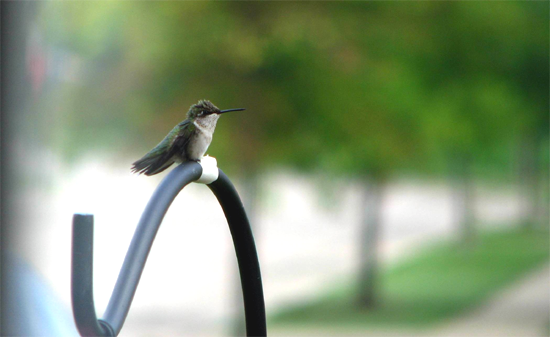 The smallest of the avian species, the hummingbird is an incredible flying machine that can tantalize and mesmerize anyone who has watched this bird sipping nectar from a flower whilst continuing to flap its wings at an awesome speed of approximately 50 beats per second! Phew…it took me more than a second just to type this word!

Our backyard has been very active this summer, thanks to a female ruby throated hummingbird whom we shall call M. She appears to be a juvenile hummingbird and loves to perch on top of the shepherd's hook above the hummingbird feeder. M loves the sugary nectar that we feed her and gulps it by flitting her long tongue in and out of the port at a rapid rate!

The most common hummingbird that you are bound to see in the East Coast or the Midwest is the ruby throated hummingbird. However if you travel to the Southwest you can spot a dozen or so species of hummingbirds with brilliant colors of blue, purple, red, orange and magenta, that have names such as the Black chinned, Rufous, Magnificent, Broad billed and Buff bellied Hummingbirds, to name a few.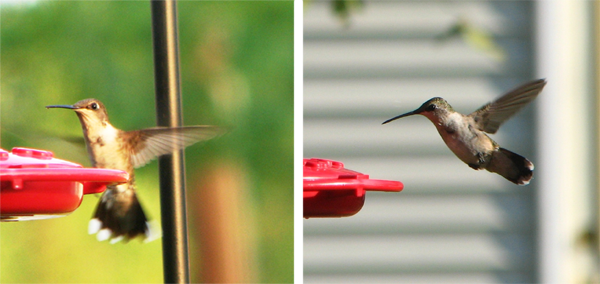 Back in our backyard, M is once again taking a sip from her private hummingbird feeder. Once she is full, M flies rapidly to a perch in the thickets of a nearby bush which has become her vantage point. Then in a short while she returns back to the feeder and has another go at it. Yummy…that sugar solution is delicious and now I can be hyper! If you watch carefully, you can see her flitting her tongue in the air once in a while, as though she is smacking her lips in satisfaction. Then it is time to quickly dart back into the bush again. This pattern becomes quite repetitive, but the rhythm is soon broken by the intrusion of another female ruby throated hummingbird.

Oh, oh! This was supposed to be M's private feeding station that she had discovered and planted her flag atop it. As soon as the intruder perches on the new found feeder, M darts quickly from her hideout and viciously attacks the intruder. In a flash they both disappear rapidly even as you are trying to reconstruct the scene in your mind and decipher how it happened so fast. After a while we see M back again…no, no wait this bird looks slightly different, the spots on her neck are more well-defined and she is definitely cautious and not in full view unlike M who would perch anywhere on any of the feeding ports, without regard to if someone was watching through the window or not. The intruder starts feeding and raises her head every so often to ensure that no one is around, and goes back to feeding again and then…Whoosh! M is back, as deadly as a fighter plane and in one fell swoop chases the intruder away. Well, now M has the feeder all to herself and can go back to perching on top of the hook and sit there, in contemplative meditation, with nary a worry about the world. M has declared that she is the resident hummingbird of our backyard this summer!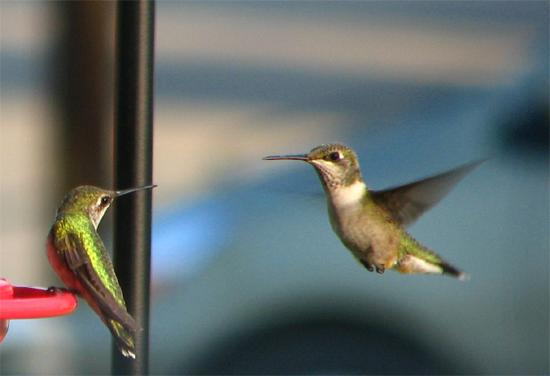 Hmm…whatever happened to the male ruby throated hummer with his elegant dazzling red colored neck, whom we spotted a few weeks ago? Where could he have disappeared? Probably M drove him crazy a long time back…..