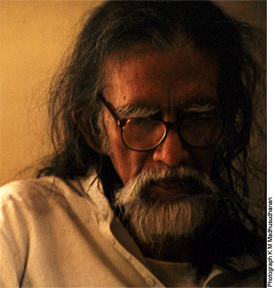 The cent percent literate Kerala society has just witnessed the last rites of one more of their legendary sons. O.V. Vijayan (OVV) was not only a writer par excellence (in Malayalam and English) but one of the most brilliant minds of all times. His life is highly representative of a typical middle class Keralite and there are very important lessons to be learnt from it. At least three generations of Keralites have 'wasted' substantial part of their lives treading the waste lands of leftist ideologies and OVV's life is the 'n'th example before the youth of Kerala. Why do we want to experiment with a set of retrograde foreign ideologies which have failed all over the world? Instead we should be looking inwards and return to our own doctrines learning from past mistakes and adapting modern thoughts for the good of mankind.
Let me pick up a few random points from the life of OVV, introspect and leave the rest for the discerning readers to read between the lines. He was born in 1930 in a typical middle class family. He had his formal education all the way up to post graduate level in English. He was a hardcore leftist and a party card holder. He published his
magnum opus
(The Legends of Khasak) in 1969. He married Theresa Gabriel (a professor in philosophy) in 1965 and has one son. He got disillusioned with leftist ideologies and returned to Indian thoughts as expounded by Karunakara Guru. He wrote a couple of books as a 'born again' Indian. He landed up in front of Guruvayoor temple in 2003. He died in 2005 at the age of 75 and was cremated (not buried) with full State honors at Ivar Madom (where the five
Panadavas
were cremated) on the banks of Bharatapuzha as per his wishes. His equally famous nephew (not son) Ravi Shankar lit the funeral pyre.
Now, here is an outstanding Indian who has lived 75 years in this same world as ours. I wonder whether we have more than a handful of Indians alive today who can be included in the same intellectual category as OVV. If we take his life as his message, what does it say? The unambiguous message is that answers to all our questions lie within India (on the right side) and not outside India (on the left side). As a child, OVV must have been exposed to the beliefs, rituals and values of his faith by birth. As a youth, he must have questioned them and thought he found the answers to all the worldly problems in the leftist ideologies. As a man, he must have been subjected to the pulls and pushes of the organized faiths. But as an old man, he too realized that he has been a musk deer in search of musk. It took him almost 50 years to realize the truth.
The pertinent question here is whether all of us should necessarily go through the same learning curve repeatedly. Are we not wasting our time and effort in not learning from the mistakes of our peers? We have hundreds of examples in front of us (some famous and many more ordinary) who had tread the same leftist and western paths to nowhere. Some of them have left written instructions for us to avoid similar pitfalls and some others have conveyed the same message through their life itself. It is time our youth realized this simple truth and started looking for answers within them from day one. OVV was our 'n'th example and we cannot afford to ignore the message any further. It would be disastrous for our society if our children try to follow these peers in the same mistaken path again and again. Instead, they should skip the pitfalls and bloom at the right age in order to light up our nation once again.
Turbulent times await our continent and Indian nation will be targeted again. The defeated but organized armies of two failed ideologies are joining hands to resurrect a fallen cross to crucify our nation. Apparently contradictory, the objectives of hyenas and vultures always converge wherever there is poverty and misery. A whole lot of evil warriors with varying agenda are aligning under the red flag of the
Kauravas
in the modern
Kurushetra
. It is quite possible that again we may find some spineless
Bhishmas
and
Dhronas
on the wrong side on account of their helplessness. But the numbers doesn't matter much as in the legendary war. What we need on our side is another
Sree Krishna
. On another occasion, it was Swami Vivekananda who inspired (and saved) us by taking the war into the enemy territories by reasserting that our culture and doctrines are intrinsically stronger. But now our warfront is full of
Arjunas
who are confused about the direction ' left or right? Another
Sree Krishna
can arise from our society only if our children start looking inwards for inspiration. And we all know very well what that means and what needs to be done.