Ramanaut - Indian Astronaut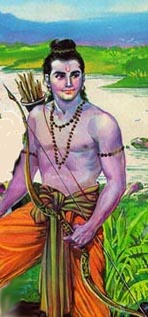 India's expedition to Moon, Chandrayaan, will become a reality by 2007 and most probably it will be an unmanned mission. The next logical step in the same direction will be our manned mission to the moon. Americans christened their spacemen as Astronauts and Russians tagged them as Cosmonauts. I wonder what China calls their spacemen. But when it comes to India, can we think of anything better than Ramanauts? Apparently it might look like an attempt to saffronise(which is now a bad word in India) the whole issue. But it is definitely not that. The word we choose is very important because it will directly relate to our national ethos. The name should reflect the trait of adventurism we had in our blood thousands of years ago, but sadly missing in the last few centuries. All foreign masters have taken advantage of this major shortfall in our mental make-up to break our national unity and rule over us. This is an opportunity to redeem our pride.

Chandrayaan in the twenty first century is equivalent to crossing the sea in treta yuga (before 5000 BC). Our ancient seers revered nature and considered everything in it as manifestations of the Almighty. To make ordinary mortals understand and respect this noble concept, all major forces of nature were considered as Gods. In this regard, Sea was also considered as one of our Gods and crossing it came to be considered as a sin. There were no compelling reasons to cross the sea because India and Indians have never been interested in conquering foreign lands or in harvesting souls. But we have always ruled over the minds of people by our power of knowledge and wisdom. I am reminded of the words of Hu Shih (1891-1962), a Chinese philosopher diplomat, who said 'India conquered and dominated China culturally for two thousand years without ever having to send a single soldier across her border'.

But all this logic changed when a king's wife was kidnapped by a demon. An ideal king who is also an ideal human being had to show the world how to be virtuous and do one's duties in trying times. Whatever obstacles that comes in the way will have to be crossed and she has to be rescued at any cost. For those Indians who are denigrating Ramayan as a mythological story, the question remains as to why Lord Ram took all these troubles to cross the sea when he could have transmigrated to Lanka and saved Sita. Instead, what he attempted was a heroic project of immense proportions at that age, the remains of which are being swept clean by the Sethusamudram ship canal project now. If Lord Ram's adventurous trip to Lanka was to demonstrate to us the inevitable victory of righteousness, Chandrayaan is meant for harnessing unknown frontiers for our common benefit. Both are for the benefit of common man in India.

In short, it is in the best interests of all Indians that we immortalise the Lord's heroic attempt by naming our own astronaut as Ramanaut. Let the first Indian to walk on the moon be a Ramanaut. That is the best way to show the world our eternal preference for adventure for the sake of upholding righteousness.Chadrayaan will show the world that Indians too can reach the moon and by naming them as Ramanauts we shall signal the world our reverence for national heroes who had the guts to do the impossible when morality was at stake.
18-Sep-2005
More by : J. Ajithkumar
---