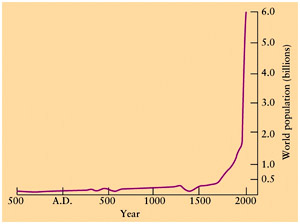 Census 2001 was an eye-opener for many in India. While it left almost all professional demographers with highly revealing findings, those with leanings (of which we have many in India) were either finding fault with the data or cooking up illogical explanations for the demographic imbalances in various pockets of the country. One need not be a Sankara or Einstein to correlate organized or unorganized migration of specific communities with spurt in their population in the areas thus targeted. But it definitely takes some highly imaginative deceptive manipulation to 'plan families' while appearing to follow the 'family planning' policies of the government.

The official view about population in India has been highly erred right from 1947. Human beings were considered a burden instead of resources. It goes to the credit of our youngest Prime Minister to realise the mistake and set up a ministry for human resources. But the damage has already been done. We cannot blame anyone for alleging a great conspiracy by those in charge of health & family welfare in the first government of independent India (who was it?). The young Indian nation was very vulnerable those days and an international conspiracy cannot be ruled out behind this. The two-child norm was popularised with great fervour and the majority took to this whole heartedly. Little did they realise that it was only a stage managed start and there were hidden agenda to apply the 'third child trick' by the clever few after a while. This is yet another example of the time tested technique of appearing to run with the hare but hunting for the hound, of which we have past masters in highly organised communities.

The fooled majority has realised the mistake. Now they understand that the best multiplier effect is obtained by opting for the 'accidental' third child when 'fools' around are struggling to help the nation by strictly adhering to the two child norm. The table below illustrate this point in no uncertain terms.
No. of Children

2

3

4

Generation

Family Size

First

2

2

2

Second

4

5

6

Third

10

17

26

Fourth

22

53

106

For untimely deaths

20%

20%

20%

Net

18

42

85
In any country the middle class represents the equilibrium situation that will ultimately evolve. Almost all such families are now living together upto the fourth generation with say 20% untimely deaths. In such a scenario one can get a clear 230% advantage in numbers by going for the third child, while the next ones will yield only declining additional advantage. The plot was perfect and results are there for everyone to see in states like Kerala. The organisers provided a favourable canopy of pro-life arguments and the meek followers went for the kill with great enthusiasm.
The truth is now out and family planning is a dying concept in India. Many people dislike and despise the red cross logo of family planning. Enlightened youngsters in all communities are beating the dirty manipulators by going for the third child. They have realised the simple fact that the only way to beat organised conquerors is to see through their dirty games and pay back in the same coin. But this is just one of their numerous games in various fields. The trick masters are never short of tricks, be it their funny prohibition postures or in monopolising agricultural trade unions or in organised migration of settlers. Indian nation can prosper only when there is an end to these tricks and all Indians have uniform goals and means.