In school, I can remember singing this song in what was then termed as Rounders. It would involve one group starting on the song and another group taking up the refrain after two lines followed by a third group and so on. Regardless of the number of groups, the harmony would be maintained though the words sung by each group would be different. The words of this song are: All things shall perish from under the sky. Music alone shall live; never shall die. At that point in time thoughts of one's mortality were furthest from one's mind and the message of that song drove home much later.

Now with an increased awareness of the transience of all things, the immortality of music seems to bear a special significance. Music and the lyrics of songs very often pass from one generation to another and a certain song or its lyrics can evoke images of a time, a person or a feeling just like that. There are people in the family who say that they cannot handle songs with sad tunes or words but I have often felt that listening to these can keep memories etched in my mind forever and help me to recreate them whenever I feel the need to.

Growing up in a family of music lovers, especially of vintage Hindi film music, the exposure to melodies started from the cradle with parents and other affectionate elders humming or singing, around the house.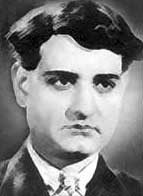 My father being a fan of Kundanlal Saigal, these songs would be playing at home all the time. Radio Ceylon (now Sri Lanka) also immortalized Saigal by playing his songs at 2 minutes to 8.00 every morning. Whenever I was away from home, I could evoke images of home just by switching on Radio Ceylon. The earliest and my most favorite of Saigal's renditions is Soja Rajkumari, soja because Sleep, my little Princess was a lullaby that had often lulled me to sleep in childhood. It was also a favorite of my father's along with Babul mora, naihar chooto hi jai which most eloquently expresses the emotions of a bride leaving her father's house. The significance of this song hit me only after I heard it away from my parental home after marriage. Even the Chitra and Jagjit Singh version of this song touches an emotional chord. Of course, there was a time, soon after my father's passing when I would shy away from Saigal but I have managed to overcome this feeling and even if listening to him results in a lapse into sentimentality, I now look upon it as a form of catharsis.

When thinking of my mother, I instantly think of Talat Mehmood and his golden voice adding special meaning to lyrics of songs like Ai mere dil, kahin aur chal, gham ki duniya se dil bhar gaya (Oh my heart, take me to another place, I have had my fill of this world of sadness). To date this song can recreate memories of my mother singing it. But the Talat number that takes me to another plane is Sham-e-gham ki kasam aaj ghamgi hain hum with the poignant lyrics giving a new dimension to sorrow and loneliness.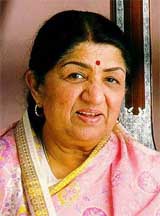 The song Kali ghata chai mora from the film Sujata, another favorite of my mother's with its beautiful lyrics and lovely music, will be hard for me to forget for more reasons than one. As a child, I sat on the record (a 78 RPM - almost extinct these days!) that was on the seat of our car and broke it in two! For a long time, my mother kept reminding me of my carelessness and now with her chair empty, this song keeps alive a childhood memory. The song filmed on the emotive Nutan in the black and white film is so natural and enjoyable to watch even today.

Almost all of us have special songs that we link with romance or a loved one. Some of them are melodies that speak of unrequited love while others dwell on a sense of inadequacy at being the chosen one. A great favorite of mine is Lata Mangeshkar's Aap ki nazaron ne samjha pyar ke kabil mujhe.

A song like Mukesh's Saranga teri yaad mein always reminds me of a loved one because it is his favorite number.

A die-hard fan of Hemant Kumar, I find myself transported to another world when I hear his musical compositions rendered in his inimitable voice. Songs like Ganga aiye kahan se; Yeh nayan dare dare, yeh jaam bhare bhare, zara peene do; Hain apna dil tu awara and the unforgettable duet with Lata: Chupa lo yun dil me pyare mera ke jaise mandir me lou diye ki, from the film Mamta are timeless and finding newer, younger audiences to appreciate the mastery in Hemant's voice and melodies. My all time favorite among Manna Dey's renditions, with their classical bent, is: Ay mere pyare watan, ay mere bichde chaman (picturised on Balraj Sahni in the film, Kabulliwalah, this number is guaranteed to tug at the heartstrings of anybody who is far away from her motherland).

It would be hard to write about all the songs that have and continue to have special meaning in one's life, as the list is inexhaustible. Indian friends who live abroad mention how hearing a particular song from one's time spent in India can choke them with emotion and infuse them with nostalgia for times gone by. Famous musicians like M.S. Subbalakshmi, Ravi Shankar and Amjad Ali have gone on record about their experiences of being touched by something spiritual whenever they have been rapt in their music. It is probably the same connection with one's spirit that touches every music lover and conveys the sense that music is immortal and never shall die.