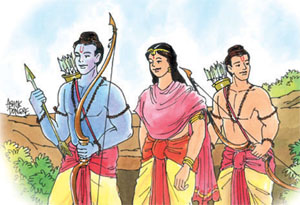 The Ramayana continues to be interpreted by different artistes and scholars in manifold creative ways. Anurupa Roy's multimedia play, 'About Ram', recently staged at the India Habitat Centre, New Delhi, projects Rama's inner dilemmas - his tormented soul as he goes to rescue Sita from Lanka, overtaken by doubt once he sees her, unable to accept her because she might have changed. Explains Roy, "The mainstream Tulsidas version which I was first exposed to and the TV versions often left me very uninterested in the Ramayana. Rama appeared to me to be a very 'flat', one-dimensional character. With this dissatisfaction came the need to challenge the 'popular' versions of the story."
Roy's is not the only modern reinterpretation of the Ramayana. Interestingly, the Ramayana - the story of Rama - has been told in thousands of different ways over the centuries. The mainstream version in north India holds that Dussehra and Diwali commemorate the victory of good over evil, as Lord Rama freed Sita from Lanka, where she was abducted to by the demon-king Ravana. However, in parts of south India as well as in south-east Asian countries like Indonesia, it is Ravana who is worshipped as a hero. Centuries ago, some oral versions of the Ramayana placed Rama and Sita as siblings! Even after Valmiki penned the first written Ramayana around two millennia ago, various versions were written, sung or told with widely varying plots, characterizations and beliefs. No version is 'wrong'. It is valid to interpret a story in different ways.
Ram-lilas performed at numerous sites by ordinary people are based largely on Tulsidas's 'Ramcharitmanas', portraying Sita as meek and docile, Rama as brave and virtuous, Ravana and his sister Surpanakha as evil. The TV serial 'Ramayana' by Ramananda Sagar had a similar stereotypical portrayal. In this, Sita was described as "the shadow to the substance, to her lord a faithful wife".
However, in the 15th century, folk poet Chandraboti composed a Bengali version of the Ramayana in which Rama was shown as far from ideal. Still sung by rural women in Bangladesh, in Chandraboti's version, Rama was "a poor king, a poor father, a poor husband easily influenced by the opinions of others". Sita, on the other hand, was portrayed as a tragic figure of epic proportions, born of the blood of ascetics: "Floating, I have come to this tapoban [forest where penance takes place], and where I shall be tomorrow, nobody knows..."
Even today, in Mithila, Bihar, many people refuse to marry their daughters to any man in Avadh, Uttar Pradesh, for they recall that Sita's life was ruined because she married into an Avadhi family. Women enact a folk play in which the priest's wife says to her husband, "Listen to me my dear, Go bring back Sita who is pure as our sacred books." The warrior's wife says to her husband, "Listen to me my dear, Bring back Sita and install her with full dignity beside her husband. If you cannot do this, get a drum fashioned out of the skin on your body!"
Telugu women's songs (from Andhra Pradesh) also dwell on Sita as the central figure in the Rama-Sita story. These songs have descriptions of Sita's birth, marriage, journey to the in-law's home, her puberty, youthful relationship with Rama, life in the forest and in Lanka, the fire-ordeal to test her purity, her pregnancy, motherhood, and so on.
Even in Valmiki's Ramayana, Sita is not a docile wife; rather, she is vibrant and articulate. For instance, when Rama is to go into exile for 14 years, Sita insists upon accompanying him, and is furious when he refuses. She declares she is no luxury-loving palace-dweller, rather she looks forward to a life in the thick of nature, and is prepared to endure hardship. She asks him, "Who are you afraid of? Are you so weak that you will not be able to protect me?" Reminding him that she is born of the earth, she says she will walk in front and keep removing the thorns from his path. As we know, Sita won her way, and went into the forest with Rama.
The 'Iravataram', written in Tamil by Kampan in the 12th century AD, is a highly popular version of the Rama-Sita story. In this, Sita's anguish and anger during the fire-ordeal to prove her purity (agnipareeksha) is vividly depicted. As she approaches the fire, the whole world goes into crisis. The fire is scorched by her burning faithfulness, and Agni lifts her, saying to Rama, "Have you abandoned Dharma [the religious way]? Will rain fall, Will the earth still bear its burden Without splitting in two, Or can the universe survive If she becomes enraged? If she utters a curse, Even Brahma on his lotus will die."
Thus Sita is depicted in several versions as a powerful figure, bravely facing harsh circumstances.
Mallika Sarabhai's creative interpretation of the Ramayana, a dance-drama called 'Sita's Daughters', shows Sita as a strong woman caught in a difficult situation because of her weak-willed husband. In this, Sita describes Rama as "the delicate prince who needed my support in coping with life in the forest; the weak man who had to gather an army to fight his battles; a chauvinist who needed proof of his wife's virtue; a king who fails in his duty as a husband..."
During the 1950s, Snehlata Reddy penned 'Sita', a play that was performed extensively by radical political activists in south India. Reddy's Sita is shocked when Rama rejects her after the Lanka war. She starts musing over Ravana's caring attitude, in that he never forced himself on her. She wonders whether she did the right thing in rejecting Ravana and preserving herself for Rama. Rama does not seem to understand, respect or care for her in the same way. Embittered, she exclaims, "Remember me not as a goddess of virtue, but as a defenseless woman fighting for her self-respect. History has never recorded the whole truth. They will gloss over my suffering and camouflage their sins with my submissiveness and devotion...I reject you! I reject you as husband, as lover - and I reject you above all as the father of my unborn children!"
In the Valmiki Ramayana, Rama takes Sita back to Ayodhya after the agnipareeksha, but then rejects her after somebody casts aspersions on her fidelity and purity. Sita then goes to the forest to give birth to her children and brings them up there. Later, when Rama asks her to return to the palace, she refuses. She chooses to return to the earth rather than live with Rama - thus avoiding any replay of the pattern of betrayal and abandonment.