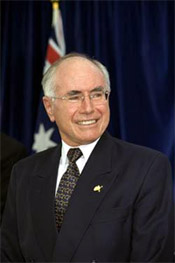 Barely had India finished playing host to the American President George Bush, and the next visitor was already knocking. The Rashtrapati Bhavan geared up to welcome the Australian Prime Minister, John Howard, who arrived in New Delhi from down-under on Sunday night.
Howard's statements in the preceding weeks on the need to strengthen business ties with India have already been the focus of major press attention in India. He brings with him a large team of corporate majors and he seems intent on showing that he means business. He termed last week's visit of President Bush to India of "long-term significance" not just for the region but to the entire world. Nonetheless he has been quick to deny that Australia will supply uranium to India in the wake of the new inked civilian nuclear agreement with United States. The coming week should be critical to Manmohan Singh and his team in Delhi as Australia represents untapped potential in the fields of technology and pharmaceuticals. In turn, Australia is wooing India's 300 million strong middle class and wants to increase its trade in banking, ores and education.
The ink hasn't dried yet on the Indo-US civilian nuclear agreement that India is already using its new found position in the nuclear club hunting for more bargains. On the basis of its record as a conscientious and reliable nation, India has asked Australia to lift the ban on uranium supplies to its reactors. While the Australian Prime Minister refused to commit to the Indian demand, the two nations have agreed to set up a unit to study the Indo-US deal in detail. Analysts say this is a precursor to the Australian government finally approving to sell uranium to India. Australia has 40% of the world's uranium ore.
The Indo-US deal provoked Iran into taking a tougher stand on its nuclear program. While the International Atomic Energy Agency (IAEA) has expressed optimism that an agreement would be reached, the European Union and the United States have been insisting that Iran halts all its nuclear research and development before its negotiations with the EU can be continue. Teheran has refused to stop its uranium enrichment program and has appealed to Russia for support. In an unprecedented move the American Secretary of State Condoleezza Rice invited Russian Foreign Minister Sergey Lavrov for a meeting in the Oval Office with President Bush on Tuesday. It is believed that United States has sought Russian support for resolving this crisis. Russia has veto power at the UN Security Council and can foil American efforts of pressing for sanctions to censure Tehran into submission.
Iranian newspapers focused greatly on Bush's visit to India and called the Indo-US deal a symbol of American double standards. One newspaper went on to say that the, Indo-US civilian nuclear agreement was "another scandal in the history of America's hypocritical nuclear policies. America's double standards on nuclear issues is a serious warning to Europe, Russia, China and others."
Back in India, South Block faces one of its biggest challenges ever. On one hand is the newly forged relationship with the World's only Superpower. On the other is the gathering support for Iran within India. The BJP and the Left parties are readying themselves to protest, the 'sell-out' of India's nuclear ambitions to America, when parliament reconvenes. Additionally, there is discontent amongst a section of Indian foreign policy experts who believe that we have disappointed our long-term friend and ally Iran.
Turbulent times ahead for Manmohan Singh & Co. predicted!