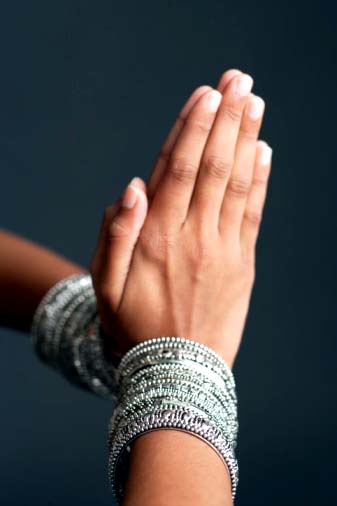 A tinkling of anklets, a glimmer of silvery light; a shimmering artifact, with a sheen of purity. Welcome to the world of silver and a world where it is almost magically crafted into lovely art forms and fascinating pieces of adornment. Rooted in customs, traditions and folklore, the land of Orison is a home to many handicrafts and art forms such as Patachitra, appliqué work, terracotta, brass work and not the least among them is the silver filigree work of Cuttack, locally known as Tarakashi. This delicate craft is especially renowned for its unparalleled intricacy.

The art is ancient, and dates back to the dawns of early history. Presently, the silver filigree workers are largely from the district of Cuttack, where the art flourishes. According to sources, the art may have come to Orissa through its trade links with Indonesia.

The filigree artists work with an alloy of 90% or more pure silver. Silver is beaten and then drawn into fine wires and foils. The wires are then made finer by drawing silver through a series of consecutively smaller holes to produce finer strands. The wires are then twisted into various shapes by binding them into different designs and soldering them with pincers and scissors specially made for the purpose. The end results are articles and ornaments of ethereal beauty. Techniques such as granulation, snow glazing and casting are also used innovatively to heighten the effect. Artisan Jagdish Mishra, speaking of the various techniques employed says, "The tastes of the customers keep changing and artists must be up to date with to keep up with emerging trends". Such new methods and experimentation are increasingly being employed to produce highly polished and refined artifacts in keeping with the demands of customers. Platinum polishing is done to give a more lasting shine whereas fusion of silver and brass or other materials is done to create some rather interesting effects.

The works in Tarakashi are a tribute to the vision of the deft craftsmen; a combination of beauty and utility. Like all other crafts of Orissa, Tarakashi is gloriously alive to and caters to modern tastes while retaining all essential links with a rich and varied cultural past. Forms of animals, birds, flowers and even miniature handbags and other souvenirs are made. The Konark Chakra and temple are great favorites as mementos. Scenes from the Mahabharata, in particular the still from the Bhagavad Gita depicting the chariot of Arjuna driven by Lord Krishna are quite popular.

The filigree jewelry is particularly rich in patterns. In Orissa, the stress is on arm jewelry, necklaces, toe rings and especially anklets, which are a great favorite. They are considered auspicious as well. Various kinds of intricate anklets, combining use of semi-precious stones are greatly preferred, according to Jagannath Mohapatra, proprietor, Ashok Jewelers, Cuttack.

Vermillion boxes, brooches, pendants, earrings and hairpins are also in great demand, with prices ranging from twenty rupees to two thousand rupees. Amrita Pattnaik, bride to be admits that though ornaments are generally made of gold during marriage, some items are traditionally preferred in silver, such as toe rings, anklets and vermilion boxes and waist chains.

Silver filigree and other silver items have, like other handicrafts, an important socio-cultural function in Orissa. The child's first drop of water is fed to it in a silver bowl by a silver spoon. The first solid food fed to the child, usually a dish of rice or kheer, is fed to it in a silver bowl in a function known as anna prasanna. A newly wed bride too, is traditionally presented a set of silver dishes. Silver dishes are also used to serve prasad to deities during religious ceremonies. Temples have sets of silver ornaments for presiding deities.

Every year, during Durga Puja in Cuttack, silver filigree jewelry is used at many pandals to embellish the idols of Maa Durga. One of the most famous idols is the one at Chandni Chowk, where the entire crown and accessories of Durga are made of silver, popularly known as Chaandi Medha. It's a dazzling sight for all to behold.

Only recently, Bishandayal Jewellers in Cuttack constructed an entire replica of the Taj Mahal out of 55 kgs of silver. Such innovations have always formed part of the history of Oriya filigree work. Today, Tarakashi workers continue to uphold the tradition of outstanding workmanship but the demands of the clientele have changed, resulting in a comparatively reduced and standardized variety of articles. The artisans complain that the craze for costume jewelry has resulted in a decrease in the demand for silver jewelry. "Youngsters are more easily influenced by the fashions shown on television and neglect traditional items", they complain.

Yet a certain revival of interest has been observed among the younger generation. Kriti Shrivastav, Delhi, expresses an ardent interest in silver jewelry, especially Kadas (bracelets) and earrings. Fashion trends seem to be changing and showing a return to silver jewelry in all its forms - platinum polished, oxidized or filigree. Silver continues to retain its moonlit shine in the field of Oriya craftsmanship.