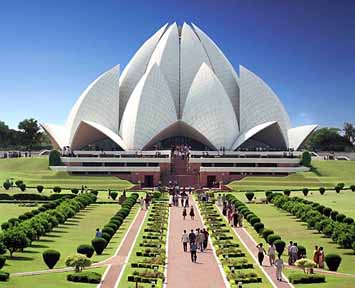 'Temples of modern India' was a term very much dear to Pandit Nehru. He often used it to describe the giant public sector units in Independent India to highlight their importance fully knowing the vital role played by temples in ancient India. It may be recalled that all the major temples in ancient India were more known for their encouragement of arts and learning than as places of worship. As a direct result of this almost all the people from the locality used to visit the temples for one reason or another. Over a period of time the versatility of our temples got degraded to mere rituals and superstitions. One of the main reasons for this sad state of affairs is the ulterior motives of Brahmins to keep the temples under their control. Time has now come to rediscover (or redefine) the concept of temples and to stress their relevance in our lives. We need modern temples to cater to the requirements of modern times. Building smaller and smaller temples at every nook and corner is of no use anymore. What we need are major complexes to cater to the needs of all those who believe in temples (not necessarily in God). Let me outline below a brief sketch of my own concept of a modern temple in India.

Sanctum Sanctorum

The sanctum sanctorum housing the presiding deity shall definitely form the central point in any temple. We do believe in idol worship as something symbolising the almighty, especially the ordinary among us who do not indulge much in reading (and understanding) the scriptures. The idol in each temple has a particular shape and form with a whole lot of qualities attributed to it at the time of installation. All the believers and worshippers at any temple should always bear in mind that they themselves have given the powers to the deity and its strength is solely depended on the intensity of their faith. It is a peculiar kind of understanding of the highest levels of spirituality between the worshippers and the worshipped. The fact that our ancient seers used commonly available rocks or wood to make temple idols clearly shows that they paid least importance to the material for idol construction. It is the reverence we give to an idol that makes it divine. I strongly feel that spending millions in making an idol is the worst one can do to denigrate the lofty ideals behind the concept of temple construction. Once an idol has been consecrated, it should be accessible to only the designated priests who have been trained well in the associated rituals. And most importantly, the priest can be anyone (from any caste) who has the right inclination and knowledge to perform.

Learning & Meditation

If there is one vital element that had disappeared from our temples in recent times, it is the facilities for learning and meditation. Again the people who made it happen must be the ones who do not want everyone to learn and get enlightened. Knowledge has always been Hinduism's forte and almost all the ancient temples had specially dedicated space for encouraging arts and literature. All pursuits for perfection, be it in arts or literature or philosophy, had always been encouraged in Hinduism at all times. Even the concept of God and its need & existence had been debated and deliberated on a daily basis within the premises of ancient temples. From such profound openness and quest in search of absolute truth, we have now degenerated into mute followers of rituals and superstitions. It would not be far from truth if we conclude that our present state of affairs is a direct result of the absence of such centres of learning in our temples.

Each modern temple should have a dedicated place for spending some time on reading and meditation. It is common practice among us to sit down somewhere in the temple premises before leaving. Nowadays most people spend such time looking at others' business or gossiping. We can easily turn around this custom to spend some time in the temple library or meditation hall. All types of religious literature in the form of books and periodicals must be made available at these facilities. It would be all the more better if good facilities for meditation and teaching meditation to children are also provided. The benefits from such simple investments will be far reaching and much beyond any analysis in economic terms.

Such places for learning and meditation can also attract the atheist and agnostic among us to the temple. I have always been attracted by the concept of 'Parabrahma' and the temple at Oachira in Kerala dedicated to it. You can find a complete cross section of the Hindu society visiting this temple without any reservations whatsoever. Though a small and simple temple, I would consider it as housing the highest ideals of Hinduism or Sanatana Dharma. You can appreciate and understand its profoundness only by visiting it once.

Distribution of Commonwealth

Temples in ancient India had a clear role in distribution of wealth. I would consider all the temple festivals and grand rituals as attempts to distribute wealth in the society. There is no harm in having rich temples if the community around is also rich. But to have a rich temple amidst poverty and misery is a crime in itself. What can be more shameful if the idol in a temple is covered in gold when there are houses around with children dying of poverty and ill health? The recent act of Kanchi Shankaracharya in presenting a 11.5-kg gold crown to Lord Venkateshwar was a highly unimaginative exercise. By doing so, our spiritual leaders are sending very wrong messages to the society at large. There is nothing wrong in a rich man doing so because he is only parting with a part of his fortune for possible distribution among his fellow humans.

A temple has got relevance only if there are people associated with it. The prosperity or decline of any temple should reflect the conditions of society around it. In this respect it is inevitable that a part of its income is distributed among the needy who believe in it. There should be a system to spend at least 50% of surplus income every month for the benefit of the poor, who are regular worshippers at the temple. Of course, we need money to pay for the temple expenses, maintenance and essential development. But what is the point in having crores in bank deposits in the name of an all powerful God? For a hungry man food is God and for someone in pains, a pain-killer is the embodiment of God. There should be institutions or self-help groups supported by the temple money that can provide sustenance for the poor. But I am strongly against running public schools with temple money. Hinduism is the mother of Secularism and as someone rightly said communalisation of Indian society started only when the first public school (not religious school) was set up near the church by the missionaries.

All the costly offerings (like the golden crown above) can be auctioned and money thus generated put to productive use of the society. A temple has immense potential to become a centre for distribution of wealth and promoting the much wanted self-sufficiency (not socialism). Hinduism has never been an organised religion but only a way of life. It is quite natural that temples took care of the entire spectrum of a devotee's life, not merely provided a place for him to worship. Until and unless the less fortunate in our society are shown ways & means for sustenance, attempts to worship an unseen God with empty stomach will not be successful. It was never meant to be so too.

Community Rituals & Get-together

It is a growing fashion nowadays to conduct some of the grand 'yagaas' at homes which were earlier held only at temple premises. The rich and powerful often indulge in such acts primarily to show off their wealth and also for publicity. Brahmin lobby has also encouraged this trend so that there is more demand for them. But it is time that our leaders put an end to this undesirable trend. Grand rituals & yagaas should be held only in temple premises and with the maximum participation of one and all. Moreover, it is time that common facilities are provided in our temples for conducting private family rituals. Severe space constraints have also forced many of us to explore possibilities of doing such things outside our homes. I was highly impressed by such a facility provided at Paavakulam temple at Kochi. Family members could use the facilities for simple ceremonies like naming children or birthday rituals for the old. All the utensils and fireplace are readily available at such places which otherwise would be very difficult to arrange. All modern temples should necessarily have such facilities to make religious living a pleasure.

Facilities should also be available in each temple complex for conducting marriages and other socio-religious ceremonies at no or nominal cost. It is time we encouraged simple and less expensive ceremonies to look sensible in this modern world. Sarees costing lakhs of rupees and ornaments worth crores should be looked down upon by the society. The rich should concentrate on creating wealth which is useful for all and not assets for dumping in a locker. Our society and faith will survive only if productive wealth (which includes knowledge, skills and manufacturing facilities) is passed on to our next generation and not assets in terms of gold, diamonds, land, houses and automobiles. The earlier we realise the difference between wealth and asset in our life the better for our future.

Hindu Reform Revival Centre (H2RC)

More than mere places of worship our temple complexes should become a focal point for revival of a continuous reform process required in any religion. We have far too many organisations to watch and protect our faith but very less to see within and reform it. Instead of everyone watching others to find their faults, we need someone to watch our faults and initiate reforms to make us fit for future. Such temple complexes can double as Hindu Reform Revival Centres (H2RC) catering to our complete requirements. We have 600 odd districts in our country now and an H2RC in each district would present an ideal situation. At a cost of a couple of crores for each centre, an entire chain can be set up at Rs. 1500 crores which is peanuts for a mighty group of followers.