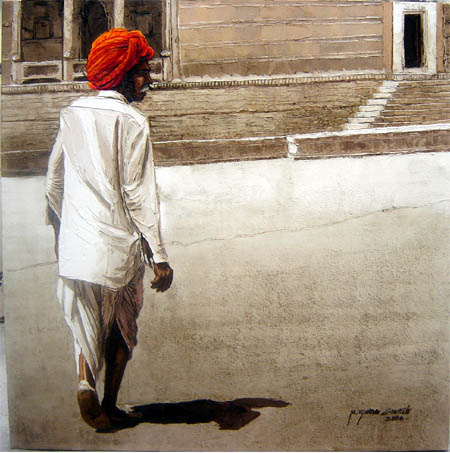 For Rama Suresh, 32, who has lived all his life in the city, the Indian village is a respite from the mechanical and fast urban pace he has been bred in. The contrast between the city and the village has become a source of inspiration for this Chennai-based artist's canvases. In his recent exhibition at the Triveni Kala Sangam, New Delhi, his third solo-show in the capital, we encounter vivid and contrasting hues of rustic orange, brown and white. This riot of color materializes before us rural sites dotted with figures viewed in their ordinariness.

Suresh says he is "captivated by rural men, women and children in everyday attire". This body of work has stemmed from his travels through Rajasthan. Suresh first captured some images on his camera and then worked with those to develop his canvases.

The most striking aspect of his work is his expression of rural peoples. Only occasionally do we see a figure frontally. Some figures are seen purely from behind, while the positions of others are meticulously sculpted at oblique angles. All persons are engrossed in some routine activity, like weaving, walking up stairs after a dip in the river, preparing for a journey or gazing unintended at a vastness before them.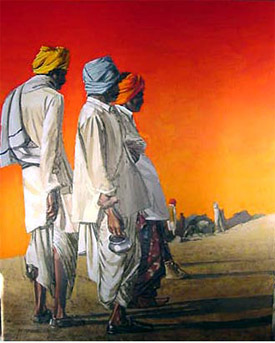 Along with attire, there are some measured symbols in Suresh's compositions that indicate a sedentary pace. Herds of cattle, the handloom, metal and earthenware - these are not merely props that supplement the landscape being depicted. These everyday objects are invested with a sense of the wayside that acquires a poetic dimension, motivating a feeling of being lost in time. We are propelled towards an altered experience of pace and rhythm. This treatment is very crucial because the figures are not embellished with any imagination or desire that an outsider such as Suresh maybe tempted to ascribe to them, given his foreignness to and fascination with village life.

That said, it cannot be denied that Suresh's canvases are in some measure boldly exotic. At first instance, this exoticism arises from contrasting earthen hues. Exaggerated sunset shades of red and orange form a background that mingles sharply with the browns of skin and earth and the whites of attire. His works are not simply naturalist or realist depictions that faithfully replicate the subject and evade the presence of the artist.

The strokes on Suresh's canvases further his modernist claim. Suresh attended the Government College of Arts and Crafts in Chennai. He says, "While studying there, I became deeply inspired by Van Gogh and KCS Pannicker. From both I derive the ability to develop texture on the canvas. Van Gogh is a master of texture, which he achieves through color and brushstrokes." Suresh's canvases were developed with a paint knife and no brush or palette knife has been used at all. Consequently, on closer examination we are able to see the impressions of paint through which fabric and embellishments such as floral jewels gain materiality and an arresting sense of movement.

While the minimalism in design and color achieve in revisiting the rural landscape on aesthetic terms, at the level of content Suresh's compositions are more complex. His rural figure appears untouched by any force of urbanization or modernization, say locomotion, electricity or communication. This is intriguing. Rural India had lost its purity even during the Raj period, when the British laid railway lines connecting resource-rich hinterlands to ports and centers of trade and commerce.

Modern art across the world has engaged with the subject of urbanity. From Camille Pissaro's Impressionist and Neo-Impressionist canvases in the late 19th century onto Russian and German avant grade cinema of the 1920s-30s, there's a panorama that delves into the spectacular transition from the rural-feudal to the modern/urban society. Indian art too has raised this transition, particularly since Independence. Satyajit Ray's celebrated Apu Trilogy remains the most poignant document that heralds and cuts right into this movement. Suresh's canvases are wanting on this account. One is goaded to question whether this rural spectacle of color in Suresh is no more than an upwardly mobile Indian youth's idealization of the countryside that stems from a partial and ill-informed viewpoint.

But Suresh's canvases do not slip into a pure romanticisation. The element that accounts for this is the intricacy with which the skin and expressions of each rural subject have been developed. This intricacy does not contribute to defining individual characters or their features. Rather, what is achieved is an innocuousness and blurring of facial identification. This catapults the characters from being individuals towards being archetypes. This is a very useful gesture, for we begin to sense in him, not an urge to capture the subject, but rather engage with him/her at a level that pertains to visual impression and perception. There surfaces an honesty in pursuit and Suresh's complete fascination with the countryside can now be understood as more endearing than aggressively commodifying his subjects.

More importantly, his figures are not staring at us, as if in confrontation. They are mostly gazing elsewhere, sometimes in gestures pregnant with idleness. Suresh's audience is largely urban, as he exhibits in cities such as Chennai, Mumbai, Bangalore, Pune and Delhi. The presentation of the rural figures in such a manner that they are in no way exhibiting themselves before us serves to remind the viewer of the distance between him/her positioned in the urban space and the rural subject. The rural figures are not wanting, lacking or aggressive. Instead they are accorded a necessary dignity and respect towards their position in the landscape around them.

Suresh runs a painting workshop cum studio in Chennai. He works with different media, including murals, photography and sculpture. Influences from each of these media cross-fertilize in his work. If photography contributes to his understanding of color and texture, it is sculpture that seems to enable his choreography of subjects within the canvas. While the visual appeal of the work is promising in its own right, it is the arguments and questions from within the work that are engaging for the viewer and will definitely aid in refining Suresh's future work.