'The sky is the limit to India's growth' scream the headlines in many of India's leading newspapers ' or words to that effect. When I visited India after a 12 year 'absence, I found the atmosphere very upbeat and optimistic. With the lifting of bureaucratic controls, it seems that just about every sector in India is booming.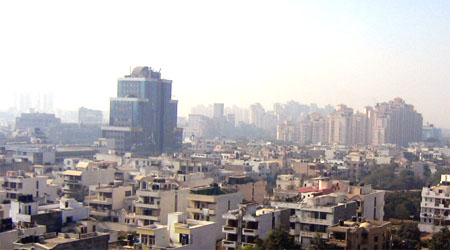 Gurgaon, where I stayed most of the time, is no longer a village. It is bustling with high rise buildings, shopping malls, and all kinds of service industries that were unheard of just a decade back. There are NRI colonies everywhere, and the entire Gurgaon ' Delhi stretch is one big construction site.
Everywhere, people dream big and talk about multi-crore international businesses. Cell phones are universal and, the days of waiting for a phone connection are long gone. Consumerism is at its peak, with easy availability of goods from all over the world. Factories are busy exporting goods; airlines offer discount fares competing in price with the railways. There is growth everywhere, with, according to the Indian newspapers, no end in sight.
But the limits to this growth are also in sight, if one only looks around. When I visited neighboring Faridabad, I found that Badkhal Lake, a very large water body, had dried up completely. When I lived in Faridabad in the nineties, Badkhal lake was a very popular tourist resort, attracting thousands of visitors every year. It had boating facilities, three restaurants, landscaped parks, and nature trails all around. All this is no more, as the lake itself has dried up, due to a sharp decline in the water table. But no one really seems to care ' tourism has simply moved on to other locations.
There are other signs of a growing water shortage. Many parts of New Delhi do not get drinking water from the taps anymore. I stayed in a prestigious South Delhi colony for a few days; drinking water had to be brought in by tanker. Since my brother-in-law is a senior IAS officer, he could manage this 'somehow'. Other less fortunate beings probably have to pay hefty 'premiums' to get this basic commodity of life. Even in Gurgaon, the water table is declining rapidly, and if one is lucky enough to have well water, the owners just keep boring deeper every year to reach the underground water. Others are dependent upon the erratic water supply from municipal sources.
Declining air quality may well be another limiting factor for India's growth. The government has taken some bold steps by switching over to Compressed Natural Gas and diesel fuel for public transportation, but this reduction in air pollution is more than offset by the rapid growth in the number of cars on the highways. And many of these cars are gas 'guzzling SUVs. In fact, I saw more SUVs on the road in India than we normally see in North America.
Bicycles are a rarity in the large metro cities; former scooter owners have 'graduated' to Marutis, and people who used to own Marutis have now moved on to bigger cars. The trend is the very opposite of what I saw in advanced countries like Denmark. In Amsterdam, the bicycle is now the most popular form of transport and there are large bicycle parking garages in the downtown core. The advanced countries, it seems, are moving away from consumerism to more environmentally friendly choices.
Perhaps, the Indian newspapers do have it right, after all. Unless the Indian consumer starts making environmentally friendly choices, the declining water supply and the pollution in the skies may well be the limit for India's growth.