12 minus 4 is equal to 8 and between you and me even the damn foolish will say it is so but when Baadshah Akbar asked this question, Birbal, the wisest of his - nine gems, replied that when 4 is taken out of 12, the result will be zero. Akbar, as stunned as you, asked as to how could it be possible and the explanation was: - His Highness! From 12 months of a year if 4 months of rainy season are taken out, nothing will grow and all will die. Thus it is zero . So, chaps! This is the matter of essence. It is really difficult to imagine what India will look like if Calcutta is brought to no account.

Calcutta has a grave meaning for India .. not just a city. India without Calcutta will be India without its National Anthem - Jan gana mana adhinayak jay he Bharat bhagya vidhata. This beautiful and all-embracing poetry was written by Rabindranath Tagore, India's first Nobel Prize winner in the field of literature. India without Calcutta will even be India without its National Song - Vande Matram by Bankim Chandra. Vande Matram is not merely a serene patriotic song with beautiful Sanskrit words depicting Mother India, it was the - mantra - of revolution which inspired thousands of brave sons of India who stood against the British and fought with exemplary courage. Those days this song was banned and anyone even uttering - Vande Matram - was whipped by the British police. India without Calcutta will be India without Mother Teresa, another Nobel Prize winner of India whose Missionaries of Charity are still promoting the message of love and mercy in the nooks and corners of the world. India without Calcutta will be India without Satyajit Ray and Mrinal Sen and dozens of the glitterati of Indian Cinema whose contributions are immense and unforgettable. India without Calcutta will be India without - Rosugullas, the king of the Indian sweets.

If - Vande Matram - became the vexing point of the British, - Rosugullas - always allured them. India without Calcutta will be India without Howrah Bridge - a marvel of bridge technology for ever and an object of such appeal, not unlike the bridge on Thames in London, that a number of Indian films have been inspired by this. One film was even named after it - Howrah Bridge. India without Calcutta will be India without Tram and Underground Railway, hand-pulled rickshaws, sophisticated Babu Moshays (a typical Bengali gentleman is often referred to as such), enchanting greeneries, twisting Tista river, charming girls, artistic people, great intellectuals and .. and - So stop imagining.. India without Calcutta will be a sleep without a sweet dream.

Situated in the far east of India, the metropolitan city of Calcutta has seen the history of this country being written. For the native Bengalies, it is Kolikata or Kalikata and there are many myths surrounding its magical name. There is, however, perhaps no authentic explanation. My elder sister has another story which she told me when I was a child. Once a man was passing through a jungle near the Hooghly river when he was attacked by robbers who cut his throat. People flocked in crowd next morning and sighed over the sad death of the wayfarer. A royal band was en route and as the king stopped near the crowd, he saw the tragedy and asked - kab kata? - (when beheaded?) and he was informed that - Kal Kata - (beheaded yesterday). So it became - Kalkata - or Calcutta as pronounced by the British. I am sure my sister was relating a hearsay but we would together talk about Calcutta with much wonderment.

We were in Bihar (an Indian state) and Calcutta was the nearest city we could think of or know about. I grew as a child depicted by an English poet. The child was a poor village boy and had never seen London but people talked about London - its theatres, its dazzling culture, its polished people, its sexy tints of life, its art and literature, its landmarks and panorama and everything. In the child - s mind, London imprinted an image that he lovingly cherished. He thought there the roads are like silver and buildings are of gold. Then he grew up and once he visited his dream city London. There was nothing like that, his dreams collapsed, his hopes shattered.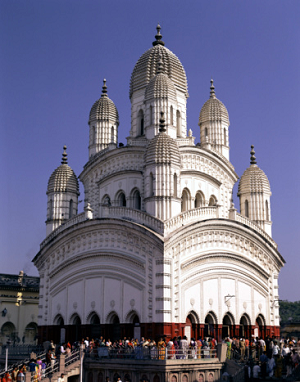 When I first visited Calcutta, I was only 10 years old and I still have some faint memories of the beauty of Victoria Memorial, the Kalighat temple, the Zoo and the Museum and I remember how excited I was to ride the Tram rails. They never stopped or just stopped not to stop and people had to jump inside and quickly get down when the destination came. Since then Calcutta has changed though I have never visited and I don - t want to visit lest my dreams collapse, my hopes shatter.

So, I was talking about this magical name of Calcutta. In my opinion, the name - Kalikata - is due to Kali, the goddess incarnation. Bengal has been one of the leading centers of the devotees of - Shakti - (female embodiment of Supreme Power) and - Kali - is the most adored divinity in this part of the world. Whatever it may be, it is sufficient to say that this name existed even in the Mughal time in India but in early 17th Century it became famous as the East India Company was first established on the banks of the Hooghly. The city became even more famous in 1756 A.D. when Siraj-Ud-Dawlah, the last independent Nawab of Bengal, captured the city and was soon defeated by Robert Clive. Warren Hastings was the first Governor-General of British India and he was charmed by Calcutta. He decided to make it the administrative headquarter of East India Company. By this time, a new leaf was turned in the Indian history. Clive and Hastings had already sown the seeds which sprang forth and turned into an unshakable tree overshadowing its branches all over India, devouring a number of kings and rulers and paving the underground way for expansion of the roots of British empire. So, if Bombay is the Gateway of India, Calcutta proved to be the Entrance. Soon it developed as the capital of British empire and became the political and economical 'nerve-centre' of India.

Calcutta is a city of its own fashion. India is changing; Calcutta, too. However, traditions and culture of Bengal are deep rooted. In this way, Calcutta is different. Unlike other cities and metropolises of India where immigrants from other parts have disturbed the cultural balance, Calcutta is still in its own and yet welcoming diverse populace and prowlers. It is the prime city of the North-East with an unmanageable population of nearly 10000000 - the most populated city of India. People from a number of states including Bihar, Assam, Sikkim, Meghalaya, Madhya Pradesh, Tripura and even from Nepal and Bhutan flock here in search of work. Calcutta has a number of textile mills and numerous industries and both skilled and unskilled laborers are always in demand. This has made this city the Bangkok of India and - as in Bangkok - 'flesh markets', too, have developed in Calcutta to quench the thirst of these immigrants. Sonagachhi, near Calcutta, is a notorious center of prostitutes where 'babes' of all ranges are hired for pleasure. No wonder, Calcutta is now becoming the AIDS explosion center as well.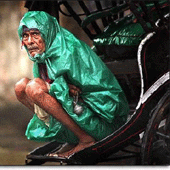 Calcutta is also an important cine center of India. The Bengalies have a deep love for their language and they are fond of watching Bengali movies, reading Bengali books and listening Ravindra Sangeet. So, Bengali cinema has a rich market and Calcutta is busy molding life into celluloid. This is not the only aspect. In fact, Calcutta's contribution to entire India cinema is unforgettable and rather inseparable. Here have born people who were trend-setters and fashioners of cinema - Film makers and Directors like Satyajit Ray and Mrinal Sen, Musicians like S.D. Burman and Salil Chowdhury, Actors like Ashok Kumar and Utpal Dutt, Singers like Kishore Kumar and Hemant Kumar, Actresses like Suchitra Sen and Sharmila Tagore, Comedians like Asit Sen and Keshto Mukherjee - just to name only few of them. Indian Film Festival is organized every year and participated by noted film-makers of the world.

Seeing Calcutta is seeing life. This is an ocean of humankind, a kaleidoscope of life in varied colors. Bombay is a costly dream, Delhi is too rigid but Calcutta is all-embracing. Rich or poor all enjoy Calcutta - the former may dine in a luxury hotel and sleep in a cozy compartment, the latter may just go with 'machh-bhaat' (fish and rice) in a stand-by and seek shelter in one of the cheapest 'dharmshalas'. Kali Mata has love for all.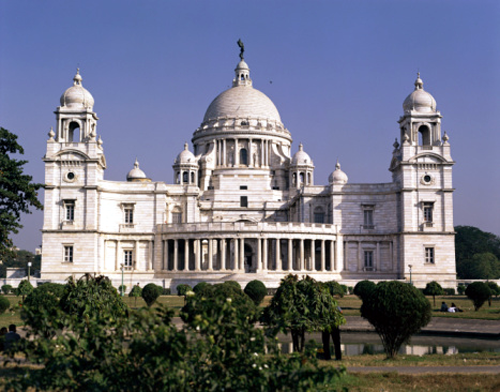 Among the famous sites, I must first mention Victoria Memorial. The memory of this beautiful building has been lingering in my mind since I first saw it in my childhood. The building is a gift of Lord Curzon to India whose foundation was laid by George V in 1906. If you want to know British India in a snapshot view, Victoria Memorial is the right place. The bronze statue of Queen Victoria, of Edward VII, Lord Curzon, Warren Hastings and Lord Cornwallis, portraits of Lord Kipling and Macaulay, and items related with Victoria and famous Britons all whisper in your ears the dignity of an empire where, as said, the Sun never set.

With a tint contrary to Victoria Memorial, Shahid Minar is a patriotic spot. The view of Calcutta from this Tower is highly captivating. This is a 52 metre high tower and you have to climb over 215 steps to reach the top. So, count your breath and get on. If you are interest in the sky and its objects, planets and stars, you must visit Birla Planetarium in Chowranghee. For your information, you will be visiting one of the few largest planetariums in the world. And now that you are at Chowranghee, stroll in the market and see a colorful life around. Chowranghee which means 'of four colors' is, in fact, of many colors and is one of the important spots where the heart of Calcutta throbs. And it will be rather a sin, if you go to Calcutta and do not see Tagore's House at Jorasanko. Tagore was Tagore and needs no introduction. In my own view, in modern literary world there has been only one person who equals in rank with him - Tolstoy. Both were born in extremely rich families, both lived a saintly life, both reflected a deep spiritual understanding, both loved humanity and both were matchless writers. Places related with other great personalities are: Ramakrishna Mission, birth place of Netaji Subhash Chandra Bose, Aurobindo Bhawan, etc.

As I mentioned above, Calcutta or Kolikata is the city of Kaali Maa. Durga Pooja and Kaali Puja are famous festivals of Calcutta and the fervor and zeal with which the Bengalies celebrate these festivals is worth seeing. There are several beautiful temples of Kaali and Durga including the most famous Kaali Temple at Kalighat. This extremely sanctified area known as Kalikshetra is spread in some 180 acres - just imagine how vast! Many myths surround this mystic spot and this is one of the important centers or 'peeths' of the Shakta Mata (followers of the female incarnation of the Supreme Power). Visiting Calcutta and not seeing this Temple will be quite unfair, I feel. For children and for people of all age-groups, Calcutta Zoo is the most interesting place. This is quite very big and animals and reptiles, birds and insects of a vast range can be seen in the Zoo.

What to mention and what not to. The ocean is ocean. One can visit many places in India but Calcutta is something one will fall in love with. I salute the spirit of Calcutta, I love its people - the most tender human beings on the earth (if I forget the Naxalites for a while). I love those beautiful forests, those warbling rivers, those chirping girls in the streets, those love-intoxicated artists in their own world, intellectuals and poets in coffee houses, all human beings of essence! I have great respect for the spirit of harmony reflected in the collective life of the millions of people of different religions and creeds living in this 'ocean of humanity'. This tenderness and cohesiveness is and will be the secret of survival of Calcutta. It is today, it will be tomorrow and that is why I say - Calcutta Kal Bhi Rahega - even when all other cities will be reduced to dust. Calcutta! I will see you again and I am sure my dreams will not collapse, my hopes will not shutter.

November 17, 2000
Images (c) Gettyimages.com