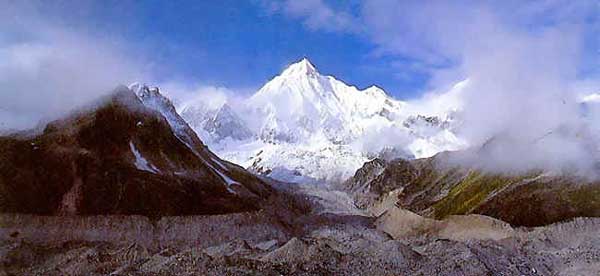 "The best and most beautiful things in the world cannot be seen or even touched. They must be felt with the heart", said Helen Keller. For Sikkim this is a fact because though you can see the beauty of Sikkim and even touch its enchanting mounts and valleys, flora and fauna, but there is no Sikkim in that. Sikkim lies in a feeling - a feeling of natural beauty casting its shadow on its innocent women, a feeling of loftiness and confidence which the Kanchenjunga, the 3rd highest mountain in the world and a peak of the Himalayas, instills into its brave sons, a feeling of mystery and tranquility that its monasteries and isolated caverns echo in that sanctified and enthralling atmosphere. So, Sikkim invites you, if you are the one whose aesthetic sense is superb, and the one who longs to spend a moment in the lap of Mother Nature. An independent kingdom before 1975, this "last Shangri-La" (forbidden place), really forbidden to the outside world for decades, Sikkim - the second smallest state of India lying in the North-East - is now open to you with all its abiding charms.

Sikkim has everything that a tourist can long to see. Apart from Gangtok, the state capital, there are several other small but charming places which have an alluring beauty. They are: Bakhim, Dzongri, Varsey, Yumthang, and many more. In fact, the whole Sikkim is enchanting. Nearly 40% of the species of birds found all over India and the neighboring countries like Nepal, Bhutan and Tibet have their home in Sikkim. An interesting phenomenon is that the vegetable and animal kingdom in Sikkim keep changing constantly completely relieving you of monotony. If you have visited Sikkim four times in a year, in different seasons, you will come across different species of birds, animals and plants. Isn't it peculiar? Sikkim is also a 'floral paradise' with over 4000 species of plants and flowers and it is in Sikkim where the International Flower Festival is celebrated in the beginning of Summer season every year. It is the land of lakes, glaciers and waterfalls shedding their endless charm forever. And it is the native place of a cross-section of humanity with various religious and cultural backgrounds. Bhutias, Lepchas and Nepalese are original Sikkimese but now you will find there a number of other tribes and groups - all living with a superb sense of blending and tolerance.

Bhutan, Nepal and Tibet are three countries quite adjacent to Sikkim and the blending of these Himalayan nations represents in Sikkim a pleasing cultural panorama. Famous for its towering Dzongs (kingly castles), spiritually charged monasteries, natural resorts and retreats, Sikkim is also often referred to as 'Trekkers' Paradise'. The beautiful Kanchenjunga and its zigzagging slopes make Sikkim and, of course, its neighboring state Darjeeling - 'The Himalayan Queen' - a perfect trekking spot in India. At the same time its nimble and winding rivers offer a thrilling opportunity for river rafting. Sikkim is also known as a producer of cardamom, orange, quality tea and delicious fish varieties including Salmon and Trout. It is the land of rains, hailstorm and high-speed wind. November to February are the coldest months with temperature falling down up to 4 degree. So cold and hazy that the Sun does not come out for several days and when it rains, it rains non-stop for over a week. You really don't know when it will just begin raining. The day may be sunny and you are walking away from home passing through a density of trees. All of a sudden, it may start drizzling .. drizzling and drizzling non-stop. It's just Nature ruling in Sikkim and not the man and that's why Sikkim is a special place. Gangtok is the capital city of Sikkim. Standing above 1780 meters from the sea-level, it is really the most enamoring place of Sikkim. Though it has just a suburban-like population of only some 60,000 or so, it looks majestic and fast developing. For those who cannot visit many places in Sikkim, Gangtok can give a capsule view of this beautiful Himalayan region.

Sikkim is also a very special place for the animal kingdom. This Himalayan region abounds in faunal beauty and there are hosts of parks and wildlife sanctuaries in the whole of Sikkim. Some important sanctuaries are: Kanchenjunga National Park, Fabong Lho Wildlife Sanctuary, Shingba Rhododendron Sanctuary, Kyongnosla Alpine Sanctuary, etc. Most of these sanctuaries are close to Gangtok, the capital city of Sikkim. The Kanchenjunga National Park, spread in over 850 sq. km., is particularly important and here you will find various kinds of leopards, Himalayan Black Bear, Carnivora, Blue Sheep, Himalayan Tahr (a kind of goat), Goral, Musk Deer, etc. If you are, however, more interested in flowers rather than animals, you will surely like to visit Kyongnosla Alpine Sanctuary which is enriched with varieties of alpine flowers like Poppies, Primulas and Rhododendron. For people of such a 'floral taste', another important site may be Barsey Rhododendron Sanctuary abounding in hundreds of species of orchids and ferns, roses and cacti, creepers and climbers and other plants
In such a lush-green surrounding, Sikkim also enshrines a rich spiritual legacy very unique of its own kind. Those who have studied Buddhism know that in early medieval era of Indian history, and especially during the regime of Ashoka the Great, Buddhism spread in a number of Asian countries including Tibet, China and Bhutan. Due to Sikkim's vicinity with all these countries, it became a 'nerve-center' of Buddhism for a long time. Later, when several sects or schools of Buddhism developed - such as "Heenyan", "Mahayaan", "Vajrayaan", etc. all these sects harmoniously grew and evolved in Sikkim. Gompas, Nyingmpas, Kargyupas, Gelugpas, and Sakyapas are some of the important Buddhist branches in Sikkim having their monasteries in this state. So, Sikkim is the only place in India where you can know about Buddhism in details and where you can visit the monasteries of all these schools of Buddhism. In Sikkim, you can find more than 200 monasteries. Most of these monasteries can be easily accessed from Gangtok and some of them which are comparatively more famous are: Enchey Monastery, Pemayangtse Monastery, Phentsang Monastery, Phodang Monastery, Ralong Monastery, Rumtek Dharma Chakra Centre, Tsuk-la-khang Monastery, etc. This is, however, a very precise list of monasteries in Sikkim and it does not mean that other monasteries are not important. In fact, each monastery is unique and bears some historical or religious significance.


The Chinese pagoda-shaped Enchey Monastery of Nyingmpa sect was built over 200 years ago by Lama Druptob Karpo who was believed to have supernatural powers such as flying in the air. A 17th Century legacy and one of the oldest monasteries of Sikkim, Pemayangtse Monastery is another important monastery of Nyingmpa Buddhists. Built in 1721, the Phentsang Monastery was rebuilt in 1948 followed by an outbreak of fire and is quite a big and beautiful monastery of Sikkim. Phodang is another important monastery rebuilt for a second time and appealing in its shape and form. Belonging to the Karma Kagyu sect, Ralong Monastery is situated in South Sikkim and is a just a majestic structure from every viewpoint. However, perhaps the most popular monastery of Sikkim is Rumtek Dharma Chakra Centre, situated in a lush-green surrounding, some 24 kilometers from Gangtok. The new monastery was built in 1960 but a little away from this spot, there lies the original 'Dharma-Chakra' center which was constructed in 1730 by the Ninth Karmpa and was later beset by fire. Interestingly, Lord Buddha in his life-time had once visited Patliputra (now known as Patna, the state capital of Bihar) and had given three warnings to this city. He said that it will always face three dangers: flood, feud and fire. Patna has since seen this coming true but fire has ever cast an influence on the Sikkimese monasteries too. Anyway, Rumtek monastery was re-built and now stands as a replica of glory. This is a very important monastery of Kargyupa Buddhists and is a wonderful 'learning center' of Buddhism as it houses a rich collection of Buddhist and other religious scriptures and manuscripts.
Sikkimese monasteries are not just spiritual centers. They are also the 'nerve-centers' of a rich cultural milieu. Each monastery seems teeming with hundreds of monks engrossed in contemplating and exploring truth. For people of Sikkim these monasteries are the real sanctum sanctorum where they bow with reverence and center their adoration in multiple ways. Each monastery has special days and events when people participate in religious activities and perform colorful cultural programs. Without these monasteries, there seems to be no life in Sikkim. Why not? After all, man is basically a spiritual creature - simple, innocent and pure in its very soul. At least in Sikkim we have no doubt about it.