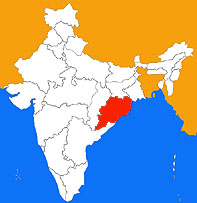 Orissa is going through a "steel revolution". In the past three years, the state government has signed more than 40 MOUs with companies, both domestic and foreign. POSCO India, a subsidiary of the South Korean steel giant, signed a Memorandum of Understanding (MOU) with Orissa in June 2005, to set up a 12 mtpa steel plant near Paradip in Jagatsinghpur district of Orissa, with investments to the tune of $12 billion. A total of 4004 acres of land has been marked for the steel works at Kujang Tehsil near Paradip, out of which 3556 acres (89%) is government land and 438 acres (11%) is private land. POSCO have been given prospecting licenses or direct lease for mining over a total area of about 2000 hectares in the range,
This venture opens up the inevitable debate of development versus displacement. Orissa figures in the underdeveloped and has not made any real progress or development. However, the question that arises is what has POSCO brought to the Eastern Indian states, to bring about the revolution? A global boom in the steel market, which is growing at the rate of more than 4%, and the global race for cheap labor and raw materials are two most significant factors. The investment will allow the Korean company faster access to the port required to ship coal, iron ore and steel. In addition, according to their recent developments, the Government of Orissa has recommended Special Economic Zone for POSCO India's project. The SEZ aims at an investment of Rs.45000 crore and net foreign exchange earnings of $42 billion is expected over 30 years period. About 25,600 direct jobs and more than 30,000 indirect employment opportunities will be created.
Despite the rosy picture on paper the realities of displacement is gloomy. For the proposed project in Jagatsinghpur, the initial acquisition notice was for 3,556 acres of government land in the Kujanga Tehsil, which will displace about 300 families in five villages. The livelihood of thousands of people will be affected who depend on fisheries, betel vine, paddy and cashew crop if plant is to be set up there. POSCO has already announced a package of Rs.500 Cr. for 200 households in Jagatsinghpur, but the number of affected people will be larger in number. The plant includes 845 acres of forestland. There are communities who are living there for more than 30 years but their land rights are yet to be regularized.
On the other hand, the company is proposing to build a port at Jatadhari, which also evoked concerns of damage to the coastline and also the nesting habitat of the endangered Olive Ridley Turtle, giving rise to intense opposition.
These protests have raised the fundamental questions relating to industry-induced displacements on one hand and to the government's commitment to promote the interests of the corporate world. The fate of the people in Jagatsinghpur cannot be predicted in a state like Orissa.