Guna, is a district in north-eastern Madhya Pradesh, has been in the news recently. Two prominent subjects that made headlines were the story of 'Kumbhkaran', a man whose family falsely claimed that he slept for six months sans break, and another person from Guna who won an astronomical Rs. 1 crore on KBC2.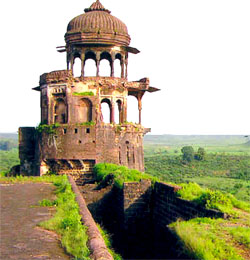 The district is home to the heritage citadel Bajrangarh fort, though now it is lying in depilated state. It is also had religious places such as Bishbji and Jain shrines besides a few other interesting places. Though it's not on a tourism map, neither many people know much about it, except in political circles. Guna was once famous for saris from Chanderi block of the district which recently became part of the newly formed district Ashok Nagar. The information superhighway (web world) reveals that Guna was also the birthplace of one Vijay Kumar Patodi, a mathematician who died at the young age of 31 but attained fame for his papers.

Interesting names of Dhabas

I often tour Guna and keenly observe fresh developments. On the way back to Bhopal from Guna one comes across several highway dhabas that have some unique catch in their names.

Mention of a dhaba conjures up an image of a rustic eatery with a charpoy, platefuls of dal and tandoori roti. Dhabas have undergone a makeover and the complexion of the clientele has also changed. Charpoys have mostly given way to tables and chairs. Besides the dal, roti and mixed vegetables, soft drinks, mineral water and packets of chips also adorn the eateries.

While naming dhabas many owners have incorporated a tag of some district of Madhya Pradesh. Some of them also prefer the word hotel. At Chanchod, there's Mishra and Shivhare Bhind Wale Dhaba. As you progress further along the highway you will encounter Tomar Hotel Gwalior Wale, Morena Dhaba and Dhoplur Dhaba Morena wale.

A Punjabi dhaba is easy to spot. I saw many including the Guru Nanak Punjabi Dhaba, Dhillon Punjabi Dhaba and Agra Punjabi Dhaba. A rare name was Rangeela Rajasthani Dhaba. All this may be aimed at catching the attention of drivers from the respective districts but there is very little difference in menu. In Haryana, lots of dhabas are named after birds while in Punjab businessmen name dhabas after themselves and that's the reason we have Puran da Dhaba and so on.

Statue of liberty
If you are passing along the main road to Aron block you may encounter a replica of New York City's Statue of Liberty, and universal symbol of political freedom and democracy. It stands right there within the Royal Homes complex along Aron Road. I couldn't get an opportunity to interact with the owners to explore why this replica was put up. Guess I'll leave that for my next trip.