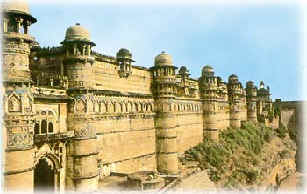 "What is a city made of?
Is it made of brick or walls?
Or is it like a song in heart
With rhythm of rise and falls?"

If the poet's question be with respect to Gwalior, he has already given the answer.

If you look around with thick eyes of a crude logician, damn go to hell as here you won't find a Honolulu brand culture of an ultra-fashionable world nor the skyscrapers of Mumbai. Here Uncle Podger does not hit the nail from the pointed side because the din of city life has stolen his senses nor the insensitive journalists chase poor Diana to death. This is our small city, our rich city, our Gwalior. "Isi shahar mein apna Landan, Roos, Canada, Dublin, Cheen".

Gwalior is special - 'G' for Gwalior and 'G' for Glory. The glory of its past which traverses across the pages of history, withstands the onslaught of odds and frauds of time and emerges as a dome of pride on the horizon of the new century. From an individualistic point of view, this is a "safe" city where your identity is secure because this is not a blind metropolis. Here everyone knows "Panditji" of Naka Chandrawadni for his "Pan Bhandar" and Suresh Sharma for his luscious "ghazak"; Pappu Kushwah for his mouth-watering 'Imaratis' and Bahadura for his 'desi ghee kee sweets'. A mediocre doctor which might have lost his identity in a big city, is a well-known gentleman in Gwalior and a press photographer or a cartoonist has such credit that he can pay for his coffee bill the next day. This set-up is really 'ego-gratifying'. And yet, with a manageable population within 10 lakhs, this is a modern city of India always on the forefront of technology and development. Suffices it to say that this is the first city of Madhya Pradesh and one of the few cities of India to be connected with the Internet - a symbol of latest advancement. This blending of Gwalior is unique and gives comfort to everyone. Here you are not in a 'jungle of concretes' - lost, forgotten, stranger, meaningless, worthless - and yet you are in a modern city with all facilities at your disposal. Pollution but not so much; noise but not headachy; society cults but no lunatic styles; kitty parties but less mini skirts and cocktails; water crisis but not as that in Delhi. From historical point of view, this is one of the oldest cities of India with a glorious past, with rich spiritual and cultural heritage. It has survived a curvature of rise and falls of empires, has been associated with such lofty persons as the Seer Galav and "Sangeet Samrat" Tansen and, then, Baiju Bawra has acquired an enviable position in the map of India, not only as a center of tourism but also as a center of trade and industries, education and technology, military power and policing. Thus the pride of the past, the capital of the royal Gwalior state till the independence of India, the summer capital of old Madhya Bharat, the apple of discord of the ancient India which withheld the Turkish invasion and thwarted the greedy siege of Mehmood Ghaznavi, the cradle of Rajput, Tomar, Kachchwaha and Scindia dynasties, has evolved into the towering confidence of today - indomitable and indefatigable in all its disposition.

What we know as Gwalior is a composite entity of three urban sections: Gwalior the old city, Morar the cantonment area and Lashkar the new city. The new section Lashkar has developed as the prime area and bazaar with teeming factories, lucrative market complexes and show-rooms and administrative headquarters of Gwalior district and Chambal range. The old city of Gwalior embraces places and monuments of archaeological and architectural value. Morar has the famous Sun Temple and is a well-equipped military area with small but systematic market places.

From whatever corner you look around this city, you will trace its pride, you will face its glory - the Fort of Gwalior, described to be as one of the best and invulnerable forts of India and, according to the Mughal Emperor Babar "the pearl amongst the fortresses of Hind." Standing on a steep mass of sandstone, the two-mile long and 30 feet high Fort steeps along the heights of sky and takes you down the memory lane when there was a Rajput Chief named Suraj Sen suffering from a deadly disease who met the sage Gwalipa who cured his illness with waters of a small reservoir now well-known as 'Surajkund'. The name 'Gwalior' derives from the same mythological sage 'Gwalipa'. Suraj Sen and his Rajput clan ruled over Gwalior for long and left for the posterity a series of palaces and temples and when you visit Gwalior Fort you will be able to see some of them still remaining in a dauntless shape and luster.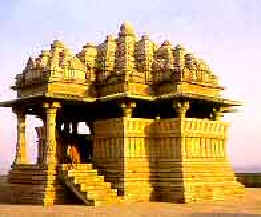 A major attraction is the Sas Bahu ka Mandir, 11th Century, (the mother-in-law and the daughter-in-law temple). Teli ka Mandir, 9th Century, is another fine example of old architecture carved out of local sandstone. Tomar kings were the next rulers on the throne of Gwalior and Man Singh, in 15th Century, was the most famous king of this dynasty. As a lover of art and music, his gifts to Gwalior are really precious. One of the remainders of his time on the Fort is 'Man Mandir'. The sweet-savoring tales of the 'love-intoxicated' Man Singh and his beloved Mrignayani, a beautiful girl of low birth, is well besmeared in the soils of Gwalior Fort and whisper in the ears of those who listen to the subtle: "Love eternal that our heart endures; omnipotent, gracious, our utopian tower..". Gujari Mahal is such a monument of love associated with the bold and beautiful Mrignayani. Tansen, the Indian music maestro and one of the 'nine gems' of Akbar the Great, gave Gwalior an international identity, an eternal pride which will never diminish. Buried in the heart of the city his tomb is a splendid example of early Mughal architecture. Every year a music festival is organized here and attracts singers and musicians from all over India. Gwalior Fort has been the witness of diverse and rapidly changing scenario of a number of historical events. It saw Marathas, touched the feet of great Sixth Guru of the Sikh, Guru Har Govind Singh, who was kept captivated on the Fort by the Mughal Emperor Jehangir and associated with this event a beautiful towering Gurudwara is visible on the Fort, it saluted Laxmi Bai - the Rani of Jhansi - and saw her martyrdom, squinted at the Mughals in whose time the Fort became a virtual jail, became a center of activity during Sepoy Mutiny of 1857 - the first Revolt against the British rule - and ushered the Scindias, the Royal Architects of modern Gwalior, into an era of independence. On the Fort, many of the remains and emblems of such diverse past are still intact for visitors and tourists. If Gwalior is the Pride of India, the Fort is the Pride of Gwalior - a pride which will never fall.

This is a great city from the aesthetic point of view provided your aesthetic sense is humane and not just object-oriented. Here you will find old havelis, goths and Badas, Museums and art galleries, winding streets and twisting pathways and here you will feel in the air a royal flavor not surpassed even by modern developments. The Jai Vilas Palace in Lashkar city is a strong connector to that kingly flavor. This huge and picturesque Italian-style 'Mahal' of the Scindia family now also houses a marvelous Museum where the past comes alive. Gwalior has many other places worth sight-seeing. One of them is the Sun Temple in Morar, a replica of the Konark Temple of Orissa. The Kala Vithika is another treasure house of the arts. The great Sarod maestro of India, Ustad Amzad Ali Khan, has established in the memory of his artist father Ustad Hafiz Ali Khan a 'Sarod Ghar' - also in Lashkar city - which is truly a Museum of Music and attracts music-lovers from all over the world. Tighra Dam is another beautiful spot away from the main city and an ideal picnic spot.

While Gwalior is the main tourist center, it is surrounded by satellites of many other natural resorts, cultural heritage centers and places of spiritual value. Jhansi, Shivpuri, Orchha, Datia, Chanderi and Narwar are only few of them. Jhansi needs no introduction as the cradle of great historic events associated with Rani Laxmi Bai, the Joan of Arc of India. Shivpuri, the summer capital of the Scindias, is some 120 kilometers from Gwalior and is rich in lakes, palaces and chhatris and has a marvelous wildlife sanctuary. Orchha was the capital of Bundela Rajputs and is a worthwhile place on Khajuraho Road. In Datia, the famous Peetambara Peeth is an important spiritual magnet center and there is a worth-seeing seven storied palace built in 1614 by the Bundel king Raja Bir Singh Deo. The beautiful sarees of Chanderi are always great attraction for women of classic taste. This historical place, some 230 kilometers away from Gwalior, tastes architecturally superb and spiritually serene with its time-winning Jain temples of 9th and 10th centuries. If you have read the ancient love story of Nal and Damyanti, refresh your memories in Narwar, 122 kilometers from Gwalior, another picturesque place with regal fortresses and palaces of Rajput style.

Modern Gwalior has rapidly evolved as an eminent educational and industrial center of North India. The credit goes to the Scindia rulers and particularly to Mr. Madhav Rao Scindia who dreamt of the overall development of Gwalior. Education has been comparatively a more unforgettable gift of Mr. Madhav Rao. Perhaps there is no discipline of education which is not represented in this small but systematic city. It has Engineering College, Medical College, Internationally renowned Institute for Physical Education, a number of management education center in Business management, tourism, Information technology, Health management and Hotel management. The Scindia School is a well-known boarding school which draws boys from various parts of the country. It also enjoys a recognized all India status. The campus presents a unique atmosphere and ideal educational environment. Some important study centers and management schools are: Boston College For Professional Studies, M.L.B. Arts & Commerce College, Prestige Institute of Management, IITM, The Institute of Professional Excellence (IPE), Madhav Institute of Technology & Science (MITS) etc. As for industrial growth, Malanpur and Banmore are rapidly developing as prime Industrial areas around Gwalior. Some notable industries include Grasim, J.K. Tyres, Vikram Woolens, Britannia Crompton Greaves, Godrej Soaps, Flex Industries, Atlas Cycle, C.T.Cotton yarn, Rams Transformers, Cadbury's Supreme Industries, Hotline Glass & Teletube, Kodak and some other prominent industries. The Chamber of Commerce & Industries and Gwalior Trade Fair are two main factors effectively contributing to the industrial growth in Gwalior. Gwalior Trade Fair is the biggest well-organized fair of Madhya Pradesh held annually in the winter season in the so-called Pragati Maidan of Madhya Pradesh stretched in a vast area of 104 acres and yielding a sizeable turn-over of more than Rs.100 crores only in a span of 1 month. The Trade Fair has further led to the economic upliftment of Gwalior and, in fact, of the whole of Madhya Pradesh.

Thus from every point of view, Gwalior is explorable, rich and attractive. Every development brings its own challenges and Gwalior is not an exception but one thing is certain. People of Gwalior love their city and they want to see it flourish. The Gwaliorites are traditional people and are easy-going and tolerant. They embrace changes like philosophers in easy chairs with not much ado and yet with prompt modification. As long as they reflect this unique quality and disposition of nature, Gwalior will remain, its glory will be sustained, its progress will be determined. Who knows the tomorrow but this is the promise of today.