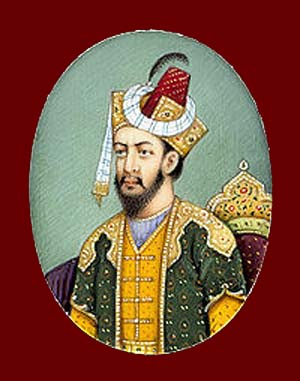 Humayun (1508-1556), Babur's favorite son took the reins of the empire after his father succumbed to disease at the young age of forty-seven. However, he lacked his father's craftiness and athleticism. Though he could be a formidable warrior when he chose to be, he was more laid back and indolent. He also was addicted to opium and depended on it for solace much more than a king with insecure borders should indulge in. He also made the mistake of trusting his three brothers, which served as a lesson to future Mughal rulers, who would not repeat this folly. Humayun made his brother Prince Kamran the regent in Kabul, who quickly added Panjab under his control. Humayun, appearing to be weak, did not object and this emboldened his two other brothers, Askari and Hindal to seek more independence.

Humayun's first campaign was to confront a Sher Khan Sur, an Afghan, who was quietly expanding his territory in the east. Half way through the counter offensive Humayun had to abandon it and concentrate on Gujarat, where a threat from Ahmed Shah had to be squelched. In this he succeeded and annexed Gujarat and Malwa. Champaner and the great fort of Mandu followed next. Following this great triumph, Humayun made another tactical error in installing his brother Prince Askari in Ahmadabad instead of the defeated Ahmed Shah as a feudatory. To savor his victory, Humayun celebrated in Mandu fort for many months, binging on opium and spending too much time in the company of his favorites. When he finally headed home to Agra, he found his brother Askari at his doorstep making a serious bid for the throne. Though his older brother thwarted this effort, Askari was pardoned, which only exhibited royal weakness to his loyal subjects.

Humayun again fell into one of his many periods of laziness and lassitude and resorted to his pipe and playmates. All this time he also neglected to confront Sher Khan Sur, who was gathering land and feudatories in the east. As an administrator Sher Khan was far superior to Humayun. In 1539, Humayun and Sher Khan met in battle in Chausa, between Varanasi and Patna. Humayun barely escaped with his own life and in the next year, in 1540, his army of 40,000 lost to the Afghan army of 15,000 of Sher Khan. Humayun's brothers refused to help him and he found himself a fugitive in Rajastan and Sindh.

Finally, the Shah of Iran, Shah Tamasp, gave him refuge in Persia. Of course, Humayun put his famous diamond to full diplomatic use because Shah Tamasp was a lover of diamonds. Koh-I-Noor, would serve as the bribe that the Shah Tamasp needed to support Humayun with a large Persian military offensive on Sher Khan Sur in 1544. Humayun found fraternal opposition again in Kandahar, where he was stalled for eight years but eventually won back Afghanistan.

Sher Khan had now become the monarch in Delhi under the name Sher Shah Sur and ruled from 1540 to 1545. He consolidated his kingdom form Panjab to Bengal (first one to enter Bengal after Ala-ud-din Khilji did more than two centuries earlier). But Sher Shah tragically died in an accidental explosion of gunpowder during an offensive in Kalinjar. A superb administrator, he was credited to have organized the government and military in such a way that future Mughal kings used it as their own models. He also added to the fort in Delhi (supposed site of Indraprastha), first started by Humayun, and now called the Purana Qila or the old fort. He built the mosque Qila-I-Kuhna there that was a masterpiece of the period, though only parts of it have survived.

The charred remains of Sher Shah were taken to a tomb in Sahasaram, midway between Varanasi and Gaya. Although rarely visited, it is another glorious triumph in architecture that the future great Mughal builders like Akbar, Jahangir and Shah Jahan tried to emulate. Massive in scale, three stories and fifty meters high, it appears as much a palace as a mausoleum. Sher Shah's son Islam Shah held on to power until 1553 and following his death the Sur dynasty lost most of its clout due factious strife and severe famine.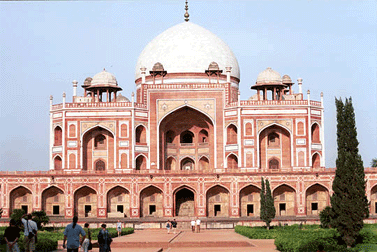 In 1554, Humayun attacked the confused and divided state of Sur rulers and in 1555 claimed Delhi again. But in 1556 tragedy struck the Mughals when Humayun tripped and fell to his death while descending the steps after gazing at the stars (he was a keen astronomer) from the rooftop of Sher Shah's Delhi palace. Thus Humayun ruled in India barley for ten years and died at the age of forty-eight, leaving behind a thirteen-year-old boy, Akbar as his heir. As a tribute to his father, Akbar later built the Humayun's tomb in Delhi (completed in 1571), from red sandstone, of majestic outline that would become the precursor of future Mughal architecture. Akbar's mother and Humayun's wife Hamida Begum personally supervised the building of the tomb.

Next: A True Monarch: Akbar the Great (1543-1605)