I tried to open my eyes but I just can't. I felt that my eyelids weigh about a ton each. I had a nasty taste lingering in my tongue and the atmosphere around me seems serene. Too serene for my liking. I tried opening my eyes again and succeed opening it half way through.

I found myself lying on a crisp white hospital bed. Am I dreaming? I closed my eyes again in shock and in pain. I tried to think hard as to how I came to be admitted in this hospital. Slowly, I remembered going to work on a Friday morning without breakfast as usual. I also remembered feeling a little unwell. But that did not bother me. I wondered why. Ten years, I sigh. It has been 10 years since I fell ill. Surprising but true. Other than a few mild attacks of cold and cough I did not have a single health hazard. I have actually forgotten what it is like to fall ill. I remembered vaguely that the peon, finding me delirious with a high temperature, had called an ambulance and I was brought down here.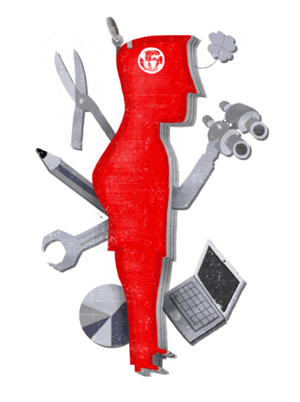 But then, it has been 10 years since I did so many things. Work is like alcohol - it consumes you and kills you. I now realised how much of this is true. The last time I genuinely joyous was when I got through a job interview. I gave my friends a good party that lasted all night long. Friends - how alien this word seems now coming into my mind. I haven't a clue as to what happened to any of them. I never returned any calls initially and then when I shifted my residence did not even bothered to inform.
I opened my eyes again and saw a handsome doctor in crisp white with his stethoscope. I wonder why this doesn't stir me any more. I painted that smile on my lips again. It is something that my work made me an expert in. A smile that never touches one's heart but just lingers on your lips.

I started working first for the sake of job satisfaction, then for money and then for power. Now I don't know why I work. I just feel that it is a natural compulsion from within. My routine, for 10 years, has been machine-like - very precise and by the clock.
I don't know who my neighbours are. I just know there is a dog next door because I can hear it bark at nights. My only unknown companion, a sign of life around me. I rise every day at four and prepare something that could be called breakfast, pack the same for my so-called lunch and by 5.30 am, I am out of my house. I pay a visit to the gym, work out for a couple of hours and then rush to my office. I stay locked in my cabin which is furnished with great flourish and sometimes I become so involved with my work that I forget to eat.

I heard the pitter-patter of the raindrops against the windows and I open my eyes again. The aroma that the first rains of the monsoons evoke is an exquisite one. I find a few bouquets standing on a table near by. And I just realised that the people at work can't even be original. All of them had a foot-note attached and they are all exactly the same except for their signatures. I can think of 100 other people working to get into my position. Strangely it doesn't worry me now. I wanted to reflect on the times that I lived as a human.

I was a totally muddle-headed teenager with my stuff thrown all over the place. I used to love trekking and I can still remember the great times I shared with my friends, sitting by the bonfire, talking about everything. Dreams, fears, joys, sorrows and some of us did not even know what we wanted to be then. We were in paradise, blissfully happy and happily ignorant, that the harsh world was waiting for us just around the corner. My parents were such wonderful people - always supportive, loving and caring. My mother never mumbled when I kept searching for things or didn't clean up my room. My dad was a great inspiration always urging me to do what I wanted. I was totally secure in a blanket of love and youthful exuberance and confidence. But I wonder where is the happy teenager in me now. Or was it really me then? I am buried deep beneath the rubbish of sophistication, obligation and a host of other adjectives spelling nonsense.

It is three and it is visiting time. I saw my boss and a couple of other colleagues walking through that door. My mind is now made up. But then my plastic smile gets painted again. I receive their greetings with as much grace as possible and talk about general-nothings and I am definitely glad to see them leaving at the end of one hour and 45 minutes. I thought their visit would do me good. But no, it only made me realise and acknowledge the fact that there is absolutely no one in this world who cares about me. As these sad thoughts linger, I realise I have started to sink in a deep hole of self-pity and depression. I ask the nurse for a scribbling pad and a pen and write out a carefully worded resignation. The kind nurse even offers to post it for me. I have a sigh of relief.

I am well enough now to move about. I explore my surroundings for the first time. I was in a private nursing home and I found that it has a lovely little garden. I look around to see whether there some place to sit and I discovered a stone bench. I went back to my room, pick up a couple of paperbacks and my Walkman and returned to this heaven. What a relief.

I watched the sky changing its colour like a chameleon. Golden one moment, yellow, deep orange and then watched the darkness creeping through and engulfing the sky. As I gather my things and began to walk back I noticed the handsome doctor with another doctor. I can only see her hair thick, long and flowing. I can remember only one other person who had such lovely hair - my best friend- Rhea. I approached her rather tentatively and I wondered whether she will recognise me now and if she recognises me, would she accept me as her friend again?

She recognises me immediately and to my obvious delight hugged me tight. She took me inside and we had a long talk about the time we spent together and what we did with our lives.I found out that she had indeed achieved her cherished goal to be a doctor and was now a practicing cardiologist. I told her my story and she immediately offered to share her apartment with me. The day after that I was discharged from the hospital and a car full of flowers and old familiar faces was waiting for me. I was thrilled and was left with no words. I hugged all of them and they all make me feel wanted. It's almost as if I have never been away. I thanked God for such wonderful friends.

I remember a school song -
"Every rainbow in the sky, every pretty butterfly,
Tells fascinating news to those who dare to hope,
That God still, still loves the world."
I do understand that I can't stay without working for the rest of my life. But I do need this break, some breathing space to rediscover myself, my joy and happiness. Moreover, I need to rejuvenate myself. I will work, but only to keep myself occupied and I will never again allow it to occupy me and consume me completely. I guess everyone wants to move forward but there are some people who would do anything to take a couple of steps backward and stand and watch, if only for just some time. I feel a little better already. My books are spread out in my room, the local radio station is playing all my favourite songs, my friend is making me some hot chocolate and I feel like dancing. Next time you see me standing in the rack and putting my walking stick to bed or asking for a slice of tea and a cup of bread, don't bother. I am as well as anyone can possibly be.