A Unique Cinematographer with an Extraordinary Love of Books

Cinematography is infinite in its possibilities... much more so than music or language - Conrad Hall

The true university of these days is a collection of books. All that mankind has done, though, gained or been - it is lying as in magic preservation in the pages of books -Thomas Carlyle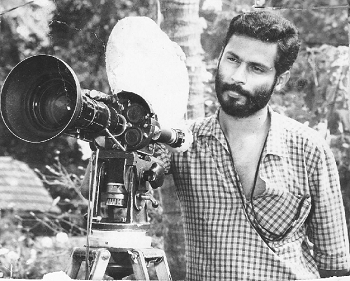 My friend Vasanth Dev (formerly Vasanth Dev Devasundaram) is a great lover, reader and collector of books. Born on 17th February 1952, he took his B.Sc Degree from Delhi University. Later he took his Diploma in Cinematography from the Film and Television Institute of India, Pune.

When I asked Vasanth Dev as to how he came to take a Diploma in Cinematography, with great frankness he told me: "In fact, to begin with, I had no intention of doing Cinematography in the Film and Television Institute of India, Pune. My first choice was to do 'Editing' but very unfortunately I failed to qualify for it at the entry point. 'Editing' was a Two (2) Year Programme. Cinematography was only my second choice. The Selectors wanted me to show to them either some of the photographs I had taken or some of the paintings which I had done. When I showed to them some of my paintings, they were quite impressed and admitted me into the Three (3) Year Cinematography Programme. I made some sort of history because I was the first candidate to be given this opportunity of doing Cinematography Programme and also the first to succeed in the matter of exercising the second option of doing an approved programme after having failed to qualify for the first option." Having said this with great humility, Vasanth Dev did not fail to add with a winning smile: "Of course, right from my childhood days I was passionately interested in painting and perhaps this interest in painting enabled me to get an opportunity of doing the 3 Year Cinematography programme at Pune."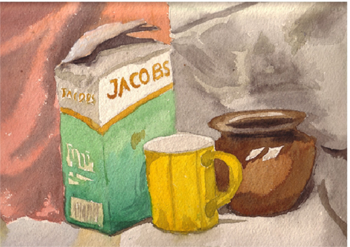 When I look at the paintings of Vasanth Dev, I can see how very right was the great English Painter Sir.Joshua Reynolds (1723-1792) when he wrote in 1770: "A room hung with pictures, is a room hung with thoughts". Simonides of Ceos (c. 556 BC-468 BC), a Greek lyric poet, said it for all time when he wrote in 500 BC: "Painting is nothing but silent poetry, and poetry is nothing but a speaking picture". I am quoting Simonides here not without reason - my friend Vasanth Dev is a lover of both Painting and Poetry.
I put this question to Vasanth Dev: How would you describe the work of a Cinematographer to a lay man like me? He gave me this answer: "The work of the Cinematographer consists of transforming ideas in the mind and words on paper into images on film. This process has three requistes: technical knowledge, artistic sensibility and ability to collaborate with other people in the creative process, both in accepting suggestions from others without rancour and freely giving one's ideas for the collective and cooperative end result."

Vasanth Dev is an outstanding Cinematographer, having served as Director of Photography for more than 40 Feature Films, 20 Ad Films, and a few social and corporate films. He won the Kerala State Award for Best Cinematography for the Film Ormaikai in 1983. He had the distinction of doing Cinematography for the Feature Film Marupakkam - a literary work of Indira Parthasarathy - and this Film won the National Award for Best Feature Film in 1992. Veteran Actor Chevalier Shivaji Ganesan decorated Vasanth Dev with a citation and Gold Medal for meritorious Service in the field of Cinematography in South India on the occasion of Silver Jubilee Celebrations of South Indian Cinematographer's Association on 28th December 1997.

Receiving Gold Medal for meritorious Service in the field of Cinematography in South India from Chevalier Shivaji Ganesan

My next question to Vasanth Dev was this: "who are the great cinematographers who have inspired you and influenced you in your professional life as a Cinematographer?" This was his reply: "Four Cinematographers have greatly inspired me.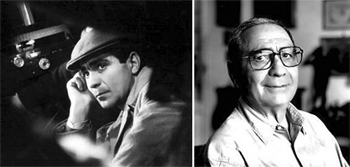 First is an Italian called Giuseppe Rotunno (1923-) whose outstanding work as Cinematographer for an Italian Film 'White Nights' (Le notti bianche) produced in 1957 made a great impression upon me. 'White Nights' was based upon a short story by the great Russian novelist Fyodor Mikhaylovich Dostoyevsky (1821-1881). The whole film was done by Giuseppe Rotunno in an Italian village. When I saw the film for the first time I could never imagine that the whole village was picturised by this great cinematographer within the precincts of a film studio. It has been so beautifully shot that you don't feel that it is a story taking place in a set."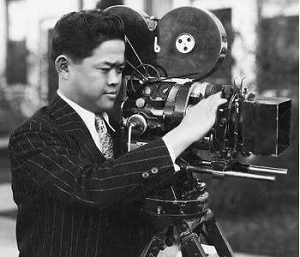 "Second is a Chinese American Cinematographer James Wong Howe (1899-1976) whose work as Cinematographer in a Film called 'Picnic' which came out in 1955 is rated as an instance of outstanding work. He had a great penchant for dramatic lighting and deep shadows.
The third cinematographer cited by Vasanth Dev is William H. Daniels, A.S.C. (1901 - 1970). As a film cinematographer, he was best known as Greta Garbo's personal lensman. He worked regularly with director Erich von Stroheim.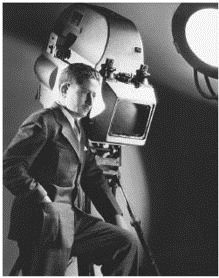 William Daniels's career as a cinematographer extended fifty years from the silent film Foolish Wives (1922) to Move (1970), although he was an uncredited camera operator on two earlier films (1919 and 1920). He also was a producer of some films in the 1960s and was President of American Society of Cinematographers from 1961 to 1963.

William Daniels has declared: "I didn't create a 'Garbo face.' I just did portraits of her I would have done for any star. My lighting of her was determined by the requirements of a scene. I didn't, as some say I did, keep one side of her face light and the other dark. But I did always try to make the camera peer into the eyes, to see what was there."

William Daniels served as cinematographer in nearly 164 films from 1922 to 1970. Many of them were great hits like Anna Christie (1930), Queen Christina (1933), Anna Karenina (1935), Camille (1936), Marie Antoinette (!936), Ninotchka (1939), Plymouth Adventure (1952), Can-Can (1959) and Come September(1961).Vasanth Dev's favourite is Come September (1961). He told me: "William Daniels excelled all cinematographers when he worked on Come September (1961)".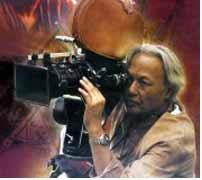 The fourth cinematographer referred to by Vasanth Dev is Subrata Mitra (1930 –2001) is an Indian cinematographer from Bengal. Acclaimed for his work in The Apu Trilogy (1955–1959), Mitra is rated to be one of the greatest of Indian cinematographers. At the age of 21, Subarata Mitra, who had never held a camera before, began his career as a cinematographer with Satyajit Ray, the legendary Indian film maker, for Pather Panchali (1955). He continued to work with Satyajit Ray for many of his later films. Subarata Mitra is known for pioneering the technique of bounce lighting, while filming The Apu Trilogy.

According to the Internet Encyclopedia of Cinematographers: "Subrata Mitra made his first technical innovation while shooting 'Aparajito'. The fear of monsoon rain had forced the art director, Bansi Chandragupta, to abandon the original plan to build the inner courtyard of a typical Benares house in the open and the set was built inside a studio in Calcutta. Mitra recalls arguing in vain with both Chandragupta and Ray about the impossibilities of simulating shadowless diffused skylight. But this led him to innovate what became subsequently his most important tool - bounce lighting. Mitra placed a framed painter white cloth over the set resembling a patch of sky and arranged studio lights below to bounce off the fake sky."

Subrata Mitra's Director Satyajit Ray has also confirmed this with pride: "You know, about seven or eight years after Pather Panchali was made, I read an article in American Cinematographer written by Sven Nykvist — at the time of Bergman's Through a Glass Darkly, I think — claiming the invention of bounced light. But we had been using it since 1954."

Vasanth Dev rates Subrata Mitra's Charulata (1964) as his best work in the field of cinematography. This film was directed by Satyajit Ray.

What endears Vasanth Dev most to me and my wife is not his achievements in the Field of Cinematography but his burning passion for books. He has an uncanny flair for selecting, locating and buying the best books in the fields of literature, art, poetry, religion, culture and philosophy. He is one of the best read persons I have come across not only in Chennai City but in the whole of India. The vast range of collection of his books in his private library is really amazing and the real beauty is the fact that it is equally and truly matched by the extraordinary range of his reading interests. I have come across readers with tremendous interest in and feel for Books in the field for Humanities and with no feel for Books in the field of Physical and Natural Sciences. Vasanth Dev is a highly evolved reader with equal passion for both Humanities and the Natural Sciences.

When I asked Vasanth Dev whether he agrees with those who complain that radio and television today are the real enemies of the book, he gave me this beautiful answer: "I am firmly of the view that libraries and books will ever remain permanent islands of infinite choice in a chaotic sea of multiple TV channels. Printed books were amongst the first great stirrers of the exploring spirit. They created and awakened a vast range of wants and needs. That is why through books we can live a thousand lives in one. We can discover America with Columbus, stand with Abraham Lincoln at Gettysburg, and work in a laboratory with Thomas Alva Edison. When we read Sir Winston Churchill's War Memoirs, we relive the hectic days of the Second World War. Nehru's description of the Dandi march enables us to accompany Mahatma Gandhi, Sarojini Naidu and hundreds of other freedom fighters on their March to Dandi in 1930 and to exclaim marching along with them 'Mahatma Gandhi Ki Jai' and 'Inquilab Zindabad'."

I fully endorse the views of Vasanth Dev. We can enrich our spirit with the Vedas, the Upanishads and the Bhagavad Gita. Through books we can know the majesty of great poetry, the wisdom of the philosophers, the findings of the scientists. Through books we can start today from where the great thinkers of yesterday left off, because books have immortalized man's knowledge. Thinkers dead for a thousand years, come alive in their books today as when they walked the earth. Through books we can orient our lives to the world we live in, for books link the past, the present and the future. The great electronic modern conquerors of space like the radio and the television cannot conquer time. Only the books can accomplish that. Books will remain forever our messengers from the longer past to the still longer future.

As a dedicated cinematographer, scholar, literary critic, lover and collector of books of all kinds, Vasanth Dev loves life in all its manifestations. He loves the sun, the cool breeze, the sea, and warmth, and light; hates cold darkness, physical, intellectual, moral, political. Right from his college days, he has loved freedom, individuality, independence, and detested everything that seemed to him to cramp and constrict the forces of human vitality and enthusiasm. He believes in the fullness of life with a penchant for romantic exaggeration. Generous and warm-hearted, he has much pride. Yet he is free from all vanity and snobbery. Simple, natural and unselfconscious, everything about him is sincere, unusual and absolutely authentic. His un-calculating character, his distinction as a thinker, his nobility as a human being----I can describe these and other qualities which Vasanth Dev possesses in ample abundance as an inimitable quality of moral charm that makes all my intellectual dealings with him delightful.

As a talker, Vasanth Dev is superb and incomparable. His wit is verbal and cumulative. His words come in short, sharp bursts of precisely aimed, concentrated fire, as image, pun, metaphor and parody. He talks like an encyclopedia. Yet at the same time he is always courteous, serious and charming. During an animated intellectual conversation his body and face movements and other gestures and above all his words radiate a kind of dignity and humanity which bring all his sensitive hearers under his spell.

Finally, when I put this question to Vasanth Dev: "Which is your most favourite quotation on books and about books?", he cited the following quotation from the intellectual armoury of Barbara Tuchman (1912-1989). "Books are the carriers of civilization. Without books, history is silent, literature dumb, science crippled, thought and speculation at a standstill. Without books the development of civilization would have been impossible. They are engines of change, windows on the world, "lighthouses" (as a poet said) "erected in the sea of time". They are companions, teachers, magicians, bankers of the treasures of the mind. Books are humanity in print."