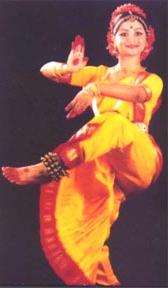 I dance to get released from the tensions that interfere in the mundane life. My head and heart have to go together in anything that I do. When the former governs relationships beyond a point, the latter offers the keys to problems at the right time.

But this balance is comfortably and conveniently achieved if there is 'the release'. This art and act of dance, if rendered with total gay abandon will indeed lift oneself so much above the worldly life and there is certainly that one point when our individual self does unite with the universal self. One experiences the supreme reality - realization that we are only the puppets in the illusory' Maya' down there. Then there is a feeling of 'nothingness, emptiness, egolessness'.

Ah! so lucky that I am dancing!

Dance that is called the mother of all arts has the power to elevate, to levitate, to unite. But one has to only dance with this spiritual 'ambition'. To me, yes, performing is quite necessary to receive acknowledgement, to survive in the race; without forgetting why this all actually started! But I am much happier to dance alone ... for my existence, for my free breath, for joy ... it is my yoga, my meditation, my pathway to the spirit!!