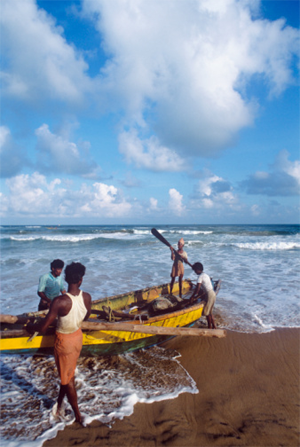 Really! a visit of these spots is heart-throbbing. One feels as if he is entering a world of spiritual tranquility, traversing the path of utmost depth and peace and soaring in the realm of a mystic Nature. Such is Orissa representing a cultural milieu of many religions and many life-styles!
Dhammam Sharanam Ghachhami*
Buddhism is today one of the most widely spread religions of Asia, if not of the world, and it is not an exaggeration if - for this vast expansion of a religion preached over 2500 years before Christ - the credit is given to Orissa, formerly known as 'Utkala'. In the ancient past, Utkala was a part of the Kalinga Empire which was invaded by Ashoka the Great in the 3rd century B.C. The Indian history depicts the havoc and horror of this war and there are tales of Ashoka's unfettered greed and ambitions. It is said that he had killed his own brothers to become the unrivalled ruler of the Mauryan empire. The Battle of Kalinga was yet another example of his imperialistic thirst that was not pacified until gallons of blood was shed in the battlefield. It is said that it was such a disastrous war that almost all the warriors were either wounded or dead and then women had to come to the vanguard. Ashoka was touched by this. It was shocking for him that he had become the cause of death of so many people. He felt that he was in violent dreams and now he got up. He put down arms and pledged to spread the religion of peace and of mercy. He became the follower of Buddha and spent his life in sending emissaries of peace far and wide and concentrated on the welfare of the people.

The Dhauli Pillar (also known as Ashoka Pillar), 8 kilometres from Orissa's capital city Bhubneshwar, near Dhaulagiri Hills, testifies the Kalinga episode and close to the Pillar there is a Vishwa Shanti Stupa (a monument dedicated to world peace) which is a revered Buddhist spot. Apart from Bhubneshwar, Puri (60 K.M. from Bhubneshwar) is another important spot for the Buddhists. It is said that Lord Buddha's tooth was hidden in this city and from here it was carried to Sri Lanka. Almost the same distance from Bhubneshwar, there are the wonderful Khandagiri and Udaigiri caves - a series of some 28 caves built out of a single stone - which is a sacred spot for the followers of Jainism. The caves are believed to be built during the regime of King Kharvela who was himself a Jain devotee. An important addition to these mystic caves is a 10 K.M. long secret tunnel opening up on the Dhaulagari hills. Really! a visit of these spots is heart-throbbing. One feels as if he is entering a world of spiritual tranquility, traversing the path of utmost depth and peace and soaring in the realm of a mystic Nature. Such is Orissa representing a cultural milieu of many religions!
Associated with the Revival of Hinduism
India has been the cradle of many Faiths and Religions but Hinduism is rooted deep, far deep. Invaded, converted, coveted and perverted time and again it ultimately stands as a gigantic tree, firm in its moorings amidst the storms of time. What most the storms could do was to snatch away some leaves and pluck down some twigs. Buddhism soon became a popular religion because it opposed the Brahmin philosophy of 'Karmkand', i.e. rituals. It was a great relief for the majority of people, especially from the lower strata, who followed Buddhism. Much before the beginning of the 10th Century, Buddhism itself was divided into at least three sects: Heenyaan, Mahayaan and Vajrayaan. Orissa had become a stronghold of the Vajrayaan sect and the city of Puri was one of their important centers. At such a declining stage of Hinduism when most of its old adherents were fleeing to Buddhism, a unique personality was born in India known to all by the name of Shankaracharya who was hailed by his followers as "Jagadguru" (the teacher of the world) and was believed to be an incarnation of one of the Trinity[1], Lord Shankar. A matchless scholar of all the times, Shankaracharya devoted his time and energy to the reinstatement of the lost glory of Hinduism and in his extensive campaign he also reached the city of Puri and challenged the Buddhists monks to enter in 'Shastrartha'[2] with him. None of them could withstand his wisdom nor could anyone compete with him in logical inferences and, as per the condition of the debate, they accepted Hinduism. Thus, this multi-colored state of India has closely been associated with the post-Buddhist renaissance of India. The city of Puri is counted among seven sacred spots that lead to salvation. Ayodhya, Mathura, Kashi, Kanchi, Avantika and Dwaraka are the remaining six of such sacred spots, according to a belief. The essence of the sanctity of Puri is in its famous Jagannath Temple, a temple dedicated to Lord Vishnu, the Lord of the universe. This is one of the most ancient temples of India built in unique Dravidian style - imposing and with delicate architectural beauty. The famous 'Rath-Yatra', i.e. the religious procession taken out from this temple once in a year in the summer, is a majestic event worth seeing - attracting millions of devotees from nooks and corners of India. Thus, Orissa has seen ebbs and tides of religious growth and downfall - perhaps more intensely than any other state in India.
A Glorious State of Majestic Temples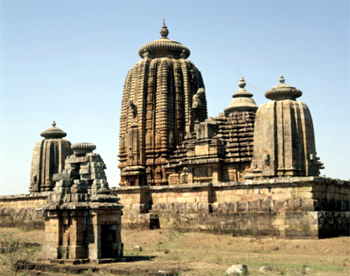 Brahma Temple Ling Raja Temple
The revival of Hinduism brought to Orissa the golden age of Temples. It is believed that only around Bhubneshwar, the capital of Orissa well known as the City of Temples or Cathedral City, there were over 7,000 temples but many of them were invaded and destroyed and now only some hundreds exist. Most of these Oriyan temples were built between 8th-13th century A.D. and though all of them are marvels of time and attractive masterpieces of what is called Orissan style of architecture, some of them are especially noteworthy, such as: Laxmaneswar, Satrughaneshwar and Bharateswara built in the 6th Century AD and, respectively, dedicated to the three brothers of Lord Rama. Then there are two uniquely built Parasurameswara and Swaranajaleswara temples. Vaital Deul Temple is dedicated to Chamunda, a tantric form of the goddess Kali. The famous Shiva temple - Mukteshwar, built in 950 A.D., is rightly referred to as the "Gem of Orissan Architecture" as it represents a beautiful blend of old and new styles. The Rajrani Temple is believed to be built in 1100 AD and is a very majestic creation. All these temples are in Bhubneshwar and their interiors are beautifully decorated with a wide array of paintings and carvings with ornamented displays of flowers, scenes of love and intimacy and even of 'yogis' immersed in meditation, stories of 'Panchtantra' and the Ramayana. Temples are there in all over India but Oriyan Temples are just peerless as they strive to depict Hinduism in its full essence, with all its mysteries and philosophies, art of living and way of thinking. And these are the temples which witnessed the resurge of this religion under the leadership of Shankaracharya and these are the temples which saw innocent girls's - Devdasis (the maidservants of God) - exploitation by hypocrite pundits. This is Orissa where in Puri Shankaracharya established one of the 4 'peeths' (nerve centers) of India for the protection and motivation of religion and this is Orissa where in this century of light and knowledge a dedicated Christian and his two innocent children are burnt alive in a closed wagon. This is Orissa where beautiful beaches invite you and this is Orissa where cyclones cry havoc and plunder everything.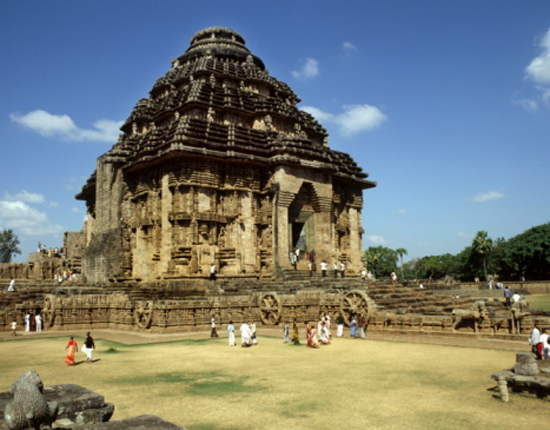 Sun Temple Konarak
But the story of temples will be incomplete if no mention is made of the Konark Sun Temple. Selected by the UNESCO as a world heritage site this Black Pagoda, as referred to by some eminent tourists, is one of the most important temples of India. There are very few Sun temples in India and Konark holds a special place in all respects.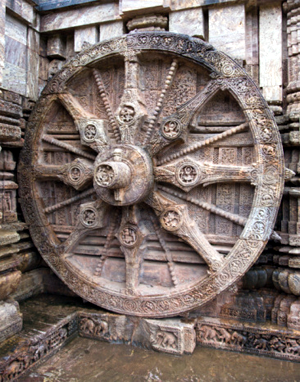 As Sun God is mythologically believed to be traversing the sky on a 12-wheeled chariot drawn by seven horses, the very structure of this temple depicts this basic belief and the interiors are beautifully designed with the paintings of natural scenes, dancing women and there are even some amorous depictions not unlike the famous Khajuraho. This aspect is surprising because Sun has never been associated with any erotic expression of life. It may, therefore, be inferred that the amorous motifs were the result of Tantrik[3] influence. The tantriks who abounded in Orissa used to worship 'Shakti' - the mystic deity believed to be a superpower symbolized in woman form. As for the 12 wheels and the seven horses they are the symbols of 12 months of a year and 7 days of a week, respectively. Much has been written about this 13th century marvel of India. Suffices it to say that this delicately built great structure took some 12 years to complete as a magnificent temple while hundreds of devoted laborers worked for it continuously.
In the Lap of Mother Nature
While the forces of modernization are rapidly changing the world everywhere, most parts of Orissa are still the reminiscences of aboriginal culture. With an optimal view, Orissa is a tribal paradise as a large population is still in Mother Nature's lap - away from urban cunningness, deprived of basic facilities and yet contented. Age-long traditions are still alive. And compared to other states in India, Orissa has the largest variety of tribal population - each of them distinctively sustaining their identity. This brings to Orissa a rich panorama of tribal dances, folk arts, rituals and languages, handicraft and wizardry, festivities and life-styles - adding to its charm and revealing its unity in diversity that is the hall-mark of India.

In this lap of Mother Nature, wild animals live as freely as tribal people. Orissa abounds in jungles teeming with scarce birds and creatures, elephants, panthers, leopards, cheetals, sambhars, and above all, the Royal Bengal Tigers - one of the rarest tigers of the world. Naturally, Orissa is full of wildlife sanctuaries including the one in Mayurbhanj district where one can see a number of Royal Bengal Tigers. The most famous of these sanctuaries is Nandan Kanan which is an extensive natural resort for a wide array of wild animals, birds and reptiles. And here in Orissa one finds great bands of elephants teeming in the vast Chandaka forest. Nowhere in the world can we find such a rich natural resort for the biggest animal on land.

Orissa has beautiful beaches especially in Puri and Konark. Orissa has everything which can easily attract a wayfarer. So, next time you plan to make a trip to India, visit Orissa if you have no time to visit the whole of India. Because if you have seen Orissa, consider you have seen India in a nutshell.

Images (c) Gettyimages.com
---
* I take shelter in the Faith of God.
1 Trinity stands for the Hindu belief in the 'triple' divinity of God as a unified Supreme Power: Brahma (the Creator), Vishnu (the Nurturer) and Shankar or Shiva (the Destroyer). Some believe that even the word 'GOD' refers to this triple divinity of God as 'Generator' (G), Organizer (O), and Destroyer (D).
2. 'Shastrartha', a Sanskrit word, means a scholarly debate to reveal the inner meaning (Artha) of the religious scriptures (shastra). Tales go about numerous 'shastrarthas' of Shankaracharya. In some of them, he took several continuous days and nights to persuade his opponents.
3. The very word 'tantra' means mechanism. The tantriks believed in the efficacy of certain occult devices and methods which may be likened with today's remote control system.