Captain J Forsyth discovered the gift of nature - Pachmarhi 'the' hill station of Madhya Pradesh, heart of India in the year 1862. This nature's glory is nestled among Satpura ranges at an altitude of 1067 meters. The eroded rocks, red sand stones hills offer fascinating shapes and sizes which is attraction to trekkers and rock climbers. Pachmarhi lies in Satpura national Park, which is also a wild life sanctuary, adding to its beauty. Pachmarhi also hosts a number of trees and plants which have an immense herbal value. It hosts more than seventy varieties of butterflies and number of birds which offer an attraction for bird's watchers or people who love to capture them in their cameras.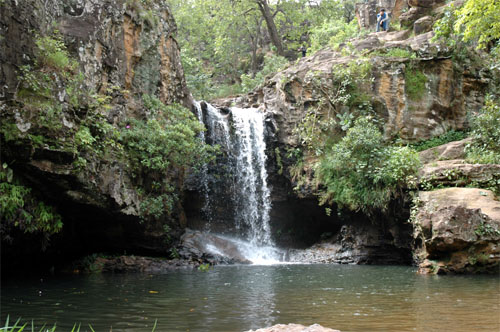 Pachmari is called as 'verdant jewel' of Madhya Pradesh, and no doubt is one of the loveliest hill stations. It is a trekker's paradise and offers nature's walks, refreshing weather, and lovely views. It's calm and serene environ enlightens one's soul. Though the season when people visit peaks during October to December but it is even an experience during monsoon. Dotted with lush green trees, forests, hills, falls, streams, 'grass rooted grounds' Pachmarhi vibrates with a rhythm that no other place has. Bison Lodge which was built by Captain J Forsyth, the discoverer of Pachmari still stands there and now serves as a museum to showcase the flora and fauna of the Satpura region.
Pandav Caves
It is said that Pandavs had spent their part of exile in the caves and from that Pachmarhi derives its name. At present caves are surrounded by a lovely garden, including cactus which is at the entrance of the caves. Caves also host a recently discovered brick stupa which though is partially eroded now. Pachmarhi is abound with the pilgrim spots. It includes Chhota Mahadev, (also called Gupt Mahadev) a narrow point in the hills; Chauragarh, where a pilgrim path leads to a sacred summit with several images of Shiva. It is more than 1330 steps if you go from Chota Mahadev. Jatashankar caves have a temple dedicated to Lord Shiva. It is located in a gorge and the shrine is hidden under a huge overhanging rock.
The water falls
The silver cascades of water falling from sandstones rocks entrapped within greenery makes Pachmarhi falls unique. There are several waterfalls in Pachmarhi, however the quite popular one is the 'bee falls'. One can walk for the first point which is about one and half kilometers and is followed by a bit treacherous route into the valley to view the complete waterfall. But if you wish to take a gypsy, or four wheel drive vehicle, that is the only one allowed, you may have to shell out upto two hundred rupees.
Apsara Vihar also known for place where film Ashoka starring Shahrukh Khan and Kareena Kapur was shot: other ones are Rajat Pratap and Duchess falls (said to be one of beautiful ones in Pachmarhi but was closed at the time when I was there) and plus many others.
Guides at Pachmarhi say that you should visit Dhupgarh, a place to witness the morning sunrise and as they say even more spectacular sunset. I could see the sunset and it was fascinating. If you wish to catch a glimpse of beauty at a glance Handi Khoh and Priyadarshini point are the ones to visit. In addition to the its beauty there is one more thing which you will find in entire Pachmarhi - hoardings requesting you not to spoil the serene beauty by throwing used plastics bags/ bottles, but inspite of this one still finds the same in popular spots like Jatashankar and Bee Falls, may be strict action is needed there.
It would not be wrong to say that Pachmarhi has lot to offer, one cannot write about it in one article, may be one needs a series on it. Nevertheless, I had pen down its offering along with elaborating on the places which one can see. Nature is something that delights everyone. One can forget everything in the lap of nature. Our country has plenty to offer, but Pachmarhi is one of loveliest and is truly a nature's glory.

How to be there
If ones have to travel to the Pachmari, it is about 54 kilometers from Pipraiya, the nearest railway station and is about 195 kilometers from Bhopal, which takes about four and half hours by road.